Stetter recycling plant: A futuristic solution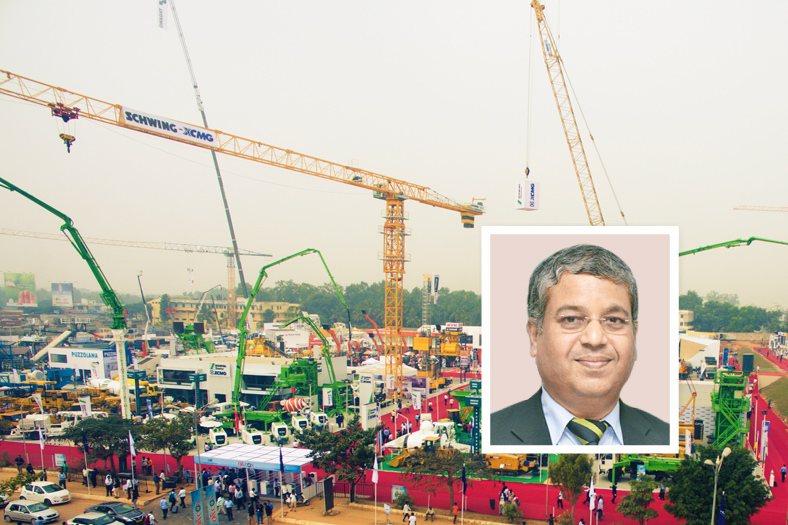 Stetter recycling plant is the most promising solution for the future.
V G Sakthikumar, Managing Director, Schwing Stetter Sales and Services Private Limited, Chairperson, ICEMA, Chairman of Mechanisation committee, Builders Association of India
Upward growth trend in construction
Construction industry in India is on an upward growth trend and is to grow at a CAGR of 25–30 per cent. The Indian government has announced the Rs5.35 lakh crore BharatMala Pariyojana to construct 34,800 km of highways. This outlay of Rs 6.92 trillion is for building an 83,677 km road network over the next five years. "The concrete road construction is one of the best examples which helped the growth of concreting equipment. Roads are number one sector in pushing the business growth. More and more of these roads like national highways, expressway roads are becoming concrete roads than asphalt roads. So, the road sector is the number one in pushing the growth of the industry's business. Similarly India has in many towns, the metro rail construction in Delhi, Pune, Nagpur, Bengaluru, Mumbai, Chennai, Ahmedabad, etc going on, this sector is driving the concreting business again. In future, real estate is expected to grow further from its recent slowdown," informs V G Sakthikumar, Managing Director, Schwing Stetter Sales and Services Private Ltd, Chairperson, ICEMA, Chairman of Mechanisation committee, Builders Association of India.
Schwing Stetter's batching plants and concrete pumps
The higher grade of concrete like M80, M100 require special ingredients Schwing Stetter makes Stetter batching plants which can be provided with Microsilica, Ice weigher, etc to meet such requirements. Similarly Schwing concrete pumps with special pipelines are capable of pumping such concrete to different heights/distances. So as the concrete technology evolves, the expectation on machineries to handle them also evolves. At Schwing Stetter, we are ready to face such requirement for the future, says Sakthikumar.
Stetter recycling plant
"Stetter recycling plant is the most promising solution for the future," states Sakthikumar. He adds, "Construction and demolition waste generation has exceedingly increased around the world to about 40 per cent annually. Out of which, concrete constitutes to about 80 per cent of the total waste. Therefore, it is necessary to recycle concrete waste to recycled aggregate and recycled aggregate concrete. Sustainable development is focused through usage reduction of natural raw materials and consumption of recycled goods."
Recycling of slurry water is necessary to avoid ground water contamination which poses a great hazard in the ground water table. The solution to it is in recycling the concrete and the slurry water. The benefits to it are that it reduces the production of greenhouse gas emissions and other pollutants by reducing the need to extract raw materials and ship new materials to long distances.
Conservation of natural resources and a responsibility towards a greener future enabled Schwing Stetter to manufacture recycling plants, RA 12 and RA 20. The use of recycled aggregates from construction and demolition wastes is showing great interest in construction because it is a huge money saver for every company, cuts down the cost on effort of transport and manpower. It conserves natural resources and reduces the space required for the landfill disposal.
Why a Recyling plant is in use:
Concrete washout: After concrete is poured at a construction site, the chutes of ready mixed concrete trucks and hoppers of concrete pump trucks must be washed out to remove the remaining concrete before it hardens. Equipment such as wheelbarrows and hand tools also need to be washed down. At the end of each work day, the drums of concrete trucks must be washed out. This is customarily done at the ready mixed batch plants, which are usually off-site facilities, however large or rural construction projects may have on-site batch plants.
Wet concrete recycling: Builders often order a little more ready mixed concrete than they actually need, so it is common for concrete trucks to have wet concrete remaining in their drum after a delivery. This unused concrete can be returned to the ready mixed plant and either used to pour precast concrete products (e.g., highway barriers, retaining wall blocks, riprap), used to pave the ready mixed plant's yard, washed into a reclaimer, or dumped on an impervious surface and allowed to harden, so it can be crushed and recycled as aggregate. Unused wet concrete should not be dumped on bare ground to harden at construction sites because this can contribute to ground water and surface water contamination. Stetter recycling plant RA 12, 20 helps in conserving the environment by not contaminating the ground water through recycling of slurry water and aggregates and reusing it in making concrete.
13