Sumitomo Corp. invests Rs 1,181 Cr in JV with Mukand Steel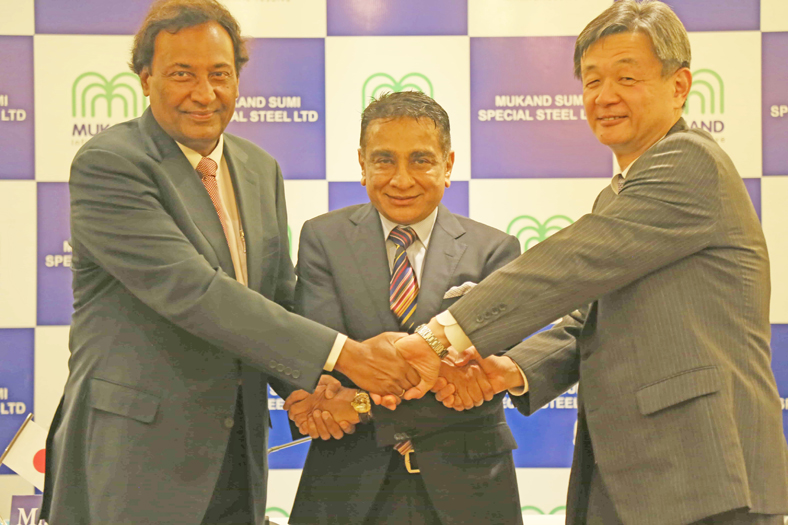 Japanese major Sumitomo Corporation has bought 49 per cent stake for Rs 1,181 crore in Mukand Ltd's special steel subsidiary, Mukand Sumi Special Steel Limited, a specialty steel supplier for the automotive and engineering industries. Mukand Ltd. retains 51 per cent equity of this joint venture company.
The JV is engaged in the business of rolling, finishing and marketing of alloy steel wire rods and bars made from blooms and billets procured exclusively from Mukand Ltd.'s Hospet plant in Karnataka. The JV has 100 acres of land adjoining Mukand's existing plant at Hospet for the proposed construction and commissioning of new steel rolling facilities by mid-2020 at an approximate cost of Rs 600 crore.
The automotive sector in India has grown rapidly in FY 18 and is expected to continue to expand for several years. The auto component sector in India is a Rs 3 trillion industry, currently exporting of Rs 740 billion a year, and is a major success of the 'Make in India' programme. Mukand claims that it is the preferred supplier of specialty steels to all global manufacturers in the Indian automotive sector for their critical components.
Makoto Horie, Senior Managing Executive Officer, General Manager, Metal Products Business Unit, Sumitomo Corporation, said that it was a very proud moment for Sumitomo Corporation as they were keen to strengthen their presence in India, one of the fastest growing markets in the world.
According to Niraj Bajaj, Chairman and Managing Director of Mukand Ltd., Mukand and Sumitomo Corporation have already been working harmoniously and closely together for the past 5 years in another JV and he sees great synergy and strength brought to this joint venture by both companies.
6