Sustainable leap towards airport design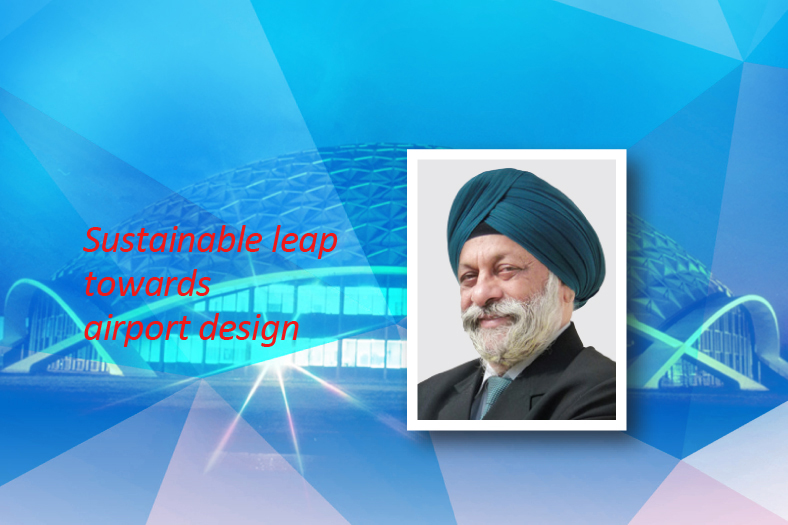 Airports provide room for urban planners and architects to explore sustainable designs for optimum use.
The government has recently rolled out its worth $60-billion plan on doubling the number of airports it operates as it races to convene growing demand in its aviation market. The airport infrastructure development plan brings the aspect of sustainable and world-class design into limelight, as urban planners and architects promote the importance of greenfield projects comprising of architectural design for realising complete potential of airports for managing passenger traffic efficiently and operating sustainably.
In order to incorporate aesthetics of global design trends into the construction of new airports, the Ministry of Civil Aviation invited Indian as well global architects for assigning design contract of the newly-conceived Navi Mumbai International Airport to be built in the upcoming time.
After a 12-week long competition, Zaha Hadid Architects (ZHA) won the competition for Navi Mumbai International Airport (NMIA)'s design. ZHA's brief will encompass the design and execution of new NMIA terminal building, an air traffic control tower and associated access.
Designing an airport is a multifaceted task. While characteristically, the designs need to exemplify the city's and country's identity; the key aspects of the susceptible nature and security concerns of airports also have to be meticulously taken in deliberation in the designs.
In the past seven to eight years, India has seen major advancement in terminal design with greater complexity in architecture, engineering and planning to maximise the structure´s life and potential.
While India has favoured concrete so far, steel is a new material to consider. All terminals are now being built in steel as it is malleable; one can make ductile and organic three-dimensional shapes with it. To maximise daylight and make the terminal transparent, energy-efficient neutral glass panels can act to minimise heat gain.
An insulated roof can reduce heat gain. Materials like Kalzip, a double seam roofing system, and skylights in the form of 16-mm multi-cellular polycarbonate sheets.
Sustainable design caters to active and passive strategies. While passive strategies (wall, glazing, building envelope) are observed at the time of construction, active strategies (electrical, fire alarm, controls) can be monitored during the course, which makes the building more environment-friendly and efficient. New terminals should be fully integrated with building management systems (BMS) and IT to monitor systems like HVAC and lighting control to optimise services.
On the energy front, most airports will be net-zero energy consumers. Besides, architectural design features to get in optimum, glare-free light (At the new T2 Terminal at Mumbai, lenses have been used in the sky lighting to bring in glare free, diffused light), new technologies like light pipes, light catcher domes, natural lighting with fiber optics, etc. will ensure zero artificial light usage during daytime operation. Proper design and selection of envelope material will reduce the air-conditioning heat load to bare minimum (< 1W/sqft) even for tropical countries, new HVAC technologies like radiant cooling system, under floor air distribution technology, geothermal systems, absorption chillers, magnetic levitation chiller compressors, etc. will reduce power consumption towards air-conditioning to near minimum.
The Cochin International Airport in India is an existing example of efficient application of renewable energy into the infrastructure as it is world's first solar-powered airport. The facility has installed 46,150 solar panels on its grounds, generating between 50,000 to 60,000 units of electricity for its everyday use, which means that it is now able to claim the impressive title "absolutely power neutral."
Technology, comes in various forms. To ensure minimal impact on the environment and rich ecological diversity, composite reinforced soil technology was used to retain the high embankments by reinforced soil walls.
Thus, anastute mixture of technologies, materials and attention to detail is necessary to guarantee that a terminal has a life of 50-60 years.
Clearly, smart is now an essential in airport deign. Honeywell Building Solutions has designed Integrated Building Management Solution (IBMS). ´IBMS monitors and controls various parameters of HVAC, electrical, plumbing and fire-fighting systems throughout the new terminal from a single workstation. It has the intelligence to monitor and control climatic conditions, CO2 and humidity levels throughout the terminal. Certainly, innovation and improvement have penetrated into every aspect of airport design today.
Creative Group has been credited for it's the four greenest airport projects in India that the company has designed in Chennai, Goa, Raipur and Vadodara.
According to Prof. Charanjit. S. Shah, Founding Principal, Creative Group, "Airports are the gateways to the cities and are looked upon as the most exciting and innovative developments with global facilities."
Due to the massive urban surge and global business travelers, air travel is no longer a luxury, but a necessity to reduce time in travel. Besides the airport terminal buildings being an operational requirement, today's trend is to make this functional experience more joyful, entertaining and relaxing. Therefore, the trends of making functional airports alone have now transformed into the ones with multifunctional global standards.
Evolution of airport design
Airports are now being looked upon as one of the main public spaces. During the last two decades, particularly in India, the trend has developed to design large steel mega structures with panoramic views of city side and airside to be a visional delight, comments Shah.
Evolving airport infrastructure
India needs to work on large infrastructure projects due to urban shifts in population. Besides international connectivity, the regional connectivity needs more attention and seeing the growth in next decade, India would require more than 300 airports to develop individually to facilitate global businesses and quench the needy.
The mega airports like Delhi, Mumbai, Chennai, Bangalore, Kochi, needs to further develop dramatically as intermodal hubs, so that airports are well connected with cities, to avoid time taken to travel towards airports, Shah adds further.
Aviation market outlook
The sky is the limit for the growth of the aviation market in India. With a large population of air travelers of more than 5 crores in next five years, a tremendous growth in the aviation sector is foreseen.
Besides the creation of aero-cities, aviation sector is also looking forth for manufacturing advanced types of equipment that enhances airport facilities. The Indian industry needs to explore the gates to opportunities, as being advocated by Prime Minister's Make in India Mission, helping the economic growth, he says.
The trends of making functional airports alone have now transformed into the ones with multifunctional global standards.
Prof. Charanjit. S. Shah, Founding Principal, Creative Group
17