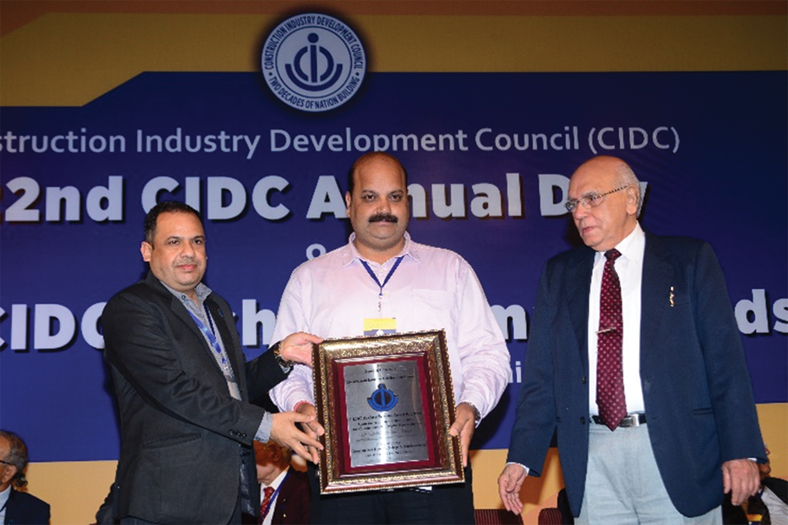 Reiterating its commitment for world-class safety practices and on-site project execution, Tata BlueScope Steel's Building Products division; LYSAGHT, once again received the 10th CIDC Vishwakarma Award 2018 for Safety, Health and Environment, second time in a row. The award was conferred for Tata Steel Processing and Distribution Ltd. project, one of India's largest steel service centre; where LYSAGHT supplied colour coated metal sheets for their roofing and walling requirement, apart from design detailing, engineering and construction support. Zero harm to people and environment is at the core for all safety management systems at Tata BlueScope Steel.
"This success was achievable due to team work and collaboration. A team of well qualified and experienced engineers, safety officers, and safety stewards were deployed at project site to ensure safety and quality standards were maintained all throughout. Regular safety audits, consistent guidance, onsite training programs, best industry practices led to a 100% safe environment. The job was executed in a fully operational plant, which demanded additional safety precautions, to prevent any harm to person or equipment due to falling debris during dismantling of existing roof sheets. Special arrangement with close supervision was deployed to mitigate these risks. With a total sheeting area of 60,000 sq.m. at a height of 30 metres. Tata BlueScope Steel delivered 1.4 lakhs LTI and MTI free mandays with no severity," said Ajay Rattan, General Manager – Sales, Construction & Engineering (LYSAGHT Business) on receiving the award.
CIDC Vishwakarma Awards are meant to motivate individuals' and organisations' contribution in construction domain and to promote replicable best practices in the Indian construction industry.
7