Tata Projects deploys PASCHAL formwork in Hyderabad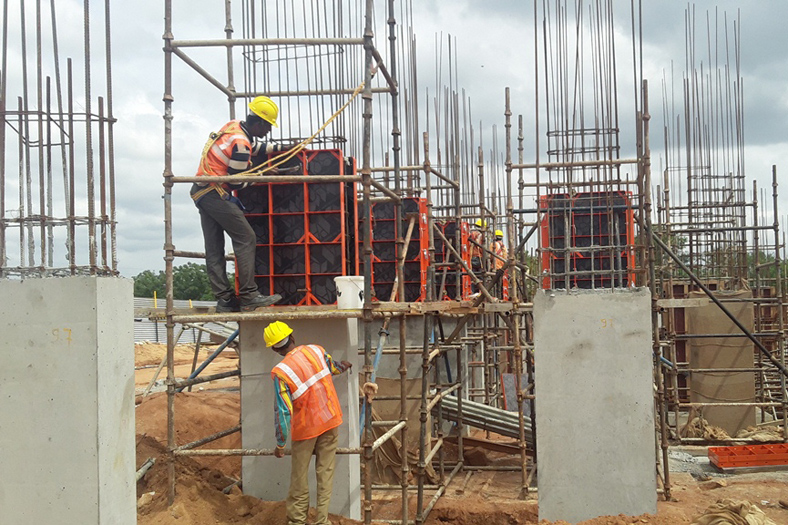 A luxury residential complex is currently under construction using modular universal formwork in Telangana.
In Hyderabad, the capital city of Telangana, prestigious companies are developing together with the long-standing PASCHAL customer Tata Projects Ltd on the joint development of a modern residential complex. The complex will occupy 20 acres and will consist of 2,400 apartments in 17 apartment towers and 10-storey high each. The project will be built in 36 months.
In a second phase, further facilities will be built, including a clubhouse, a gym, shops and the like. PASCHAL Formwork has proven itself for its quality products with Tata Projects in several projects. With the same belief from Tata Projects, PASCHAL Formwork has supplied modular universal formwork system for reinforced concrete columns and bracing shear walls primarily at Rajendra Nagar residential project.
Extraordinary productivity
A total of 163,980 sq.m. vertical formwork area is to be completed in about 24 months using only 611 sq.m. modular panels. In order to achieve a productivity rate of 12 sq.m., per man-day, the construction team received training on site from the PASCHAL engineers, as well as a prepared formwork schedule and an ingenious concreting cycle plan.
According to the schedule, 3 apartment towers with 35 reinforced concrete columns, i.e. 105 columns per storey, will be casted and concreted at a time. The schedule provides for 5 working days for each. On the 6th day, the formwork will be removed and the modular formwork units will be transferred to the next cycle.
Quality based on experience
The modular formwork is often used by Tata Projects because of its extensive range of elements, which enables it to be adapted very easily to the requirements of a given project and the construction workers are easily able to master the simple, versatile system, such as the easy-to-use but effective connecting keybolts. Moreover, the formwork units are designed to be sturdy and durable, so the purchase of this formwork represents a profitable investment for Tata Projects.
Modular, the universal formwork
Modular universal formwork is particularly well suited to the Indian market, because its stable flat frame, simple connection technology and practical range of elements mean that the modular can be used in a host of different applications. The modular elements can be transported and erected by hand and then installed in place as a complete formwork unit with the aid of a crane. For this purpose, it is equipped with a crane lifting system which enables a crane to safely lift up to 24 sq.m. and 600 kg.
Author_
Dipl.-Ing./Ma.-Kfm. Dietmar Haucke
21