The expansion of cities must accommodate more innovative, inclusive, and sustainable models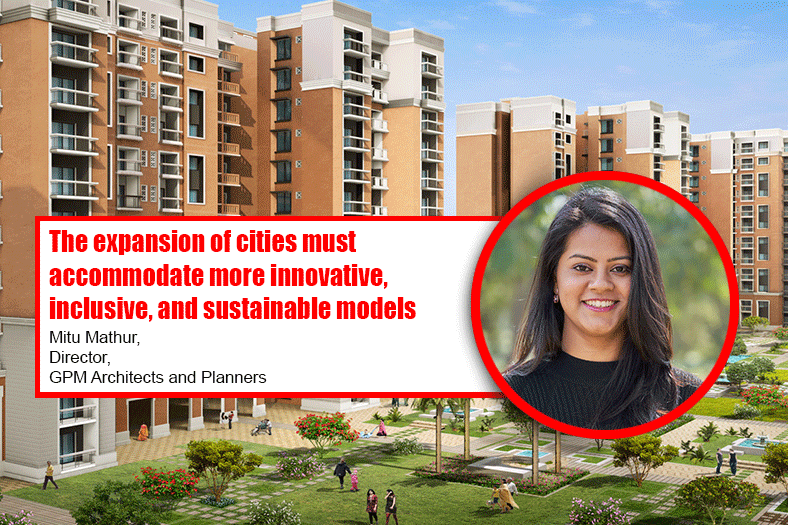 One of the basic requirements to sustain a smart city is housing, for which redevelopment of under-utilized urban areas needs to be seen with a fresher perspective as a model for New India, says Mitu Mathur, Director, GPM Architects and Planners.
Considering that it has been more than half a decade, how happy are you with the progress we have made in The Smart City Initiatives?
According to international reports, more than two-thirds of the planet's population of 9 billion will live in cities by 2050. India alone will add 400 million people, making it imperative to develop innovative solutions to cater to the fast-growing number of urban dwellers. The Indian government launched the Smart Cities Mission in 2015 with a vision to promote holistic development and come up with long-range planning solutions for creating housing, open space, and adequate infrastructure for our cities. Though various projects have been implemented in selected cities over the last few years, we still have a long way to drive our country's economic growth and improve people's quality of living.
The pandemic has raised some red flags w.r.t to existing urban landscape, are smart cities well designed to address such emergencies?
The Covid-19 pandemic has necessitated the need to rethink our cities in light of upcoming challenges and adopt an environment-conscious lifestyle. This time has allowed us to re-evaluate our approach, primarily towards designing recognizable and engaging architecture, promoting community living, ensuring housing for all, and revitalizing the city. Thus, our future smart cities need to move beyond mitigation and adaptation and instead repurpose and redesign the built environment for a sustainable future. The approach cannot be 'one-size-fits all'. We need to come up with an individual vision, mission, and plan for each city appropriate to its unique problems, resources, context, and the genius loci.
The expansion of cities that urban population growth entails cannot be contained merely by the horizontal expansion of cities, but instead, must accommodate more innovative, inclusive, and sustainable models. One of the basic requirements to sustain a smart city is housing, for which redevelopment of under-utilized urban areas needs to be seen with a fresher perspective as a model for New India. One such example is of prominent residential colonies in Central Delhi – Netaji Nagar and Sarojini Nagar that have a tremendous opportunity to accommodate mass housing and, owing to their scale, set an example as self-sustainable dense urban communities.
Another critical factor that architects and developers need to carefully address to make the housing initiatives a success is – Going 'High-Rise'. Land being a non-renewable resource makes vertical living synonymous with successful living. Though one might argue that high-rise structures consume more energy, but on the contrary, they have the power to promote a much compact lifestyle, enabling more open and green spaces, critical for a healthy lifestyle. Provided there is a balance of key elements of green development with adequate infrastructure and resources to cater to the populace, the vertical growth model can help reduce the per-capita carbon footprint and bring about a revolution in the Indian building industry. We are also trying to incorporate these features in our recent housing projects, wherein the development is designed to bridge the gap between nature and users. To cater to the premium needs of housing, the projects consist of high-end facilities and amenities, along with ample open green spaces, reinforcing the idea of community living.
The affordable housing segment also needs to be pushed aggressively to enable further growth of smarter cities, catering to the larger middle and lower-income groups. With schemes like PMAY and DDJ, the affordability of the residential units on the rise, and the introduction of efficient and innovative design solutions, the value of these homes can be highlighted multiple times. Developments wherein innovative features like study areas for work-from-home and ample open spaces are incorporated are needed to enhance the vertical living experience for the residents.
According to you what are some of the key technologies and products we have to import or develop indigenously to ensure this initiative is a success?
The evolution of construction technology has reduced the cost of construction and is speeding up its process dramatically. This can be one of the critical factors in determining the success of this initiative. In one such project – the MLA Office Blocks in Delhi, we used a non-polluting, dry construction method to make its execution environmentally friendly, making them one of the first large scale buildings to use this technique. Dry construction technology uses less water and involves light gauge steel frames for walls, ceilings and floors, replacing the traditional brick and concrete.
Even the foundation uses crystalline admixture to reduce the porosity of concrete and corrosion of the reinforcement bars. The use of pre-engineered structural members such as columns and beams during the construction also helped reduce the time period of the project and was also less labour intensive, as no welding was required on site.  Since no dust is generated during this process, it is a viable technique to ensure faster yet sustainable construction.
Bringing in the use of modular design and new technologies for large-scale projects can save time and ensure quality, leading to a rise in the frequency of construction of such projects. Use of more standardized materials, PEB structures, and modular practices like aluminium formwork and jump formwork for high-rise structures, modular kitchens, flooring, and even modular toilets can be very effective.
7