The growing market and benefits of smart lighting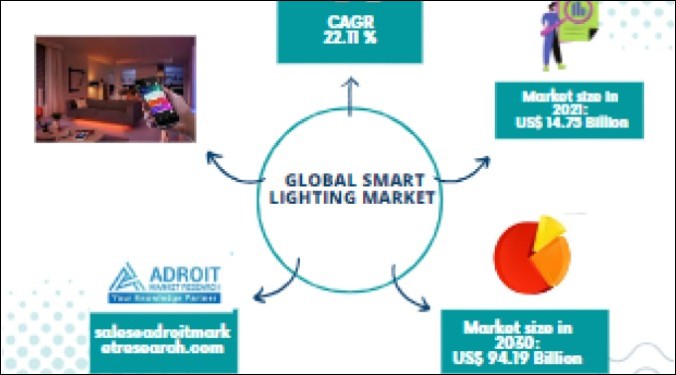 The global smart lighting market is expected to grow significantly, reaching USD 94.19 billion by 2030 with a CAGR of 22.11 percent, according to a study by Adroit Market Research.
Smart lighting systems utilize wireless connectivity and sensors to provide advanced control and automation capabilities. They can be controlled remotely using smartphones, tablets, or voice assistants, offering features like adjustable brightness, color, and timing.
Smart lighting allows users to manage their lights from anywhere, even when they are not present. Automation based on predetermined conditions or schedules is possible, and energy-saving features are often included. LED technology and wireless protocols like Zigbee and Z-Wave have driven the development of smart lighting systems. The introduction of the Philips Hue smart lighting system in 2012 marked a significant milestone, offering customizable lighting sequences controlled through a smartphone app.
Smart lighting supports sustainability and energy efficiency goals, with potential for large energy savings through motion sensors, dimmer control, and scheduling. LED lighting's longer lifespan, higher efficiency, and reduced costs have made smart lighting more accessible.
Integration with popular smart home ecosystems like Amazon Alexa, Google Assistant, and Apple HomeKit has contributed to its popularity. Personalization options, such as adjusting brightness and color temperature, appeal to customers seeking unique lighting experiences.
The residential sector offers significant potential for smart lighting, as more households adopt smart home technologies. Businesses have an opportunity to provide cost-effective and feature-rich solutions to meet residential consumers' demands. The commercial and industrial sectors are also embracing smart lighting for energy savings, improved control, and automation in buildings, workplaces, retail locations, and warehouses.
North America has been a leading market for smart lighting due to the popularity of smart home technologies, a developed IoT infrastructure, and government initiatives promoting energy efficiency. The US and Canada are key markets with strong demand for residential and commercial smart lighting systems.
72