The power of IEE Expo: Connecting the entire value chain of elevator and escalator in India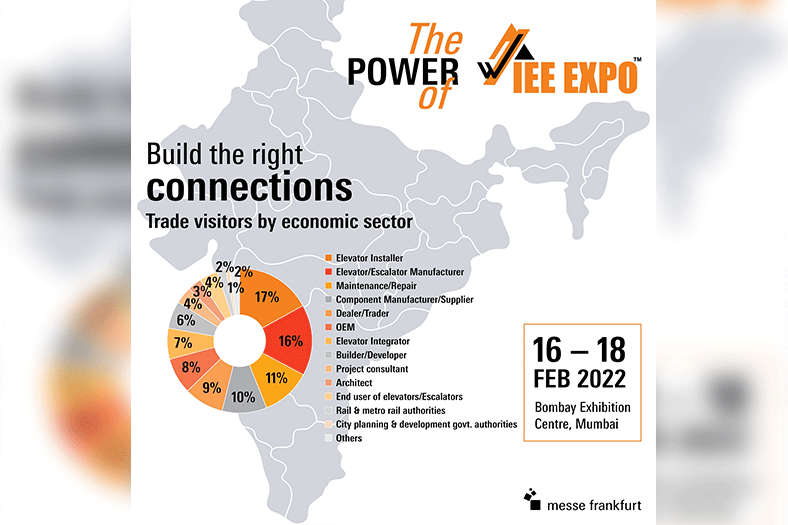 The exhibition has carved a niche for itself by delivering eight successful editions and will continue to provide buyers with technologies suitable for the evolving demands of its consumers.
The pandemic affecting the real estate sector created a domino effect on the elevator and escalator industry as it is one of their key buyers. But the recent situation has also compelled the industry to manufacture a variety of gadgets and innovative solutions that will soon become the new norm considering the changing demands of modern infrastructure.
As per reports, the industry is poised to grow by USD 659.2 million during 2020-2024, progressing at a CAGR of over nine per cent. Touch-free buttons, gesture and voice-activated sensors, sanitising systems, online or remote-controlled maintenance systems will no longer be an option of luxury but an integral part of everyday life. Factors like large-scale metro projects, steady growth in high rise buildings, commercial complexes, and need for urbanisation will also continue to augment the demand for elevators and escalators in the country.
Over the years, International Elevator and Escalator (IEE) Expo has played an instrumental role in providing quality solutions, explore new tie-ups and finding suitable partners to source necessary components as well as end products for various infrastructural projects in the country. Buyers from 27 states and union territories together visited the last edition of IEE Expo (2020) clearly indicating that the exhibition is a one-stop sourcing destination to meet industry experts from all over the country. The exhibition that was held in Mumbai witnessed visitors from Gujarat, New Delhi, Telangana, Karnataka, Goa, Rajasthan, Tamil Nadu, West Bengal, Assam with 3,591 buyers from Maharashtra itself.
With live demonstrations of technologies like solar ELOS (a type of solar generator for elevators), hydraulic elevators for passenger and goods, pneumatic vacuum elevators and smart elevator control panels with cloud and advanced components in full display, the show helped suppliers and manufacturers to build business connections with their targeted audience as majority of buyers belonged to the elevator installer sector (17 per cent), elevator/escalator manufactures (16 per cent), maintenance and repair (11 per cent), components manufacturers (10 per cent) along with other important buying segments like builders/developers, architects, rail and metro authorities, city planners etc.
IEE Expo's influence on the elevator and escalator industry is evident as the previous edition saw strong support from industry associations and government bodies like Minister for Housing, Government of Maharashtra, National Buildings Construction Corporation (India) (NBCC), Indian Electrical and Electronics Manufacturers Association (IEEMA), Mumbai Metro Rail Corporation (MMRC), Maharashtra Chamber of Housing Industry-Confederation of Real Estate Developers Association of India (MCHI-CREDAI), All India Lift Upliftment Federation and Gujarat Elevator Industrial Association. Partnership with CREDAI-MCHI attracted many real-estate moguls to witness the latest trends of elevators up close and personal for their upcoming building projects.
The platform is also trusted by some of the biggest players in the industry as the grand inauguration of the previous edition was attended by eminent members from the government and industry like Dhirajkumar S Pandirkar Chief Engineer, MHADA (Maharashtra Housing & Area Development Authority), SR Nalavade, Superintendent Engineer – Energy Department, Government of Maharashtra, Sebi Joseph,  Chairman – Elevators & Escalators Division, IEEMA and President, Otis Elevator Company (India) Ltd, Nakul P Mehta, Vice-Chairman & Managing Director, Bharat Bijlee Ltd, R Rajaraman, Vice President, Bharat Bijlee Ltd, Sandeep Shah Assistant VP (Head Commercial Contract and Procurement) – Omkar, TD Joseph, Business Head, CREDAI-MCHI and Raj Manek, Executive Director & Board Member, Messe Frankfurt Asia Holdings Ltd.
With so many advancements entering the market, it is crucial for buyers to personally witness the benefits these technologies can provide to enhance modern infrastructural development. The show that is known to provide the first-hand experience of the latest trends in elevators, escalators and components has successfully managed to keep the industry close-knit with 6,49,080 second degree connections, showcasing the Power of IEE Expo.
The next edition of IEE Expo will be held from 16-18 February 2022 at Bombay Exhibition Centre, Mumbai, India. IEE Expo is a of Building Technology segment that also hosted E2 Forum in India. The globally renowned conference was supported by a powerful advisory committee that comprised of decision makers from leading elevator and escalator OEMs like Bharat Bijlee Ltd, Kone Elevators India Pvt Ltd, Fujitec India Pvt Ltd and Thyssenkrupp India along with key real estate players Ajmera Realty & Infra Ltd and Runwal Group apart from the event's strategic industry partner, MCHI-CREDAI. The IEE Expo advisory board conceptualised themes that had a future-oriented relevance to the sector which can also benefit the buildings of the future.
For more information about the event, visit:
www.ieeexpo.in.messefrankfurt.com
17