The transformation of Mirasol Daman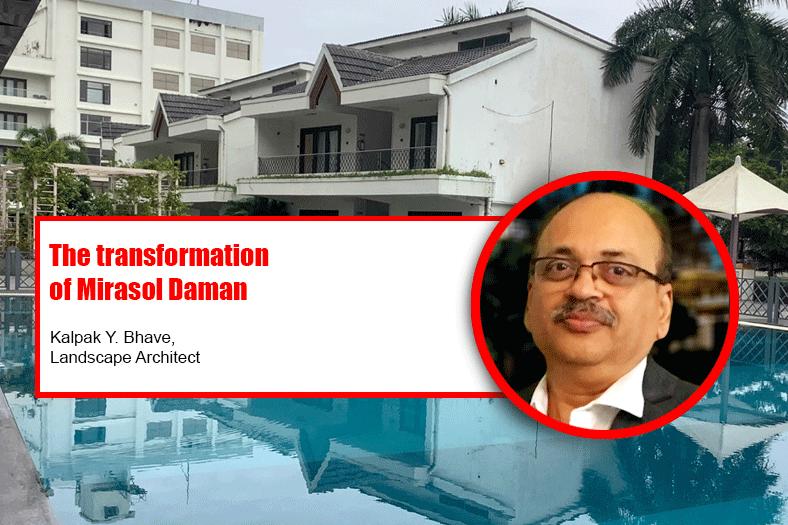 In this project, we have transformed an industrial shed into a beautiful landscaped area to host marriage parties and more says Landscape Architect Kalpak Y. Bhave.
Tell us something about Mirasol Daman
Mirasol Daman is a large area with a water park and marriage destination as his identity. We have designed various areas for this project and the process is still on. We are working on some more areas. The new landscape design for all these areas has offered the landscape character to Mirasol which was missing.
Located in Daman, Mirasol is a popular water park and a marriage destination. We have been appointed as landscape architect to design their terrace garden of the area of 12,000 square feet.
What was the client brief for you in this project?
When the client approached us with the project it was a large terrace covered with a shade-giving appearance of an industry. My task as a landscape architect was to redesign this space for conducting events, parties and destination marriages. With our well-designed landscape, the entire industrial shed was converted into a beautiful landscape area. We have hidden the negative visual roof and have created a middle layer of the landscape by way of pergola and creeper. We used carved grills, pergolas, tree boxes, flower beds, green walls as landscape elements. The entire planting here is potted and shrubs which can withstand semi-shaded conditions and salty weather have been used.
What were some challenges involved in executing this project? How did you overcome them?
The front of the reception area is dotted with tall shrubs and trees which creates confusion for the movement of vehicles as also for a visitor coming in. it was not able to add any specific character to the landscape in this area. It merely acts as a foreground to the main reception building. The shrubs and trees completely hides the building elevation and it literally remains invisible for the guests coming in.
The reception area in any project is ideally illustrious since it the first point of contact for a visitor, it sets the right kind of expectation, however this was not the case at Mirasol Daman. I identified all these points and presented three various landscape concepts to rectify them, out of three concepts, we finalised one and worked further on detailing it to create an awesome experience for visitors. They also wanted us to accommodate car parking in the front landscape.
We created a well-defined approach to the main reception with a drop-in area and an exit from the reception area back to the Mirasol entry point. We had the main kitchen in the gwest side while reaching  the reception which we camouflaged with a wall and added fountains to it. A driveway with patterns for in and out was created to offer an Eye Shape Landscape and we accommodated parking within the inner area. We never wanted this parking to be visible in day or night. We designed grills of 2.4m x 2.4m  to hide the parking in the day time and added backlit lighting to it which hides the parking in the night time. All the grills were placed in the flower beds defining the parking bays.
Roads have been lined with ornamental trees of Termanalia offering a well-defined driveway and also offer a green wall.
What are the dedicated areas accommodated in the passage area?
This is a 6.00m wide passage from a drop-in point to a high tea area. This has a kitchen on the left side and has areas that need to be screened off. A large artificial green wall of 4.00 M plus height has been installed in this space. The base of the wall has been added with stepped shrubs, another wall after this is used for "Mirasol" branding with CNC cut metal sheet placed over the green wall.
Tell us something about the high tea area
This was a large lawn area offering high tea during marriage functions. This area has a tall building on the west side which offers a good deal of shade during tea parties. The shape of the lawn was odd, we gave it a geometric shape which resulted in the creation of a rectangular high tea area with adjacent triangular spaces. These spaces have been converted as a front for private garden to the bungalows present on the east side. It is further divided into two parts as per their functional requirements.
I designed the landscape for this area offering various sitting opportunities for guests during high tea. Various pergolas have been designed with creepers, an open portable sitting also adds to the total composition. A large long paved area/pathway is created next to the building separated by a flower bed. This has been used to display tea, coffee and snacks.
The total lawn was broken into some paved areas and artificial lawns to reduce the maintenance of the area. A water feature has been added in this area with a color changer which becomes an eye-catcher.
Likewise, the pool and bar also increase the design quotient
Yes it does, to design them, a large banquet hall was demolished and we were asked to design a swimming pool and bar in this place. A large rectangular pool has been designed with pool loungers and a children's pool. Cabanas have been planned on the pool deck giving a third dimension to the swimming pool. This pool is connected to the high tea area. We also have designed the bar next to it and opened it well to pool for better visual connectivity.
Plantations selected for all area which can stand in saline and humid weather sunny or semi-shaded, mostly evergreen and has attractive foliage structure and which remains fresh throughout the year. Plant varieties such as Termanalia Mantaly, Crinum Lily, Variegated Lily, Pendanus Varigata, Bougainvillias, Quisqualis Indica, Foxtail Palm, Dieffenbachia, Schefrella, Dracaena Tricolor, Dracaena Reflexa, Orange Heliconia, etc.
11