thyssenkrupp bats for healthy and secured mobility experience at airports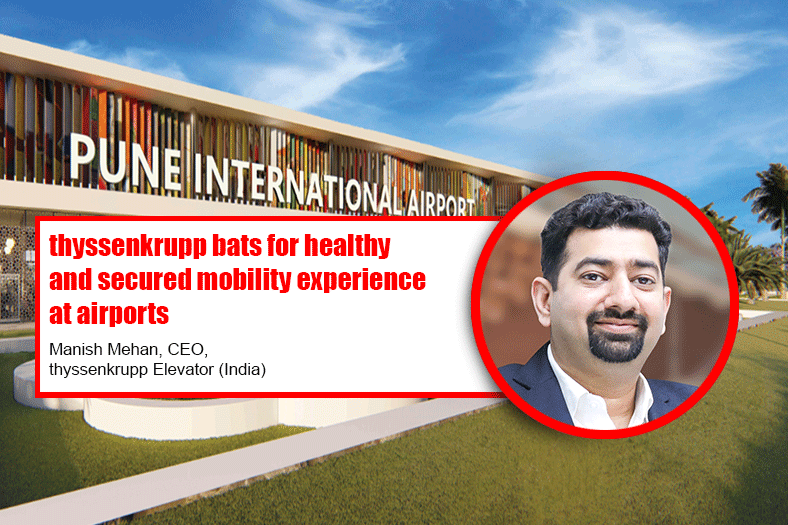 The company is focusing on three pillars: hygiene technologies, physical distancing, and touchless technologies to prevent infection in elevators, escalators and moving walks at airports and other public places says Manish Mehan, CEO, thyssenkrupp Elevator (India).
What are some of the specific mobility solutions thyssenkrupp has designed for airports?
As air traffic and passenger volumes increase, reliable elevators are more important than ever to ensure efficient and stress-free airport mobility for all travelers. Our elevators provide dependable, energy-saving mobility at international and regional airports around the globe.
In fact, our innovative elevator solutions are shaping the future of both urban and airport mobility. Our complete range of elevator solutions meets modern airport's every need, from heavy-duty passenger elevators to elegant elevators for its' first-class lounges. Further, our passenger and freight elevators deliver increased transport capacity; reduced space requirements; enhanced safety; improved energy efficiency (VDI 4707 and ISO 25745-3 certified); and greater durability and recyclability.
Our escalators namely tugela, and victoria are already among the world's best, reliably moving millions of people daily at airports around the world. These powerhouse escalators, which are specially developed to cater to the heavy-duty traffic at airports also offers trend-setting designs for stylish airport interiors.
Furthermore, our moving walks give convenience, comfort and safety a whole new meaning. Whether you're pushing a stroller or carting luggage, they significantly shorten the time it takes to cover long stretches in airports. They also optimize both capacity and valuable space in your airport.
Our Orinoco moving walk offers the market's widest pallets at 1,600 mm, boosting your airport's transportation capacity for smoother traffic flow. Installed in airports on four continents, our iwalk solution is available in a reduced pit depth or pitless configuration, minimizing civil works. Its 1,100 mm-wide pallets enhance passenger comfort without requiring more building space, perfect for any new installation or infrastructure modernization. Whatever solution you choose, travelers will be transported faster, safely and more comfortably, from gate to retail shop to gate.
Not to mention, our accelerated, next-generation moving walk ACCEL offers high capacities and high speeds for short distances, with no waiting times for passengers and low implementation costs. Passengers step onto the ACCEL at normal walking speeds, accelerate smoothly up to 7.2 km/h, or even 12 km/h for passengers who continue walking on the pallet band, and then decelerate to normal speed when leaving the system. ACCEL generates time savings of 70 per cent.
A central feature of modern airports, boarding bridges are also a passenger's first and last point of airport contact. Our project-tailored passenger boarding bridges boost boarding efficiency, convenience and safety. They also meet the most diverse and demanding client requirements. Our portfolio includes solutions for virtually all aircraft types, from the largest commercial aircrafts to propeller and regional jets.
We carefully customize each bridge to fit your airport's unique environment. For smaller airports, a special 'low rider' solution lets passengers board directly from the ground-level terminal. At A380 gates, our flexible bridges service both decks of the airliner as well as a whole range of other aircrafts. With our in-depth A380 expertise, we've installed A380 bridges at over 40 airports, and counting, worldwide.
thyssenkrupp A-VDGS is the most advanced docking guidance system on the market. As global air traffic continues to rise, A-VDGS provides an integral solution to ensure safe, smooth and efficient arrivals and departures. Some of its key features are long-range azimuth guidance right from the taxiway, operating range of more than 200 meters and automatic activation.
Last but not the least, we provide dedicated and tailored platform lifts to enhance people's mobility in both private and public settings. This includes airports, such as Milan's Linate Airport, where our easy-to-use platform lifts provide people with limited mobility independent access within the airport. Compact and unobtrusive; easily adapted to all architectural requirements; ergonomic design with superior safety and comfort, are some of the benefits of our best-in-class platform lifts.
Can you mention some well known airports where thyssenkrupp's products have been utilised?
In India, airports such as Indira Gandhi International Airport, Delhi; Kempegowda International Airport, Bengaluru; Cochin International Airport; Pune International Airport, Jaipur International Airport, Ahmedabad International Airport, Chandigarh Airport, Bhopal Airport, Raipur Airport, Lucknow Airport, Varanasi Airport, Udaipur Airport have relied on thyssenkrupp Elevator's proven innovative aviation mobility solutions and its reliable services.
Some of our global airport projects are Dubai Airport; Lester B Pearson International Airport, Canada; Denver International Airport, USA; Phuket International Airport; Kuala Lumpur International Airport 2; Brisbane International Airport, Australia; Frankfurt Airport, Germany; Duesseldorf International Airport, Germany etc.
In the current and post pandemic world, how can thyssenkrupp make airports safer for the travelers?
thyssenkrupp Elevator has launched forward-looking technologies for healthy and secured mobility experience at airports.  To create a clean and healthy mobility solutions' environment and ensure peace of mind for passengers, the company is focusing on three pillars: hygiene technologies, physical distancing, and touchless technologies to prevent infection in elevators, escalators and moving walks at airports and other public places.
As we strive to make every elevator a healthy and disease free space, we have launched advanced Air purification solution, LED thermal camera and Aerosol disinfectant solution. Furthermore, to make escalator handrails free from any pathogens and to prevent the disease transmission at all times, we have launched a high intensity UV sanitizing unit. These units automatically sanitize every inch of the handrail on every pass, to make it safe for everyone.
Furthermore, in order to take our customer's safety and convenience to the next level amid COVID-19 scare, we have also developed various smart and user-friendly touchless elevator calling solutions such as Proximity sensor based solution, QR code based solution and Bluetooth based solution. By developing these multiple solutions, we are trying to cater to the diverse requirements of our customers.
In the current Unlock period, how are you managing your supply chain India?
We are constantly assessing our critical raw material availability, identifying supply-side capacity constraints and quantity/price volatility. In addition, we are also evaluating existing contingency plans, and reviewing contract agreements for allowable variation clauses that will highlight possible risks to address. These reviews would also help us identify possible headroom for renegotiating select contracts for better terms.
Not to mention, we are regularly monitoring our inventory levels and improving visibility over all inflow of goods. We also keep a close watch on the supplier's end–supplier production schedules, shipment details, etc. to understand and foresee any material flow disruption situation beforehand. Ensuring smooth material handling, along with adequate manpower availability, is another area that we have been focussing on during COVID-19 lockdown as well as 'unlock 1' situation.
How do you view the market for escalators and elevators for Indian aviation industry?
India has become the third largest domestic aviation market in the world and is expected to overtake the UK to become the third largest air passenger market by 2024. To cater to the rising air traffic, the Government of India has envisaged increasing the number of operational airports to 190-200 by FY40 from current 103 airports.
Looking at the promising future of Indian Aviation Industry, we can envision a significant increase in the demand for mobility solutions in the Indian aviation sector in the years to come.
13