Tiles: beyond visual appeal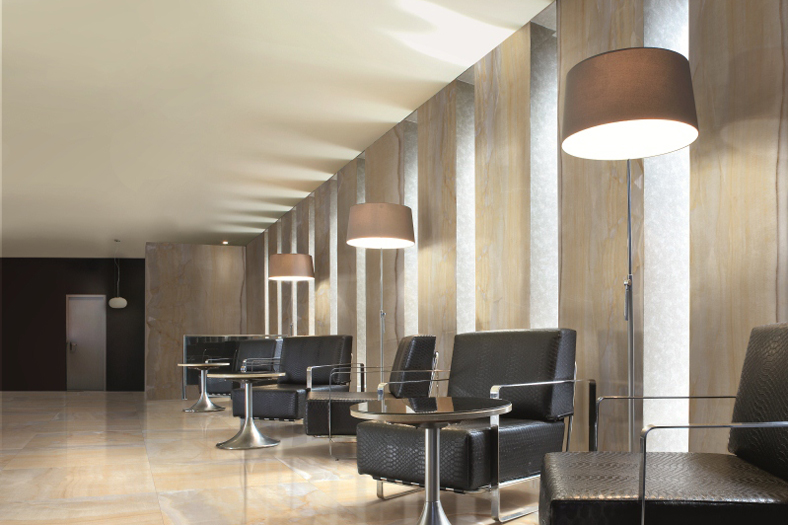 Functionality, durability, ambiance-friendliness, are key criteria for selecting the right tiles besides aesthetics.
High-rise buildings have given new direction to architectural, constructional and material technology development. Making a building stand out amidst the concrete clutter has become challenging. Today, a building has to be sustainable, energy-efficient, and each architectural design must offer some benefit. Tiles are so versatile and adaptable that they can meet all these requirements – even the demand to be outstanding. Especially, when it comes to smart cities, it is imperative that buildings project a sense of intelligent design to abide by the overall city planning.
Choose tiles tailor-fit for spaces
With a slew of options available in the market, it has become difficult to choose the right tile for the right space. However, the idea is to make a tile that is a combination of aesthetics, functionality and durability. A tile that not only complements the ambience but also one that matches the demands of usage environment, says Dinesh Vyas – Sr. Vice President (Marketing), H&R Johnson India.
In addition to design and colours, the overall ambience which the space creates, contributes to aesthetics. With current technology and possibilities in tile designing, one can recreate any design or surface texture of choice.
He adds, "Tiles meet the basic requirements of aesthetics, easy maintenance, and longer product life span."
"The popular floor choice in many countries is the 'wood floor', whether solid wood, engineered wood or a premium wooden laminate. It has the ability to enhance the look of a lobby, hall or apartment. A wood floor adds warmth and character, gentle elegance or a touch of drama to a rooms." says Chirag Shah, Operations Head, Xylos Arteriors India.
Perfect for formal upscale interiors in plush residences, starred hotels, themed villas or beautiful high-rises, Parkett or parquet flooring by Xylos adds a unique, distinctive and luxe touch to halls, foyers, living-rooms, atriums and dining-rooms.
Large format tiles
High-rise structures bear wind pressure and intense heat which overtime affects the façade both structurally and aesthetically. Amit Shah, Managing Director, Classic Marble Company Pvt Ltd, says, "Our range of large format tiles has high-resistance to heat and helps combat the wind pressure at higher altitudes. Despite being light-weight, the tiles are sturdy and durable ensuring long lifespan. The surface colours and textures remain unaffected making the building look new for years, with minimum maintenance."
Selection criteria
Clear on usage
For ensuring the use of appropriate tiles in the relevant space, it must be clear where the tiles are going to be used, what the usage environment is going to be like and where to look for the right tiles.
Space and usage
"Whether a luxurious apartment or a starred hotel, tiles must be chosen keeping in mind the space and usage as well as the overall look of a room," says Shah from Xylos.
However, bedrooms probably need gentler, subtler laminate patterns. Children's bedrooms need 'scratch-and-scuff proof' as well as dirt-resistant finishes on the laminate tiles. Bathrooms, obviously, need heavy duty 'waterproof' laminates that are skid-proof. Atriums or lobbies need tough, abrasion-resistant, heavy-duty laminates.
Tile strength
The tile chosen for application in buildings needs to be tested and certified for hardness. In façade applications, it should be able to withstand the external forces that act on it like light, heat, rains and wind, says Shah from Classic Marble.
Overtime, materials tend to become fragile so the installed tile must conform to the standards for strength. Likewise, in other exterior applications, based on the area of installation, it must be chosen to withstand the expected traffic. In the interiors, tiles are usually chosen with less concern on maintenance. So, the tiles can be chosen based on the utility of that area. A kitchen could have glossy finished installations whereas the bath could have the matt finish. The cladded application can use the leather finish and so on.
Ease of application
Installation of tiles should allow ease of handling, and especially so, in a high-rise building. The lighter the tile, the easier it would be to handle and ensure the application process becomes easy.
Cleaning and maintenance
With almost non-porous and abrasion-free surfaces, tiles offer easy maintenance of applications. However, in the exteriors, tiles tend to lose lustre with time. So, while the surface of the applied tiles must not only be able to resist deformation in colour and texture, it should also be easy to clean with minimum effort.
Latest innovations
H&R Johnson has a range of exterior cladding tiles, Johnson Endura Clad Care and Johnson Porselano Elevation tiles.
For flooring options in building exteriors, Johnson Endura has a range of tiles from 20×20 cm to 60x60cm covering multiple thicknesses and designs.
The tiles are durable enough to stand the pressures of daily wear and tear without compromising on aesthetics.
For lobbies and corridors, one can select from options in Johnson Marbonite and Johnson Porselano covering a range of sizes and designs.
Vyas says, "Johnson has a range of staircase solutions to include the step tile and the riser. These vitrified 15-mm thick tiles are durable with unique features like full bullnose edges; tread lines for better grip and anti-skid surface that promotes safety. The step tiles come in the size of 120x30cm and the riser comes in the size of 120x60cm which can also be used for the landing area."
Johnson Endura Hexagon tile series is a range of hexagon-shaped tiles that are durable and stylish suitable for indoors as well as outdoors.
Range of wood products
Shah from Xylos says, "Xylos presents the latest range of wood products to enhance décor and aura of elite living spaces. The portfolio of products comprises laminates, solid wood flooring, engineered wood, decking and bamboo flooring as well as wood-based wall-coverings."
Techlam, Iris and Kalesinterflex
Shah from Classic Marble says, "CMC has one of the widest and diverse portfolios of porcelain tiles in the country with Techlam, Iris and Kalesinterflex."
Kalesinterflex
The porcelain slabs have a flexibility radius of 5.5 metre which allows it to be bent for installation on concave or convex surfaces without cracking or breaking.
Techlam
With 3-mm thickness and 3000 x 1000-mm size, the porcelain slabs are available in a wide range of designs that replicate natural materials including blaze, slate, stone, wood and steel among others. Other than the design aspect, its strength and durability make it the quintessential material fit for luxurious settings.
Iris
The range is a blend of refined natural stones and porcelain slabs. The tiles are resistant to abrasion, fire and heat, and can be installed in kitchens and bathrooms.
Tiles meet the basic requirements of aesthetics, easy maintenance, and longer product life span.
Dinesh Vyas – Sr. Vice President (Marketing), H&R Johnson India
A wood floor adds warmth and character, gentle elegance or a touch of drama to a room.
Chirag Shah, Operations Head, Xylos Arteriors India
Large format tiles have high resistance to heat and help combat wind pressure at higher altitudes.
Amit Shah, Managing Director, Classic Marble Company Pvt Ltd
10