Universal bags 'Best Mobile Concrete Batching Plant' award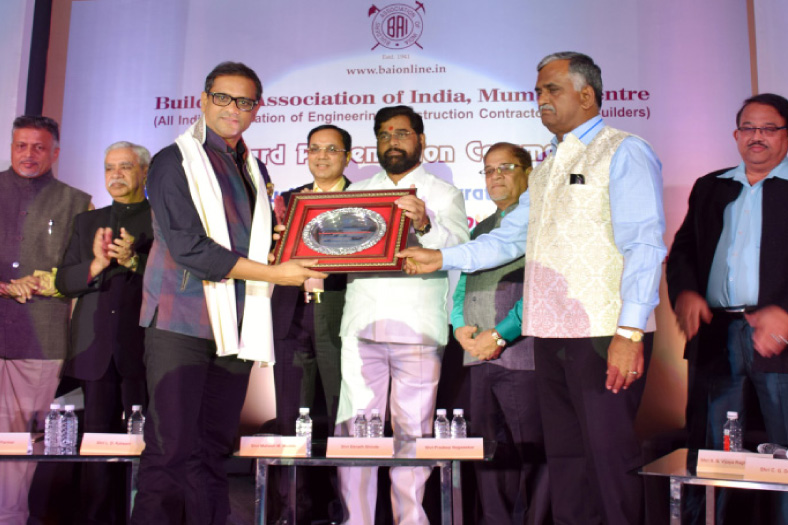 Universal Construction Machinery & Equipment Ltd received a consecutive award for "Sarvottam Concrete Mobile Batching Plant Manufacturer in India" at the hands of Eknath Shinde, Maharashtra State Government Cabinet Minister – Public Works Department (PWD) and H.N. Vijaya Raghava Reddy, President, Builders Association of India (BAI) during "Navratnas of Indian Construction Industry Awards 2017" in Mumbai.
Concreting equipment maker Universal provides efficient solutions to small, medium and large concreting needs. Speaking on the occasion Ranjeet More, Vice Chairman and Managing Director of Universal Group said, "Due to continuous shifting requirement from various customers we have designed on-wheel mobile concrete batching plant, we are the only company in India who manufacturers up to 60 cu.m mobile batching plants. These plants are directly mounted on trailer and can be shift anytime as per requirement. Universal integrates the power and stability of stationery plants with advantage of mobility for short term projects."
Due to its unique design these plants have "zero" foundation cost and erection and commissioning can be done within one hour. It's just plug the socket and start the plant operations. These plants are operator friendly and have simple operating system, any person with small training can operate these plants, informs More.
Sunil Bhamare, Vice President – Sales and Marketing at Universal adds, "In windmill sector where quality of concrete and frequent shifting is more concern of customers they prefer only Universal plants due to its high mobility and homogenous mix of concrete. We have more than 90 per cent of market share in this sector. There are more than 65 batching plants are working only in Anantpur, Andhra Pradesh."
3