Urban architecture is on high rise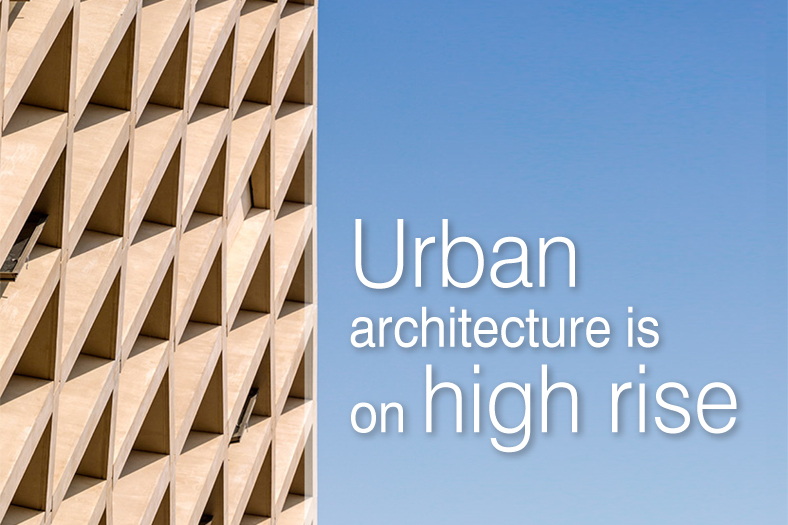 With urbanisation rapidly becoming the mainstay of modern living, construction of high-rise buildings is on an uptrend. Owing to paucity of space in densely populated urban areas, building vertically is way more convenient and fits better into urban living. As income levels rise and purchasing capacity improves, preference for large and modern dwelling places is increasing. In order to meet the growing demand for modern housing in a technical yet aesthetic manner, construction and real estate sector is witnessing surging preference for high-rise buildings.
Construction essentials
The first requirement for the construction of any type of building is planning, and high-rise building is no exception. The architecture blueprint must be prepared, as also the estimation and requirement of material must be ascertained before undertaking construction.
"The requisite steps in project execution – planning and scheduling of work from excavation, construction of foundation to finishing through erection of frame and walls – must be in place," says Vijay Kalantri, Chairman and Managing Director, Balaji Infra Projects Ltd.
Fire safety and protection is a key requirement for the high rise building. There are different fire resisting techniques that must be installed for the safety against fire. All the fire resisting techniques must be provided on every floor.
"Treatment plant is also another requirement for treating solid waste water and reusage. The waste material which comes from the building is managed as the renewable waste and non-renewable are separated," Kalantri says.
Besides, constructing sky scrapers in urban spaces entail other considerations as well. "Having access to MEP engineers right at the outset of process to integrate intelligent load – bearing system that offers flexibility during the planning, is important," believes Hartmut Wurster, Principal Architect, blocher partners India.
Façade engineers, MEP engineers, lighting consultants, building physicists, fire protection engineers and e.g. consultants for conveyor technique will be invited right in time. The architect is free to decide how to navigate the process and to work out an eloquent balance and an emphasis of the aspects.
"It is crucial to guarantee floor plans adaptable to new usages and requirements. To achieve this adaptability, a project is planned in more extra single phases to avoid larger planning gaps. From technology point of view, this eases the process to react to new situations," he says.
When it comes to security aspects of buildings, special attention is called for. Emergency exits need to be integrated within the preliminary design, optimum vertical and horizontal evacuation needs to be in hand considering the commensurability as well as the number of expected users. The building's exploitation should be supported by a guiding system providing users with the needed orientation. Overall, one should plan in a proportionate and future-oriented way.
Considering climate conditions offer resource – friendly planning process resulting in energy-efficient buildings. Fixed installed (integrated) shading elements and vertical flow system floor plans avoid unnecessary heating and offer the possibility to contain the needed climatisation.
Further, steel technology and reinforce cement concrete are mostly used for constructing these buildings. The focus on energy-efficient and sustainable design has magnified despite good functional and economical design for high-rise buildings.
Geographical factors in a location are also considered while planning construction of such buildings. By constructing with reference to the local climate, orientation, wind factors and sun path, the buildings would be more compatible with the area. For structural strength, seismic and wind factors are to be considered.
Aesthetics matter
High-rise buildings are always notable statements engraving a city's silhouette and impressing with their symbolic attitude. Therefore, integrating the building in relation to its' environment is essential.
Now-a-days, most of the buildings are clad with glass on all facades which is not suitable to many states in India. "Facades should be designed in accordance with the local climate as that would help in enhancing the visual appeal," says Ar. Surinder Bahga, Sakaar Foundation.
Moreover, the effects – close-range and long-range – should be considered. Volume and proportions need to be set in the right balance to generate a human benchmark. The vision asks for lower acuteness but a more expressive gesture. And a differentiated texturing sharpens the close-up view. It's all about the first impression, the entrance and foyer area, Bahga says. The ground floor asks for a tangible, touchable zone that offers accessibility and openness. Façade design establishes a positive relation to the urban space. However, monotony must be avoided. Overall, there are various creative and architectonical methods to choose from to use the height's potential and establish distinguished design.
Basis is a fair planned structure of the building based on integral planning. If the building is planned from the inside to the outside, positive functionalities can be brought in line with the optical design. Partially, larger window formats or extended terraces are offering possibilities to plan and design – one is not only gaining an optical differentiation but also creating additional value for functionality and space-on-offer.
"Space of depth should be chosen in such a way that enough natural lighting gets access without causing blinding. Here, an intelligent façade design can positively contribute by planning dividing concrete struts (with appropriate depth) to protect the building from strong temperatures influences by providing efficient shading," he says.
What impedes implementation of plan
Social acceptance of high-rise building especially for residential purpose is one challenge. Generally, initial cost of high-rise structures is much more than low-rise buildings. Likewise, running cost is also much higher. At times, technologies to build high-rise buildings are not available everywhere. Services like air conditioning and fire fighting also pose challenges many a times.
To receive timely construction admission, several regulations must be met. This applies to all construction endeavours, not only to high-rise buildings. The architect must be aware of all rules and requirements to safeguard efficient project development and avoid delays. To ensure economics, one must pay attention to a well-organised process. Since high investments have already been made in acquiring building area, the request to immediately start with the actual construction work is self-explanatory. The detail-driven implementation of plans requires close-meshed supervision of the architect as well as well-trained staff.
The kind of problems that may arise, and how to tackle them are important aspects to consider. Security, quality assurance, test and regular investigation of the works being executed are other important features in the overall planning.
"Familiarity with the statutory rules and regulations is absolutely necessary and must be complied with," according to Kalantri. The quality of work done, material used and manpower are to be maintained at the site throughout the period of construction, as these factors determine a building's life cycle.
Additionally, for well-organised planning of materials supply and for use of cranes, scaffolding is needed. Especially in India, with extreme weather conditions and perils of earthquakes, the building process is always a challenge. Technology and constant training are solutions to control these problems. Another focus should be the possibilities of serial production which helps in saving resources and optimising timetables and processes.
Familiarity with the statutory rules and regulations is absolutely necessary and must be complied with.
Vijay Kalantri, Chairman and Managing Director, Balaji Infra Projects Ltd
It is crucial to guarantee floor plans that are adaptable to new usages and requirements.
Hartmut Wurster, Principal Architect, blocher partners India
16