Volvo EC480D: A perfect combination of performance and fuel economy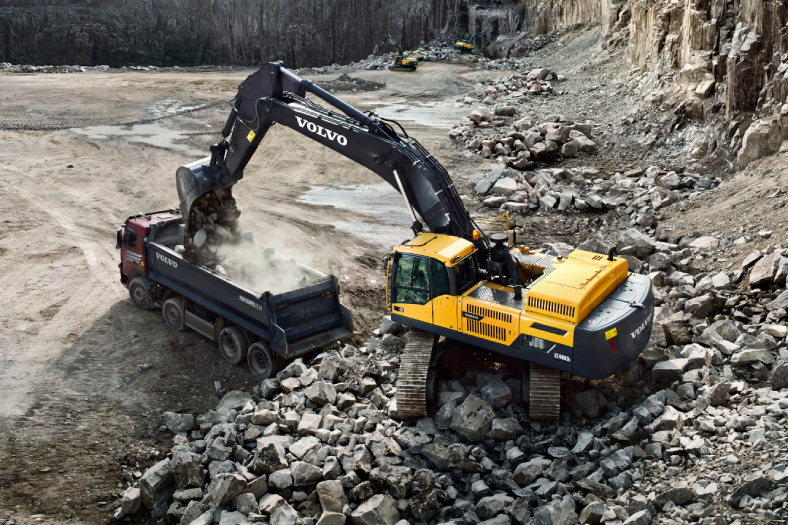 Volvo CE is widely-recognised as one of the leading manufacturers of energy efficient technologies for construction equipment. Its high performance fuel saving excavators, for example, are suitable for a range of applications.
The Volvo EC480D excavator is among the most popular models for large-scale earthmoving or duties such as mining. With an operating weight of 47,300 kg to 53,100 kg and a gross power of 265 kW, the 48-tonne machine offers a perfect combination of performance and fuel economy.
The Tier 2-compliant machine is designed for heavy digging and lifting duties while offering superior cycle times and greater fuel efficiency. Equipped with Volvo's D13 engine, the EC480D features an automatic idling system that reduces engine speed when the levers and pedals are not activated, delivering not only better fuel efficiency but lower external noise.
Its unique ECO mode features sophisticated electronic pump control technology that improves fuel efficiency by 5 per cent, while also allowing operators to choose from G (General), H (Heavy) and P (Power max) work modes based on the work requirements. "The turbocharged high pressure direct injection Volvo diesel engine, coupled with an enhanced hydraulic system and well-matched components, mean the EC480D has improved fuel efficiency by as much as 8-11 per cent over its predecessor, the B-series model," Volvo CE claims.
All in all, Volvo's range of excavators is optimised to provide maximum fuel efficiency while offering class-leading performance. As the Indian government pushes forward its ambitious plan to improve infrastructure, Volvo CE India expects more fuel efficient equipment will be required for both construction and mining.
7