What it takes to be the Best Backhoe Loader in India?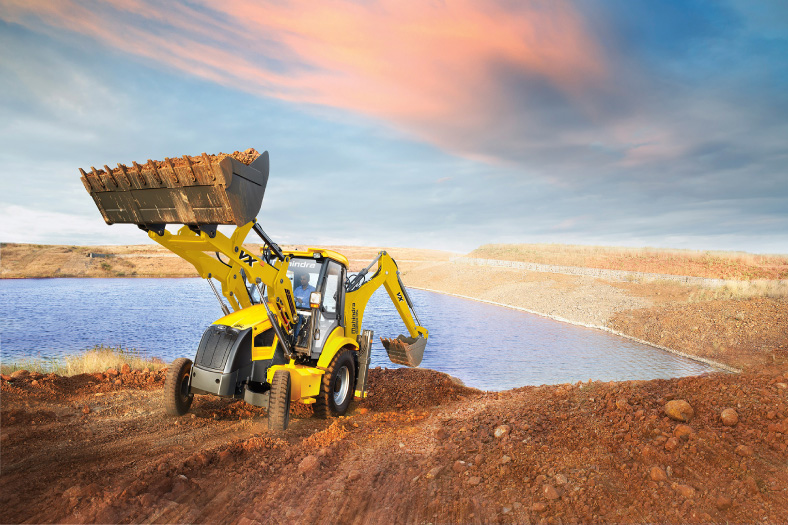 Sachin Nijhawan, Vice President and Business Head, Mahindra Construction Equipment takes a look at some of the features that define the best backhoe loaders in the industry today.
Backhoe loaders—this machine has been the superstar of construction equipment as well as the material handling industry since quite a long time. Ever thought what makes the backhoe loader so popular? It is its versatility! In an era when Indian equipment manufacturers are designing machines to do as many jobs as possible or trying to follow the 'Swiss-army-knife' approach, the backhoe loaders with its versatility are winning hearts. The machine is at once a dedicated trenching unit as well as a front-end loading tool.
Be it building sites, roadwork areas or places where earth-moving is required, backhoe loaders can be spotted everywhere. Most backhoe loaders feature quick-attach mounting systems and auxiliary hydraulic circuits for simplified attachment mounting, increasing the machine's utilisation on the job site. After 4 years of research and over 20,000 hours of machine testing under the harshest conditions, Mahindra is proud to present Mahindra EarthMaster Backhoe loader – a revolutionary new machine that will break all standards in the backhoe loader category.
Let's take a look at what it takes to be the best backhoe loader in India.
Powerful mechanics: A powerful diesel engine at the heart and amazing hydraulics define the best of backhoe loaders in India. The diesel engine creates power while the hydraulics amplifies it. The power of the diesel engine and the capacity of the hydraulic systems differ from variant to variant.
Highly fuel efficient: Further, for a backhoe loader to be the best-in-class, fuel-efficiency is the primary requirement.
Here, Mahindra EarthMaster deserves a mention. It offers best-in-class fuel efficiency (4.5 litres per hour) with the proven Mahindra DITEC engine that is a compact 4-cylinder 3,532 cc engine, turbocharged intercooled engine that is BS III emission compliant which implies it saves 10 per cent more.
Low maintenance cost: When identifying the best backhoe loader, it is also important to consider the maintenance cost. The lesser the cost, the better it is and this is very much possible with the modern machines in the segment. With better technology and design enhancements, the modern machines are very much able to reduce the overall maintenance cost. So, you can have your peace of mind while this excellent machine does its work.
With better technology and design enhancements Mahindra has been able to lower the lubricant refilling requirements with extended service intervals therefore reducing the overall maintenance costs. The statistics are for everyone to see and judge for themselves:
• Hydraulic oil: 50 litres with 2,000 hours change interval
• Rear axle oil: 17.1 litres with 1,500 hours change interval
• Engine oil: 13.7 litres with 500 hours change interval
• Transmission oil: 10.2 litres with 1,500 hours change interval.
All this plus a one year unlimited hours warranty on Mahindra EarthMaster SX, so that one can enjoy peace of mind.
Superior productivity and performance: It is another criterion for judging the machine's productivity. Here, one should note that Mahindra EarthMaster comes with Banana Boom with 7 per cent more reach, rugged and reputed gear pump and has maximum dig depth and loader dump height.
Intelligence matters: Apart from strong mechanics, machine's intelligence should also be considered. So, if a backhoe loader comes with remote monitoring features that allow you to get daily work report, fuel level notice and maintenance warning through SMS, then nothing like it.
Effortless operations with joystick: Since effortless and fast operations are the need of the hour, this feature also assumes a lot of importance. A joystick is usually used to manoeuvre this complex system to make heavy-duty work seem much easier and effortless than it actually is. A joystick makes for accurate and smooth power control.
Highly communicative: Not only the equipment should be great, but it should communicate effectively as well. If any backhoe loader meets this requirement, then it should be considered to be the best-in-class. Today, the highly advanced backhoe loaders come with a Radio with a 2-way Speaker System that facilitates communication with the operator and through him, with people on site. It becomes effective and useful in congested sites and in large sites without mobile network.
Highly convenient and comfortable: Last but not the least, comfort also matters. Backhoe loaders should be such that they are easy-to-use and operate.
Mahindra believes that the most important part of the machine is the person operating it. That is why a tremendous amount of work has been put in place to make his experience the most comfortable for his long hours of work. Ergonomic layout and seating that makes every control smooth and easy to reach, advanced mechanical control levers, 21st century styling with plush car like interiors and personal storage space and a tool box with easy access.
9