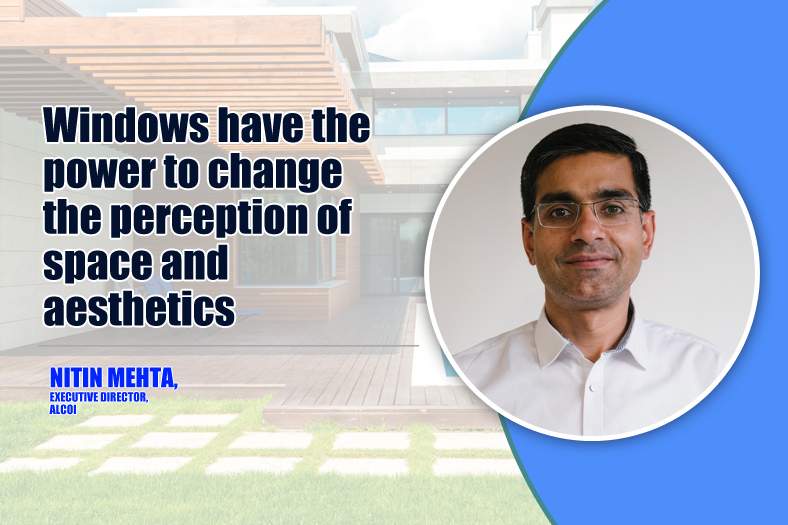 It does depend on their size, area and placement. Strategically placing windows also helps in maximising energy efficiency and transform the ambience of a given space says Nitin Mehta, Executive Director, ALCOI
How has the fenestration sector responded to the changes in the building and construction industry?
The technology-driven fenestration industry is abuzz with a plethora of product offerings comprising window styles, shapes, and sizes. Breaking away from the stereotype of conventional neutrals, window frames energise the aesthetics with a range of colours like blues, reds and greens. Additionally, unusual material finishes pervade the interiors and the facade to create a bespoke look.
As the real estate sector bounces back, there's a demand spike in the fenestration industry, especially for doors, windows and curtain walling systems that are pivotal for contemporary structures. The rapidly growing construction industry needs to quickly adapt to newer technologies while being rooted in sustainability and eco-friendly materials for builders and architects. Both are integral for mid and large-scale projects. In addition, acoustics has gained prominence in commercial and residential sectors and structurally sound installation.
An amalgamation of conventional materials like wood, aluminium and uPVC juxtaposed with modern-day steel, fibreglass, and composites are changing the perspective of fenestrations. On the whole, fenestrations can deliver performance to the building occupants when it becomes an essential element of a fully integrated building design.
What are some of the new age fenestration techniques which have come into play in the contemporary timeline?
Windows have the power to change the perception of space and aesthetics by bringing in views and dimensions. Of course, this largely depends on their size, area and placement. For instance, wall-to-wall or floor-to-ceiling corner windows make the most of views and double as a cosy get-away. For the fluctuating climatic conditions in India, strategically placing windows maximise energy efficiency and transforms the ambience.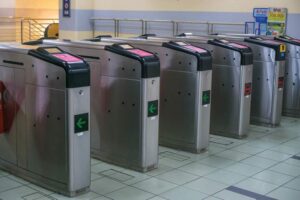 Scale the available square footage with bay windows that protrude outwards. Placing a divan or daybed against it or even converting it into a breakfast nook adds functionality to otherwise dead corner spaces. It also helps maintain the indoor-outdoor connection by bringing natural light and views. Not to forget, versatile bay windows blend well with both contemporary and classic decor styles. By adding elegance to your facade (in the case of protruding ones), these windows also increase the property value.
For compact urban dwellings, sliding windows and doors are a sensible pick. They are sleek, ensure space optimisation and don't add mass to the aesthetics, unlike traditional folding doors and windows. These windows optimise air circulation and bring in panoramic views.
What kind of innovations are being witnessed on controlling solar radiation to improve energy performance of glass as a facade material?
It is possible to control the amounts of solar transmittance, reflectance, and heat absorption of different wavelengths with technological advancements. In addition, the new-age fenestration glass features state-of-the-art glazing for adaptive solar control. Not only is this promising for energy-efficient development it's also an indicator that buildings can now drastically impact energy use and efficiency by screening sunlight.
Glass manufacturers focus on creating innovative products that are instrumental in controlling solar radiation to improve energy performance. Some of these include thin films, triple-pane glass, and low e-coatings, which can minimise solar radiation transmitted inside the room. This has a proportional influence on lowering the load on mechanical forms of cooling. Furthermore, the world of design explores imaginative ways of embracing these glazing solutions within the interior spaces to control natural light as per the weather. As a result, one can restrict the use of artificial light, save energy and step towards harnessing a sustainable future.
Apart from glass what are some of the materials which have been consistently or can be utilised for designing facades?
There's so much one can do with facades, and inventive materials offer flexibility in terms of aesthetics and functionality. For instance, HPL or High-Pressure Laminate, is made by compressing several layers of laminate under very high pressure and has properties similar to the original plastic laminate. The architectural sector prefers HPL panels due to their muted colour scale, earthy wood designs and metallic finish. Additionally, the material provides chemical, fire and wear resistance.
Then there are curtain–wall systems featuring extruded aluminium members. Generally, the aluminium frame is filled with glass to create an architecturally pleasing building that maximises natural light. But they don't offer thermal comfort and visual comfort control flexibility, especially while using highly glazed curtain walls.
Timber cladding, also referred to as timber weatherboarding or timber siding offers a budget-friendly and eye-catching way to finish the exterior of old and new buildings. Aluminium composite panel (ACP) or aluminium composite material (ACM) are good options.
What is the intrinsic relationship between fenestration and energy efficiency?
The fenestration systems of a building provide a significant opportunity to boost energy efficiency. Setting appropriate performance targets in terms of energy transfer via solar radiation, thermal resistance, and air infiltration minimise the energy required to condition the building. Advanced systems like photovoltaics can be integrated within the façades or roofs for the same.
Two significant ways in which façade and fenestration impact the energy efficiency of buildings are high-performance facade designs that acclimatise to the environment. Geometry and massing of the building can be oriented and developed to manipulate the solar position. In addition, solar shading helps manage cooling loads and boosts thermal comfort. Strategically positioned fenestrations facilitate natural ventilation that improves air quality and reduces the need for artificial cooling. Sustainable facades adapt to different climate types. Modern facades and fenestration play a pivotal role in making buildings energy-efficient. In particular, glass is a popular, budget-friendly and durable option. The right glass in the façade system cuts down on artificial lighting requirements. Plus, glass is completely recyclable too!
44