Trimble introduces the latest versions of its Tekla® software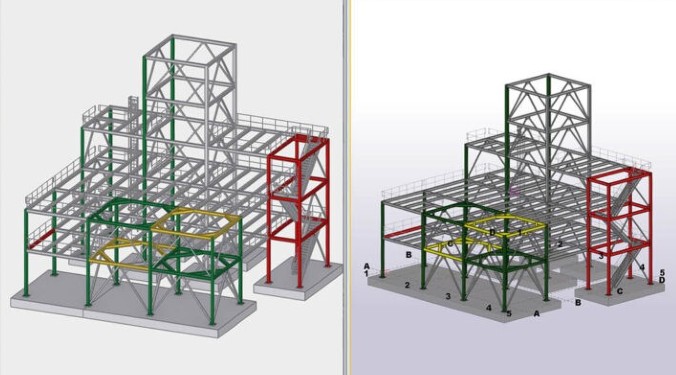 Trimble (NASDAQ: TRMB) announced today the introduction of the latest versions of its Tekla® software for constructible Building Information Modeling (BIM), structural engineering, and steel fabrication management.
Tekla Structures 2023, Tekla Structural Designer 2023, Tekla Tedds 2023, and Tekla PowerFab 2023 offer significant improvements in construction productivity, efficiency, and quality. This latest Tekla software raises the bar for automated and connected workflows across project phases and stakeholders.
These latest Tekla versions include significant performance enhancements, enabling smoother information delivery on projects that are typically growing in both size and intricacy. Robust software performance is critical to enabling multiple stakeholders to consult, use and feed data into the models in connected workflows. The Tekla software provides a truly connected construction environment with an integrated suite of solutions, centralised data, streamlined workflows, and comprehensive visibility throughout the course of a project. Connected construction enables precision production, reducing rework through constructible design. It forms the basis for green construction strategies to optimise the use of resources, minimise waste and enable full asset lifecycle maintenance.
"Our product development focuses on delivering solutions that make building information more easily available, constructible, and shareable to stakeholders across the industry to optimise the use of resources. Through continuous enhancements, in-product intelligence, and expanded support for sustainable construction, we provide our customers with one of the most advanced BIM technology platforms on the market today," says Michael Evans, Senior Product Director, Trimble Structures.
With the use of open standards, Trimble's Tekla software products have an active partner community, developing on the Tekla API complementary applications and integrations for specialised industry sectors such as scaffolding design, industrial projects, and detailing for modular construction such as light metal framing.
"Tekla Structures 2023 is a game-changer for the construction industry and structural engineering in particular. With new features like intelligent 3D modeling, advanced automation, and seamless collaboration tools, Tekla users can achieve higher levels of productivity, accuracy, and efficiency, setting a new bar for connected workflows. We're pleased to offer our customers the most innovative BIM solution in the market that can help deliver faster, cost and material-efficient, sustainable projects" says Paul Wallett, Regional Director, Middle East and India, Trimble Solutions.
Tekla Structures 2023
The structural BIM software Tekla Structures continues to improve the user experience of both new and more experienced users by making it easier to learn and adopt time-saving functionalities faster. Apart from several improvements in software performance, the upgraded drawing editing user experience makes the software easier to learn and use.
Tekla Structures raises advanced detailing for fabrication workflows and project communication to a new level. In rebar detailing, complex bar shape designs are easier to share with procurement, manufacturing, and the construction site. Customers in steel fabrication benefit from greater flexibility by being able to cover more detailing options related to bolts and holes for specialised industries. The software also features updated outputs and exports in the field of detailing for the fabrication of multiple types of projects and materials.
Tekla Structural Designer 2023
Tekla Structural Designer 3D design and analysis software introduces a rigorous analytical approach to footfall assessment that can bring substantial cost savings benefits as well as a reduction in risk through accurate quantification of performance. The engineer can run multiple footfall scenarios in a single model effortlessly.
Tekla Structural Designer 2023 further supports optimised engineering office workflows by:
Strengthening the design-to-detail workflow with Tekla Structures
Improving workflows for timber design using Tekla Tedds
Enhancing the link to connection design software including IDEA StatiCa® software
Introducing a new integrator for Autodesk® Revit® 2023 users
Tekla Tedds 2023
The structural design software Tekla Tedds now offers seamless integration of structural design information and documentation with Tekla Structures to improve collaborative design-to-detailing workflows. Particularly for steel connection design, the improved integration with Tekla Structures now enables linking Tedds calculations to Tekla Structures components. With this added functionality, Tekla software now provides a seamless workflow for end-to-end connection checking between the engineer and steel detailers. In addition, the Tekla Tedds calculations help support multi-material design in Tekla Structural Designer with a specific focus on timber/wood design. The latest version also includes new and updated calculations for faster, more reliable structural element design.
Tekla PowerFab 2023
Steel fabrication management software suite Tekla PowerFab 2023 offers new functionalities that help fabricators manage project changes efficiently to minimise errors. In the latest version of Tekla PowerFab, subscribers can gain quick and easy access to visual production dashboards and a shipping calendar. The mobile tool Tekla PowerFab Go provides new time-saving functionalities. To support sustainable material sourcing, Tekla PowerFab now features improvements for tracking the origin of raw materials.
Information Security
As part of Trimble's ongoing efforts to provide enterprise-level security required in environments that thrive on data sharing, all Tekla products are certified to be fully compliant with ISO27001, the leading global standard for information security management.
For more info visit: www.trimble.com.
67