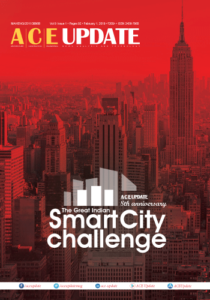 ACEUpdate.com is India's first complete news and analysis on construction and infrastructure sectors. It offers latest update and detail analysis of information in regards to the architectural update, infrastructure development, construction activities, real estate update, construction equipment, material handlings, project financing etc.
The online service also provides updates on upcoming projects, tenders, pre and post event report, stories on land mark projects, and legal advice related to construction and infrastructure industry etc. Promoted by Mumbai-based I-Tech Media Private Ltd, ACEUpdate.com has well established reach across the architecture, construction and infrastructure sectors.
ACE Update is promoted by India's most promising, young trade publication group, I-Tech Media Pvt. Ltd, which also promotes and publishes premium monthly magazines: B2B Purchase, OEM Update and EPR (Electrical & Power Review) and TCBU(Thermal Control Business Update).
DIGITAL EDITIONS / OUR PRODUCTS
Focused on variety of monthly magazines for different verticals
B2B Purchase is India's No. 1 monthly magazine on project procurement. The one & only of its kind – well-focused, response-driven products & services.
EPR (Electrical & Power Review) is the most comprehensive analysis on electrical & power sector. Being designed to be the voice of electrical & power sector.
OEM Update, is India's first and only monthly magazine on industrial manufacturing that gives complete update on OEMs. It is the India's best media source for news and content.
Thermal Control Business Update is a totally dedicated monthly magazine focusing on the latest news, trend, technology, and market scenario of Heating, Ventilation, Air-Conditioning and Refrigeration (HVAC-R).