DuraSquare: The fusion of rectangle and circle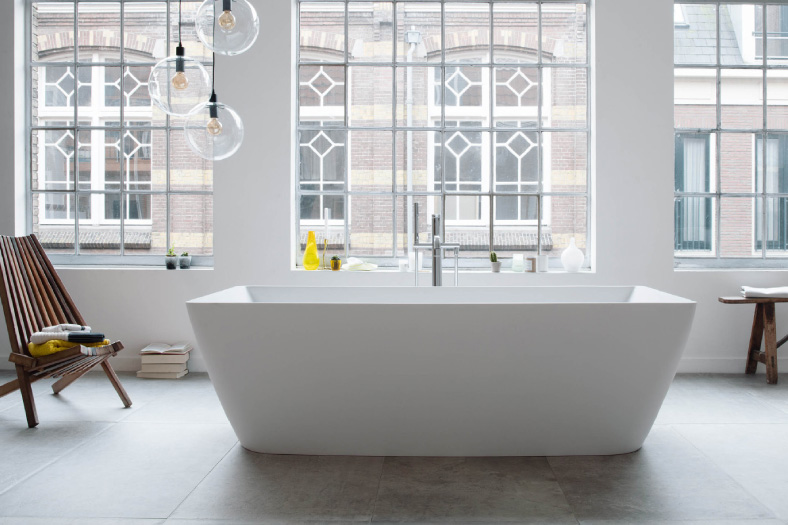 With its new DuraSquare collection, Duravit presents an upgrade of Vero Air that sets new standards with its clarity, precision and reduction. The design of the new series blends the meticulous edges of the rectangular outer form with organically flowing inner contours. The washbasin and bathtub are made of the innovative, sustainable Duravit-developed materials DuraCeram and DuraSolid.
The architectural design of the washbasins, hand rinse and above-counter basins is seamlessly linear and finished with a high level of precision. Duravit places particular value on the parallel lines of the extremely thin basin walls, which are just five millimetres thick. The smooth inner basin forms a soft aesthetic contrast to the precise geometry of the series.
The minimalist basins are made of the innovative DuraCeram ceramic compound. This material makes it possible to create easy-to-maintain above-counter basins with an extremely thin, yet robust rim. The basins are available in the standard dimensions popular with architects, including 1000 and 600 mm (washbasins), 450 mm (handrinse basins) and 600 mm (above-counter basins). Combined with the new matching DuraSquare furniture frame, the washbasins become a veritable eye-catcher in the bathroom. The frame's flexible base is height-adjustable and is available in either silver (chrome) or matt black. The furniture frame features a glass shelf, available in six different colours including Jade, Stone Blue and Flannel Grey, which brings a unique splash of colour to the bathroom, and can be easily combined with all Duravit furniture ranges.
The design of the DuraSquare bathtubs perfectly complements the washbasins. Made of the cast mineral material DuraSolid, the range has a warm, pleasant feel and is now available, for the first time, as a built-in version. The bathtub is available in 1800 x 800 mm (built-in version) and 1850 x 850 mm (free-standing bathtub). The combination with the new air-whirl and sound system ensures perfect relaxation.
Thanks to the rectangular geometry and organic elements as well as their subtle rounded details, the Vero Air toilets make for an ultimate partner with the DuraSquare series.
For more details, visit www.duravit.in
10