Entrance Systems : Securing our urban landscapes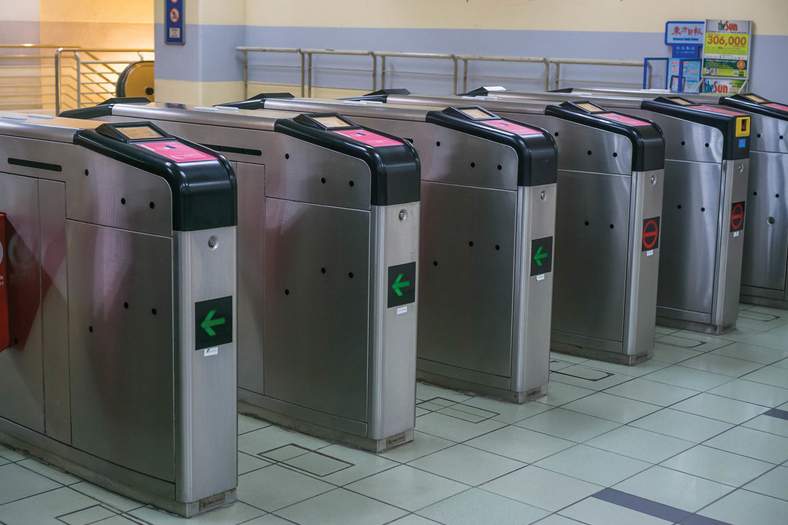 Apart from effective crowd management entrance systems help in offering townships, high-rises and individual properties a 24 X 7 secure environment.
Entrance systems fulfill various functions in a building. They add an element of security apart from regulating the flow of people in sensitive areas. Areas which witness a high footfall of people like infrastructure facilities utilised by public on a day to day basis requires an entrance system which can manage the incoming and outcoming foot fall freely without any problem. In this process the first question which comes to mind is What Kind of entrance systems are required to regulate the flow of people in high density areas? Addressing this issue Anurag Pashine & Pallavi Pashine, Principal Architects, Salankar Pashine & Associates say "Keeping in view the pandemic scenario, an automatic door entry suits best to regulate the flow of people in high-density areas. With growing practices for sanitation and hygiene, opting for the automated door can enable an easy flow of crowd with less human resources implying less human contact. These have proven practical in hectic regions because of their feature to sense the people approaching it and automatically opening and closing according to the requirement."
Khozema Chitalwala of Principal Architect, Designers Group believes automatic entrance systems are definitely the right choice for foot traffic management but feels the door readers need to be upgraded he says "Areas with high footfalls as seen in public, commercial or retail spaces require adequate foot traffic management and delegation that is achieved through automatic entrance systems. This cuts down the need for a particular individual to man the door, maintaining the natural flow of traffic which would otherwise be disrupted, creating ripples of chaos. However, automatic door closers have a significant drawback – they can open and close at the most arbitrary moments. While they are a solid piece of technology, the automatic door readers are a little outdated with more favourable alternatives in proximity readers. These doors just open up whenever there are people around but are much better at differentiating between actual humans and a falling leaf".
Entrance systems play an important role in retail spaces too in the retail environment too entrance systems are required to provide convenient access to buildings and improved indoor comfort for customers and staff. In such cases the use of more than one entrance system is desired. Khozema Chitalwala points out "In retail environments, a hybrid of various entrance systems needs to be used. This combination needs to be smart and reliable so that the employees don't face any trouble when clocking in for work, all the while maintaining a steady flow of traffic in the area. Store owners can opt between a simple automatic door system or a proximity reader depending on the number of people who frequent the store. Alternatively, owners of outlets that are in upscale areas can opt for a proximity reader. When it comes to the. employee entry, there is usually a back entrance that follows a separate entrance system from the one used at the main door. The most common entrance system shops use to clock in employees includes a keypad door entrance, with each employee getting a unique access code. Another popular choice is the card reader – the employee scans their identification badge in order to enter the premises. In some rare cases, the employees and the customers have a common entrance. Upon opening, the morning shift employee can access the shop through a simple biometric system which is highly accurate and ensures the highest level of safety for all users".
The importance of using of varied entrance systems in retail spaces is something which Anurag Pashine & Pallavi Pashine, Principal Architects, Salankar Pashine & Associates believe is extremely necessary "Retail environments are tricky to master as it needs to have a separate door for the customers and a differe nt point of entry for the employees. In local shops that are not a part of a nation or international franchise, the employees can enter the store during opening hours through varying systems depending on the store policies. The most common way for the employees to enter and open the shop is through the main entrance itself. Many small stores still use a traditional lock and steel shutters that need to be manually opened. Some mid-to-high-end stores use a digital keypad that allows the employee to open the shop. In malls and other franchised retail stores, the employees have a special back entrance that is separate from the main entrance. This concealed entrance is usually accessible through an ID card reader. In boutique stores, to ensure that no illegal activities occur, the employees might need to do a biometric check in order to get access to the storage and a special entrance. A separation of this kind makes it very easy for employees to clock in, clock out, and replace each other after the shits end in a very seamless manner".
When it comes to residences and townships as also individual properties, video door entry systems play an important role "In high-rise buildings and other residences too such systems are necessary,  so no random person can simply just walk in," say Anurag Pashine & Pallavi Pashine "The first layer of security will usually be a physical security guard and the entrance will usually only be granted if the visitor can guarantee that they know the resident. In other buildings, in technologically developed nations like the USA and South Korea, have an attached audio-video camera that needs manual verification by the resident to ensure that they are letting known people into their house. They can be verified using a myriad of means, such as voice recognition or a confirmation of physical appearance. In India, video-audio cameras like this are usually only seen in the houses of the rich. So, India needs to develop a lot before we can make such advanced cameras the norm."
Video door entry systems play an important role in the residential segment however wireless systems cases can prove to be more effective says Khozema "As the primary purpose of an entrance system is to deny access to the wrong people, it is crucial that one's residential space is nothing but a safe haven for them. Entrance systems can be installed in the parking garage or as a technologically advanced doorbell system. A video door system, also known as a videocon door, is a stand-alone intercom system that manages calls so that the entrance to a particular person can be allowed or denied based on visual identification. However, wireless systems combine audio and visual output to arrive at a much more comprehensive and foolproof identity verification system. As it is wireless, it is also easy to access and install. The person asking for an entry needs to be personally verified by the resident of the house through visual and auditory means. Additional features include night-vision, two-way talk, and flexible luminosity, to name a few, adding to the user's overall convenience."
As the scale of urbanisation keeps augmenting, security will be a key area which will be under constant focus. In this backdrop the element of security provided by proper entrance systems, video door entrance systems as also the wireless systems will always be sought after. In times to come it will also be interesting to note the innovations and upgrades that are introduced by the way  of new products and offerings for enhanced security and crowd management.
5