Orvi Surfaces launches Palacio Collection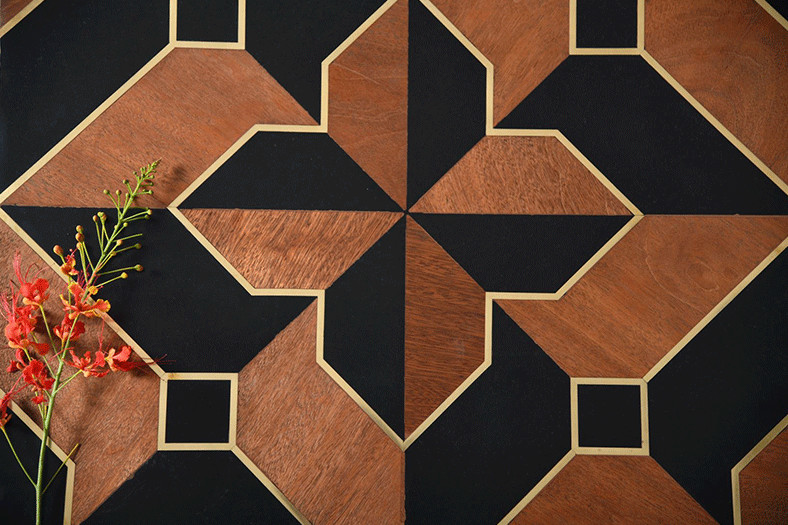 Palacio Collection brings opulence and warmth to any environment with the unique harmony of rich wood, stone and shimmering metal.
Orvi Surfaces, a home décor brand known for creating innovative surfaces, incorporating a fine blend of craftsmanship and technology, takes innovation a notch up with the unveiling of an inspiring collection – Palacio. The most awaited launch for this festive season, Palacio offers an artful interplay of the colours, textures and materials which are inspired by the way in which Orvi's Indian craftspeople use their mastery over their art form to create a confluence of materials, making them best suited for contemporary architecture design.
Palacio Collection brings opulence and warmth to any environment with the unique harmony of rich wood, stone and shimmering metal. This collection's identity and inspiration pay homage to the Spanish word for Palace and there's no mistaking why with its regal and contemporary aesthetic. The intricate designs that make up this line of luxurious tile work is inspired by the grand palaces and castles where much of Europe's royalty once resided. Within those walls, the finest compositions of stone, metal, and wood were used to create cohesive warmth that encapsulated the lives of kings and queens.
Each wood inlay is surrounded by luminous metal work, a process created by the hands of expert artisans, all of which sits on the pure hand-carved stone. The patterns in the Palacio collection demonstrate perfect symmetry while the grains in the wood ensure a flare of uniqueness in every piece. Orvi Surfaces has launched six designs under the Palacio Collection each representing a transitional to the contemporary aesthetic. From curvy metal and wood inlays to more geometrical patterns, these surfaces look like a seamless tapestry on the floor, almost like 'Art you could walk on'.
As a protector of ancestral saviour-faire, Orvi works towards bringing forward various hand-craft techniques from around the world, and there remain only few master artisans who know the art of inlaying wood into natural stone almost seamlessly. With a blend of technology, the most advanced machines, & the intelligence accumulated on the fingertips of master artisans, these surfaces are brought to life for spaces that are created using a unique new design vocabulary
On the launch, Sanjeev Agrawal, CEO of Orvi Surfaces, said "It is our constant endeavour to push the envelope of innovation and the Palacio Collection is an attempt to showcase the beauty of material confluence. Often we see natural stone surfaces (on walls and floors), or wooden surfaces. However, rarely an intertwining of individually powerful materials like wood, stone & metal, is seen. The wood used in this collection goes through several layers of treatment so that it's lustre and properties remain intact for years. Further, we use a very rich quality of stone and then thick metal sheets are intricately inlaid by hand into these artful surfaces, making them perfectly suited for high traffic areas as well.
Designed to suit contemporary living spaces, the six designs in this collection are minimal yet they make any space look opulent and warm. Surfaces from the Palacio collection are best suited for lobbies, living rooms, master bedrooms, highlighter walls and offices.
The most interesting aspect of this collection is the ability to create bespoke design options using these materials (wood, stone and metal) to suit any sort of sensorial experience. This offers designers, architects and end customers an option to match their surface with their unique and individual style.
Further, Deepavali as a festival signifies our cultural traditions and roots, hence it becomes an apt occasion for the launch of this collection that mergers old-world craft traditions with modern design aesthetic allowing designers to break the barriers of architectural design. Our teams are constantly available digitally to showcase the collection on a virtual walkthrough and we invite everyone to visit our website and book an appointment for a virtual tour."
37