Airport Design: Embracing a sustainable framework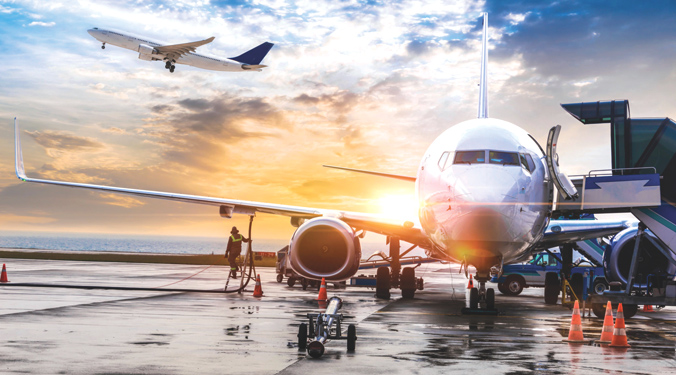 Airports also need to be energy-efficient, green, and sustainable; therefore, the design strategies adopted and the material utilized needs to be carefully chosen.
As the Indian economy gets urbanized, it is crucial to plan newer airports across the country as India is developing and Tier 1 and Tier 2 cities are becoming significant hubs of commerce and economic activity. At the same time, it's crucial to make sure that any architectural changes made to current airports to prepare them for the future consider the long-term issues in a rising country like India. Airports also need to be energy-efficient, green, and sustainable, which means the design strategy adopted and the material utilized must be carefully chosen. Mr. Dhananjay Patil, Founder of Assystem Stup, states, "Many challenges lie ahead, beginning with site selection.
And the one challenge I see today in airports is the connection for public transportation. Delhi has an excellent connection from metro express to terminal 3, but many other Metro City airports do not have any such connection. Therefore, traffic congestion and environmental concerns arise. With the rapid growth of aviation and traffic in the future, the management of transport, especially metros, will become increasingly difficult. Even electric cars and green fuels won't help since they won't reduce congestion, but rapid mass transit and public transportation will be the key solutions." Mr. Nagesh Gupta from the Green Building Council of India adds, "Besides the energy and water performance, we have observed the importance of indoor air quality or indoor environmental performance because without superior ventilation or daylight, as well as acoustics, did not have a great travelling experience in the past.
Unless we plan for self-sufficiency in the future, it is not easy to achieve sustainability in the short term and long term. This is something that every project should plan and aim for. Unless we plan for self-sufficiency for the future, it is not great, and it is not easy to achieve short-term and long-term sustainability." Elucidating on the challenges, Mr Balakrishnan, Head – of MEP Design, opines, "Airports are traditionally known for being non-sustainable in the past. However, now, a lot is being thought of on how to make it sustainable and right, starting with what you're going to install in the airport. All water fixtures and all electrical systems should be efficient. To achieve all points of sustainability, these kinds of controls need to be provided in airports. Another issue is using local materials as much as possible, which are available near the cities, making it more sustainable as an airport.
The return on investment, generally in India, is not understood. What you invest in an airport, especially solar energy and other aspects, certainly has a payback period. What you spend, you get back after a few years, and then you're in a positive mode."
Talking about materials, Mr. Anand Sharma, Founder of Design Forum International, adds, "When it comes to materials, we have always believed in creating and bringing contextuality to every environment, whether built, urban or airports, which have high traffic congestion and utilize maintenance-intensive materials. In the airports, we try to bring what is unique to the region into the design we create for the passenger. We try and put the passenger experience travelling through the airport at the centre of our design and choose materials accordingly. For instance, in Guwahati airport, we made it a point to persuade the Airports Authority of India to use epoxy terrazzo flooring due to its longevity, ease of cleaning, and eventual return on investment. This is a high CAPEX material. But from an OPEX perspective, it more than pays for itself. It costs almost as much as Italian marble, and the average interior space is nearly 7500 square meters. So in airports, maintenance and return on investment are usually the critical reasons for picking products.
A key responsibility of architects is to select materials that require the least amount of maintenance. I think that is the first point of discretion, to pick materials that can do the most for the least amount of money. Secondly, every material we work with has a carbon footprint. It is excellent to use locally available stone, but the amount of the carbon footprint for excavating that stone really needs to be looked at again.
Sustainable Development Of Airports
Speaking of technology and flexibility, Mr. Dhananjay says, "Airports are flexible and must be designed as flexible buildings because technology will always keep changing. So, we can anticipate and plan for some of the new technologies, and tomorrow the situation may change. We have to make provisions to expect the flexibility, and for the existing airports I mean, it will require a lot of retrofitting and some pre-planning, Mr. Balakrishnan added, "In the first instance, it might be best to audit the existing airports to see if they are energy efficient, water efficient, and space sufficient. And then, if expansion is required, we should integrate it into that system. We like to look at energy efficiency, water efficiency, indoor air quality, and how to make the existing systems run more efficiently.
Designing airport interiors
Aahana Miller from ABM Architects elucidates, "We should view everything holistically, look at the entire airport, and then come down to our space, and how that relates. One of the other things is materiality. Right from the concept stage, we are sourcing these materials, evaluating their properties, and how long they will last. Only then can we propose them as a part of a concept, but generally, what architects do after they present their 3D renders and everything. One step we have started taking in future projects is to start with the materiality and then work backwards to the design, letting the materials tell you how to design the space. Ms. Aahana concludes, "Experiences have no time stamp. Taj Mahal still looks as surreal as it did 500 years ago. Classics are timeless. It depends on the scale, the volume, the sense of space, etc. If it's designed, it probably doesn't have a timestamp. It is infused with the elements of the region that it belongs. I think it is timeless if suitable motifs have been used and the design is right. What is not timeless is the surface you're walking on, the look and feel, that touch of the surface you're coming in contact with. It is like a body and a soul. If architecture was the soul, the brick and the mortar is the body. So the body would age, but the soul would remain timeless.
25