AVENTOS the future of wall cabinet systems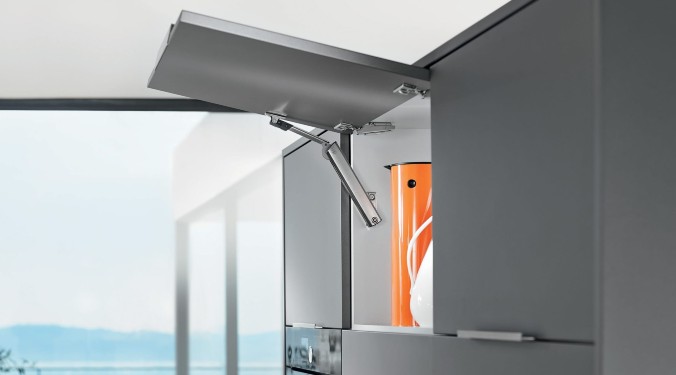 The AVENTOS lift up system is designed to effortlessly lift cabinet fronts, providing easy access to the contents inside.
When it comes to kitchen and furniture design, functionality and convenience are paramount. Blum, the Austrian manufacturer of furniture fittings, has consistently provided innovative solutions for optimising the usability and aesthetics of cabinets. One of their most remarkable offerings is the AVENTOS lift up Wall Cabinet System, a revolutionary cabinet opening mechanism that has transformed the way we interact with our storage spaces.
One of the key features of AVENTOS is its ability to offer different types of opening mechanisms, such as lift-up, bi-fold, and up-and-over. This versatility allows designers and homeowners to choose the perfect solution for their specific needs. Whether it's a large, heavy cabinet door or a smaller, lightweight panel, AVENTOS ensures optimal performance and effortless operation. These Austrian technology lift up systems are the premium hardware for upper cabinet's doors that easily lift up and out of the way thereby allowing complete access to the interior of the wall cabinet.
Soft-close BLUMOTION, electrical – SERVO-DRIVE, and mechanical TIP-ON motion technologies seamlessly integrate with AVENTOS, providing touch-to-open and electrically assisted opening options as well. These technologies add an extra layer of convenience by enabling users to open cabinets with a simple touch or with the assistance of a motorised drive, eliminating the need for handles and creating a clean sleek and modern look.
Speaking about the advantages of lift up systems, Nadeem Patni, Managing Director, Blum India, says, "Making use of lift up systems in your wall cabinets is an excellent way to bring convenience and style to your home. With AVENTOS lift up systems from Blum, you can achieve a holistic and stylish design concept while enjoying the freedom of movement and soft-close features they provide."
The AVENTOS lift up system is designed to effortlessly lift cabinet fronts, providing easy access to the contents inside. It combines smooth motion, stability, and precision engineering to create a seamless experience for users. With AVENTOS, opening and closing cabinets becomes a breeze, making daily tasks in the house a joy rather than a chore.

For more info visit : https://www.blum.com/in/en/
44