Building Façade: Accentuating Aesthetics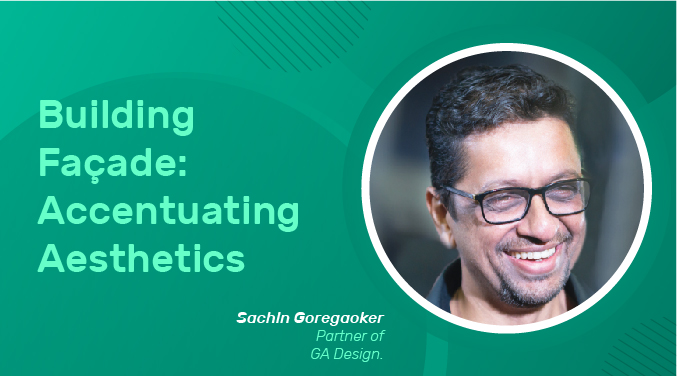 Sachin Goregaoker, Partner of GA Design, speaks on how a building's façade is essential as it enhances its surroundings.
How important is a building's facade in not only adding character and personality but also protecting it from external influences?
A building's façade is essential as it enhances its surroundings. It plays a vital role in that area's tourism as well. For example, if one goes on a walk and looks around at the various facades that add to the overall beauty of the place, one will want to frequent it more often. This protective layer, while being functional, should also permit the
building to breathe while defining its significance and character.
A building's facade could be more energy efficient using suitable materials. What are the best materials to use when designing a facade?
Glass, Low E glass, and concrete because it is manufactured in bulk and so cost effective as well as energy efficient. One can also use hollow stone facades. Being energy efficient is expensive, but it helps in the long run. Suitable façade cladding should not merely accentuate the aesthetics but also serve as a shield from extremes of weather especially seen in Indian climatic conditions.
In areas where we need to deflect sunlight and keep the indoors cool, what design measures should be taken to create a building envelope?
Stone, glass, and insulation keep the weather outside at bay while keeping the climate inside the same, depending on the geographical location. Adherence to the strictest energy and quality parameters has increased energy-efficient, innovative, and adaptable façade cladding materials and systems.
What's your take on glass facades? Can we consider them energy efficient in the Indian context?
Glass is energy efficient but high maintenance. I would suggest using concrete and glass to decrease the maintenance requirements, as the glass needs regular cleaning, etc. I mostly use them for commercial buildings.
In what ways can Low E coatings help glass facades become more energy efficient?
Low E Glass is the best option as it helps maintain the climate inside the building as well as outside since it doesn't reflect too much heat or light, hence creating a safe space all around, climate wise. I would suggest Low E Glass for commercial and residential projects.
What waterproofing membranes and substrates should be used to ensure leakproof facades? Likewise, what kind of additional maintenance is desired?
Waterproofing membranes are suitable for residential villas. One can use paints and such, as well, to avoid water leakage through walls. But for buildings, the terrace can use the brickbat coba waterproofing technique. The membranes can be put over this layer to prevent any water leakage and any intense temperatures that may affect the last floor of the building.
19