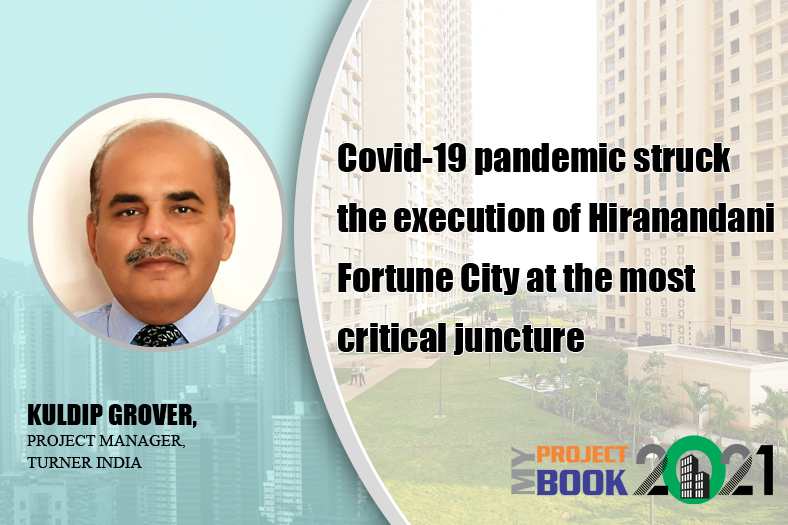 However, we overcame the challenge through consistent confidence building measures with labour by conducting training and skilling sessions for them on war footing says Kuldip Grover, Project Manager, Turner India
What was the scope of work involved?
 'Hiranandani Fortune City, is a self-sustaining township spread over six hundred acres having all elements like residential, commercial, data centre, schools, community developments etc. Turner's scope on the project included complete project management including involvement at preconstruction stage for supporting the client with procurement and on boarding of the contractor, execution supervision, quality, safety, billing, budget and cost monitoring.
Sector – C, christened as "Forest Enclave" is a residential development consisting of almost 3.0 million square feet construction comprising of 1254 apartments ranging from studio to 3 BHK flats. It consists of eight towers having a height of 120 meters (approximately), has three podiums and thirty-three residential levels each. The development includes a stilt floor and three podiums for services, parking and back of the house activities with third podium serving as a lavishly landscaped non-tower terrace for the usage of the residents. The project also includes a separately accessed retail building and houses Hiranandani School.The development is fully compliant to the Fire Protection norms as statutorily laid with carefully studied vertical transportation requirements and supported by high-speed elevators.  The development has plenty of parking space for the residents and the visitors. For energy efficiency and water conservation, solar heated water supply in the toilets and rainwater recharge pits are included in the executed scope.
What were some of the major challenges you had to overcome to complete this project?
The project execution phase saw the COVID-19 pandemic striking at the most critical juncture of the project timeline. The disruption owing to the lockdown was relatively easier to recover but it had a far-reaching negative impact due to high attrition and skill deficit, hammering the schedule and quality in a hard manner.This affected productivity as there was a skill gap between the desired levels of competency in the workforce available after the first and the second COVID wave. It resulted in delays and disruptions in the anticipated recovery programs and affected the overall output. We overcame the challenge through consistent confidence building measures with the labour by conducting training and skilling sessions for them on war footing. On the technical front, issues like longer slab cycles were diligently resolved by our team. The critical planning inputs gathered on actual time motion studies and productivity analysis suggested vital changes in the deployment patterns of both the workforce and T&P in more efficient manner. Besides this, Turner team takes pride in being instrumental in implementing the midcourse change of contract system from Lump Sum based model to Cost plus model due to the incorporation of GST based revenue from VAT based taxation regime in the country without even a single day of disruption at the project.
In your words, what are some of the innovative materials and techniques that have been utilized to execute this project?
Our push towards fostering innovation and embracing emerging technologies allows us to provide valuable inputs that make a significant difference for our clients. The improvised method of filling aluminium shuttering leftover holes in the structure with viscous paste filled with grouting guns instead of conventional GP-2 mortar, developed especially at the project or achievement of 18+ million safe man hours at the project through our holistic approach towards safety are perfect examples of the implied techniques.There was significant value add in time and cost through construction of rear peripheral wall with Allan Block technology instead of the conventional retaining wall as the height of the structure crossed 9 meters from the datum at some of the sections. Incorporating Lean and Sustainable construction approach has been another high point of innovation at the project. Turner has always stressed on the proper approach and sequencing of the activities and tried to implement the "Doing the things right – First time" philosophy through multiple training and skilling sessions conducted by its various teams
9