Design Deconstruct's luxurious home settings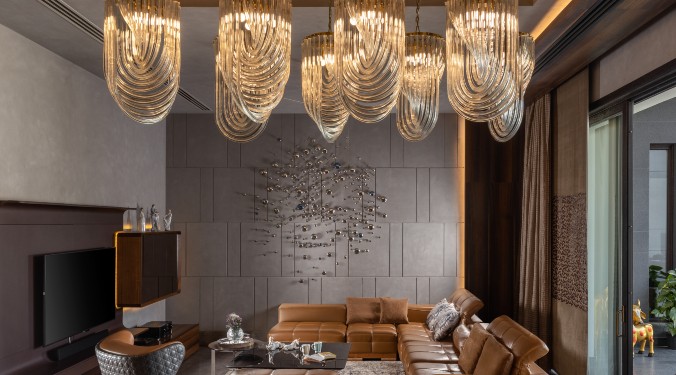 Design Deconstruct's luxurious golden-hued home spaces
Design Deconstruct, India's premier design and build company, has introduced a collection of home settings that showcase exquisite craftsmanship with a touch of gold, leaving a lasting impression on your guests. These living, dining, and entertainment spaces exude timeless glamour, combining statement accent pieces, stunning lighting fixtures, and luxurious materials. Gold is considered the perfect addition to elevate the hospitality experience for your guests. These rooms are meticulously designed to be perfect for modern homes, impeccably styled and inviting.
Design Deconstruct's glamorous golden-hued rooms often feature darker themes, following the principle that spaces should be dramatic yet subtly elegant, making a quick but powerful impression. The focus is on selecting the right materials for the flooring and walls, with marble being their preferred choice. The brand has also curated opulent furniture, unique decor pieces, and captivating artworks. The furnishings display impeccable craftsmanship and unique designs, enhanced with a touch of gold.
Moreover, Design Deconstruct boldly incorporates formal chandeliers, which contrast with the modern home aesthetic. They use unconventional gold decor pieces to add personality and make a statement. The ceilings feature textured paint, providing a soft contrast to the use of hard materials. Art plays a significant role in their designs, with the aim of being arresting and thought-provoking, without necessarily following a specific theme. Lastly, soft gold ambient lighting ties these spaces together, creating a warm and welcoming atmosphere.
for more info visit : http://www.designdeconstruct.in/
27