GROHE introduces GROHE composite sinks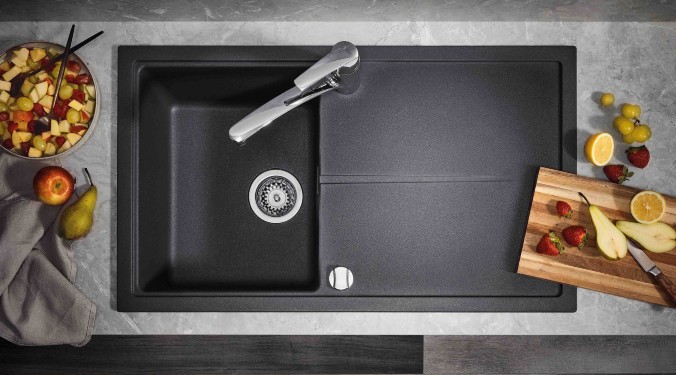 GROHE comes up with a series of products sure to exceed your expectations in terms of quality, design, and features.
GROHE Composite Sinks are a one-of-a-kind product that checks all the boxes of an efficient kitchen sink and more by covering the broad spectrum of being modern, easy to use, innovative, versatile, and much more.
GROHE Composite Sinks have been designed to fit every type of kitchen scheme with a range of innovative designs that are not only perfect for but also complement your space. From large double sinks to compact models with integrated drainers, GROHE Composite Sinks have a 5-year guarantee and cater to every user's need and more.
GROHE redefines the kitchen experience, surpassing expectations with its unrivalled fusion of cutting-edge design and unparalleled quality, elevating the kitchen experience to unprecedented heights. The composite sinks come in round and square models and two different colors: granite black and granite grey. Using 76 percent quartz mixed with acrylic resin, GROHE composite sinks are the toughest around. This hardened composite material is resistant to scratches, dents, stains, cracks, and heat up to 180 °C. GROHE composite sinks are crafted to perfection using state-of-the-art computerised polymerisation casting, ensuring an impeccably smooth and seamless finish and total uniformity of color throughout. What's more, the composite sink won't fade in UV light, meaning it's certain to stay looking as good as the day you bought it. ​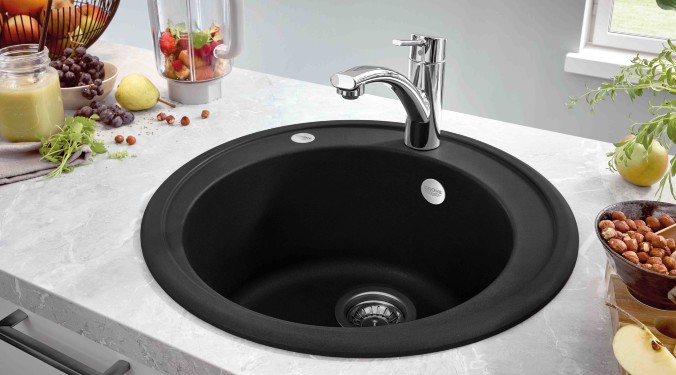 Most GROHE Composite Sinks have in-built, pre-punched faucet holes, which means no additional tools are needed and sinks can be installed as either a left- or right-handed option. Innovative manufacturing techniques have featured sinks with a generous minimum depth of 20 cm, maximising space for washing large pots with ease. These sinks are also equipped with a waste fitting and a practical strainer plug that prevents solids and leftovers from flowing away with the waste water. The steel cap available on some models adds elegance to the bowl and hides any residue collected in the underlying basket. A feature well-cared for in all GROHE Composite Sinks is good drainage. Even in the squared-out, flat-bottomed sinks, good drainage is ensured by the elegant diamond-shaped creases that make the water flow away more easily. If the faucets are inadvertently left open, the overflow technology avoids any spillage. Each sink also comes with an under-sink syphon, complementing the scope of hassle-free delivery and installation. ​
All the sinks have been designed to be paired effortlessly with GROHE kitchen faucets and water systems, both in design and practicality, with comfortable proportions and no splashing. The innovative features, such as the automatic waste system provided by GROHE, eliminate the need to reach into dirty water, offering a convenient solution that ensures your hands stay clean and pristine. With a GROHE Composite sink, cleaning becomes easier, draining the bowl can be done remotely, and even the sound of the water running is minimised.
Mr. Bobby Joseph, Leader, LIXIL Water Technology (LWT) India and Subcontinent, says, "The GROHE range of sinks is meticulously designed to seamlessly match your faucet, complement your kitchen, and suit your unique lifestyle. With any GROHE Composite Sink, cleaning becomes less of a chore. Good design strategy and a passion for innovation have birthed this stunning product range. It is an all-in-one solution to find the perfect match for the sink and faucet in perfect harmony."
For more info visit : https://www.grohe.co.in/en_in/
56