Quick construction coupled with cost viability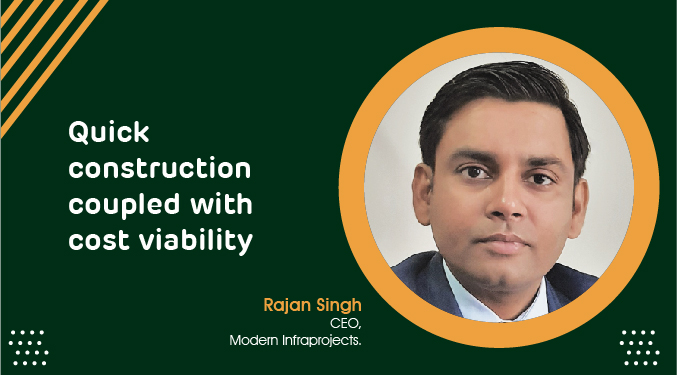 Rajan Singh speaks on how Modern Infra Projects specialize in designing, manufacturing and Installation services of Pre-Engineered Buildings.
What products and innovations does your company offer in constructing high-rise buildings, and how does it improve the design process?
Factory-fabricated steel structure systems using I beams and high strength bolts to join the members are very common. They also incorporate integrated, installable floor slabs, light wallboard, and other prefabricated materials. It has the advantage of magnitude-9 earthquake resistance, five times the energy efficiency of a conventionally R.C.C. structure, in between 10 and 30 percent lower cost. The process produces less than 1 percent of the waste compared to a conventional structure.
A multi-story steel building can accommodate various functions and adapt to different architectural styles. Unlike conventional methods, multistory steel buildings offer the benefits of quick construction coupled with cost viability and sustainability. We have also constructed multiple multistorey steel buildings for automobile, health and commercial complex sectors.
We provide a complete solution for the grade Warehouse that offers up to 30% additional open space, up to 30% space for internal cargo handling and up to 40% storage height to enhance traffic & cargo movement, use of modern M.H.E.s, and maximise storage load. Additional floor-load capacity (up to 50%) and storage height facilitate heavy/odd dimension cargos and increase pallet position for standardised shipment, especially for long-term storage. Improved fire fighting, drainage, floor height, and construction quality protect from unexpected threats and minimise the risk of probable in-store damages.
Due to proper pre-engineering, provision for sufficient parking, material handling and marshalling space optimise operational time and cost for vehicles and M.H.E. operation and sorting/ identification of products. Grade warehouses are labelled based on their superior construction quality, location, space, amenities, and clients. As online retail grows, Grade A warehouses have become a workplace of choice, too, for many without a college degree. This is helpful for many from the employment perspective.
Achieving value while adhering to quality is always a challenge. How do you accomplish both?
Quality is a continuous process at Modern Infra Projects – where the action is taken to increase the effectiveness and efficiency of the engineering process. Design and manufacturing facilities follow ISO 9001:2000 procedures. All products must pass stringent quality testing procedures, and a standard inspection and testing plan is followed for all jobs. We continuously improve our performance to ensure that the client benefits the maximum. We aim to meet customer expectations every time. We take a proactive stance towards quality moving beyond Quality Control to provide Quality Assurance, so we can be confident that customer requirements will be met with predictable quality – consistently. Our stringent process ensures that high-quality standards are reflected as results in your business, guaranteeing satisfaction every time.
18