Dextra: Enhanced Quality Proposition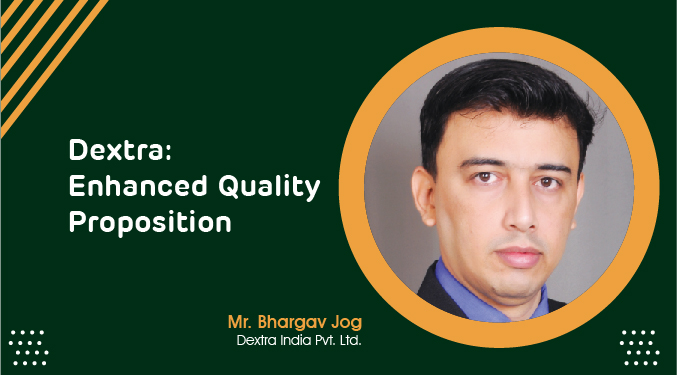 Mr. Bhargav Jog speaks on the key benefits of precast construction and Dextras emphasis to contribute to the infrastructure industry.
What are your offerings for building high rises in India?
At Dextra, our emphasis is always to contribute to the infrastructure industry by supplying innovative & custom engineered products. Highrise buildings are one such segment allowing many of our efficient offerings. I am sharing a brief overview below –
Mechanical Splices / Couplers (Bartec & Groutec) – The Bartec system conveniently uses the same coupler to do standard or position splices. The difference between both splices is limited to the length of the thread done on the bar. And it covers a broad spectrum to serve various rebar grades and properties, viz; Fe500D, Fe550D, Fe600,  Galvanized rebar, Epoxy-coated rebar, Stainless Steel rebar and so on.
Groutec coupler is a mechanical splicing system specially designed to connect two precast elements with no requirement for in-situ wet concrete joint
• Sonitec CSL Tubes – The most effective solution for integritychecking concrete piles and deep foundations.
• Architectural Bar systems components – Bracing or Suspension elements provide the benefits of high strength, ease of installation, ability to posttension & aesthetically pleasing appearance.
• Headed Bars – Mechanical anchorages, which are very good substitutes for development length and hook bars.
What are the top trends in tall buildings that have evolved in the past two to three years?
Well, with the increasing population, more and more people are migrating to urban areas, the top tier 1 cities of India, when they don't have land to expand horizontally to accommodate more residential & commercial construction, has started growing vertically.
This has led to the development of various innovative construction methods, one of which, and our favourite, is the Precast Construction Method. The key benefits of precast construction are the speed at which it operates, the efficiency level & much less labour intensive. This was more evident during this lockdown phase 1 when the infrastructure industry suffered greatly due to labour migrations / non-availability. However, the scale of the business is still a factor to be considered when we plan to go for the Precast construction method.
At Dextra, we have rich experience supplying our unique Groutec coupler to many reputed contractors and developers locally and internationally, where they have built state-of-the-art Precast high rise projects at a lightning speed.
Can you share the recent high-rise projects where the company has offered its products and services?
Few of the iconic High Rise Tower projects (above 50 meters) where we supplied our Groutec Coupler are as
below –
• The forest city project, Malaysia 150,000+ Groutec couplers used in Columns & Walls
• Aurobindo Galaxy Project, India – 50,000+ Groutec couplers in Column to Column joints
• The Plum Central Station, Bangkok – 2 phases, two towers residential building of 38 floors
• Sobha Dream Acres Bangalore Project, India – Precast walls and Columns
• Our detailed reference list is available on our website, or we can share it with interested stakeholders.
What are your plans to broaden the scope of your offerings for the tall buildings segment in India?
Well, we have been increasing our capacity to deliver projects. The better-enhanced quality proposition, continuous development and qualifications are part of our DNA which we will build on further in 2022. We will introduce a few new product ranges; we will come up with full details in the coming months – these are in the final design stage.
What features of your product for the high-rise market keep you ahead of the competition?
When the high-rise buildings opt for the precast method, one of the key factors contributing to the success is connection joints, speed of construction and reliability, and that's where Dextra Coupler range and Groutec play an
essential role. It is designed and manufactured in  compliance with Eurocode 2, BS 8110, ACI 318, IBC and AASHTO.
It is available in 3 different varieties, namely –
• Groutec L – Large Tolerance meaning allowing larger axial misalignment
• Groutec S – Slim Body meaning facilitating slim column & panel
• Groutec F – Fully grouted, meaning no threading is required on rebars.
How do you see the market for High Rises & your products heading in the next five years?
As I mentioned earlier, I expect it to grow significantly. There is a lack of land, and whatever is available becomes costly daily. While few of the appropriate infrastructure projects chose in the southward direction in the form of underground projects, Tunnels etc., as far as residential & business complexes are concerned, moving north seems to be the obvious solution.
With ever-evolving sophisticated technology & products in construction, high-rise construction would be well complemented. It would become a necessity soon & not just be the dream work of a few architects/contractors as it was a decade ago. At Dextra, we are all geared to this changing time & well-equipped to improve our products & offerings regularly to meet our client's requirements.
37