Watch out for Hyper Stat and the Helio Note!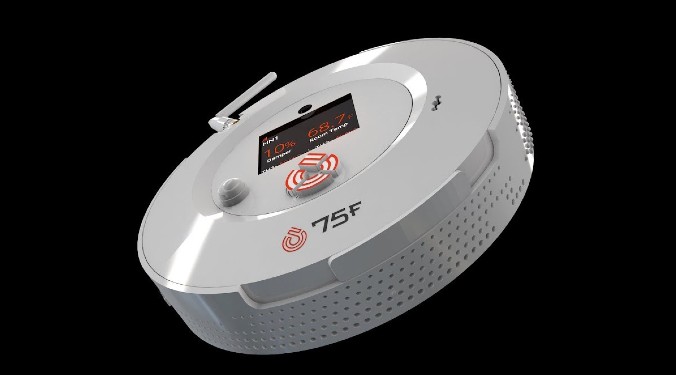 These gadgets are packed with sensors that measure indoor air quality and combine high IQ with a building management system.
Can you describe the unique features of the 75F building automation system and how it sets itself apart from other systems in the market?
Bob French: The 75F system is a complete IoT VNS solution that sets itself apart from traditional systems by its ability to operate in multiple directions, automatic networking capabilities, and cloud-forward design. We also incorporate cutting-edge technologies such as artificial intelligence, machine learning, and predictive analysis, which offer significantly greater comfort and energy efficiency than conventional systems.
What is your perspective on India's demand for building automation technologies? What steps can be taken to increase demand in the market?
Gaurav Burman: Over the past few years, we have seen a significant rise in demand for building automation in India, driven primarily by rising labour and energy costs. We also see increased interest from smaller businesses and government organisations outside of metropolitan areas. As vendors, we can capitalise on this latent demand by raising awareness and improving accessibility. We are working closely with specifying engineers, contractors, and systems integrators to reach these clients as they consider these technologies for their development.
What is the projected timeline for increasing market penetration, particularly in the residential sector?
Gaurav Burman: While the residential sector is the largest in the Indian market, building automation has taken some time to spread to this sector. However, we already see interest from large warehouses, malls, retail chains, and diagnostic clinics. It may take some time for residential market penetration to increase, but we anticipate growth in the next few years as more people seek to install automation. While it may take longer for centralised systems to materialise in India, other regions, such as the Middle East and Singapore, have already implemented mixed-use buildings with centralised heating and cooling systems.
How is IoT technology used in your system to improve building comfort and energy efficiency?
Bob French: Our system relies heavily on sensors and data to increase comfort and efficiency. With IoT, we can install many more sensors in the building, resulting in a higher data density. As a result, we created a detailed digital twin in the cloud that facility managers can use to analyse and gain insights.
Can you tell us about the new developments in 75F?
Bob French: At 75F, we promote an IoT-based BMS solution that includes cutting-edge technologies such as cloud computing, IoT, machine learning, AI, and wireless RF communication. We are introducing managed services, where our staff can proactively check and assist facility managers in reviewing building performance and notifying them of trends and issues. We also offer more advanced event controllers, and we are currently supplying the CPM feature and the Hyper Stat for chiller plant monitoring. This year, we're introducing two new products: the Hyper Stat and the Helio Node. These gadgets are packed with sensors that measure indoor air quality and combine high IQ with a building management system.
What is your commitment to service sustainability, especially from an Indian perspective?
Gaurav Burman: Sustainability is fundamental to our mission, and we offer our clients sustainability-based solutions to save energy, which helps reduce coal or carbon dioxide emissions in India. We partner with manufacturers with sustainable operations and procedures, limiting the use of hazardous compounds and complying with ISO 14001. We also aim to give back to society by organising drives to conserve energy, among other initiatives, to ensure that the circular economy is fully implemented throughout the firm.
For more info visit : https://www.75f.io/en-in/
32