We offer sustainable products in design and style for aesthetics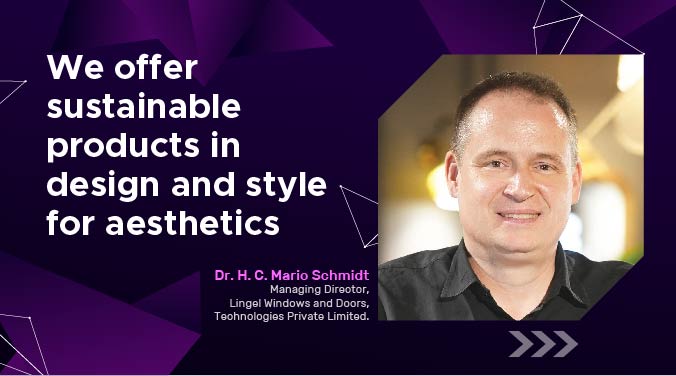 Dr. Mario Schmidt, Managing Director of Lingel Windows and Doors Technologies Private Limited, speaks about his in-depth knowledge of the door and window industries and highlights the unique features of their offerings.
Can you brief us on your organisation's key focus?
 Lingel's key focus remains to expand and innovate. In our endeavour to do so, we have launched a gamut of products. We have recently launched our new giga production unit in Rewari, which has a massive production capacity. This will help us cater to many more customers and cut short the wait time for customers to receive their products. We are looking to connect with the right channel partner for two-tier and three-tier cities so that more customers can experience our products.
 What are the present design trends in the doors and windows business?
 Besides UPVC and aluminium windows and doors, Lingel offers other fenestration products like the award-winning Lingel Panzer Glazing (LPG) and Lingel Safety Box (LSB), shading options like Venetian blinds, roller shutters (made in Germany) for security, in-built grills, glass conservatories, skylights, and window sills. Customers look for sustainable products, so UPVC is still the favourite, but aluminium is also growing in demand, and we are closing plenty of orders there too. Design-wise, customers with more space opt for huge windows and doors.
 How is your company adding value to new-age designs in doors and windows to meet the client's custom requirements?
 We recently launched five new products:
A motorised skylight

A roof window

A roof French balcony cabrio door

A new handle selection

A new powder coating finish
All these products are unique and will create new trends for the coming year.
What major characteristics of your offerings have enabled you to lead the door and window market?
 The newly launched products are indeed what many customers will look forward to having in their homes. Architects and interior designers will also have more options in design and style. The motorised skylight and the Cabrio balcony are great options for people in the northern regions. These products will provide ample sunlight, ventilation, and security, which every customer looks for in a product.
Can you elaborate on your modern and energy-efficient designs in this segment?
All the windows and doors we instal are energy efficient, and we follow the guidelines provided by UWDMA. Besides, we have our testing done to ensure our designs are up to European standards. Especially at the window performance standard, the benchmark for passing is very high. All are taken into account based on the proposed performance standard for water tightness during a high wind load test. To ensure everything is in place, one has to consider properly using the gasket and the glazing. It is critical to assess both AC and non-AC living and working environments. All non-traditional wooden and low-cost aluminium windows will experience significant energy loss in an air-conditioned room as there is no sealing by the gasket.
15