Azure Interiors unveils elegant outdoors spaces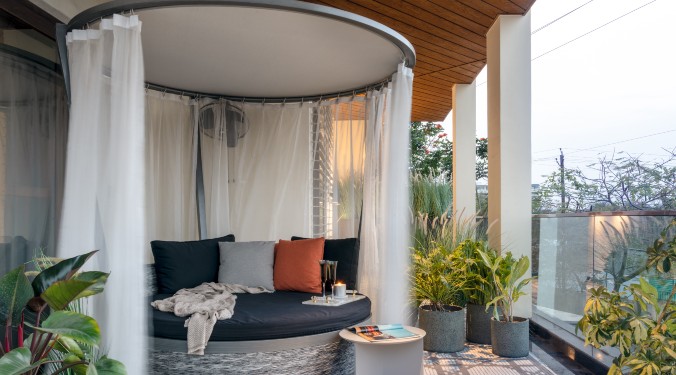 Azure Interiors is a leading interior and decor solutions company based in Raipur, the aim of the brand is to help people discover the nuances of bespoke decor.
The firm is well known for crafting aesthetically pleasing spaces that are practical as well. Azure Interiors conceptualises homes that showcase the clients' personalities and interests. Their work is thought provoking, unique and arresting. The design studio has unveiled a series of visually arresting outdoors spaces that can add a distinctive character and panache to any home.
Clean lines, sleek proportions, tactile surfaces, plush fabrics, and innovative details are the trademark of Azure Interiors. These chic patios are designed as ideal spaces for the contemporary home, impeccably dressed and inviting. Exquisite furniture, statement accent pieces, unique lighting and nature come together to create these outdoors settings that showcase timeless glamour. These outdoor spaces by Azure Interiors exhibit an earthy colour palette and tailored details, which showcases understated luxury.
The combination of traditional and modern reaches a new dimension with the interesting interplay of rich materials. The patio setups are an expression of striking beauty where originality meets iconic design, enhanced by sculptural silhouettes, richly composed furnishings and fine details. Along with distinctive furniture, the patios also comprise statement décor pieces such as arresting sculptures and vases. Additionally, the lighting in the outdoors spaces has been carefully selected. They feature diffused and accent lighting, along with ample of natural sunlight in the daytime.
for more info visit : http://azureinteriors.in/
46