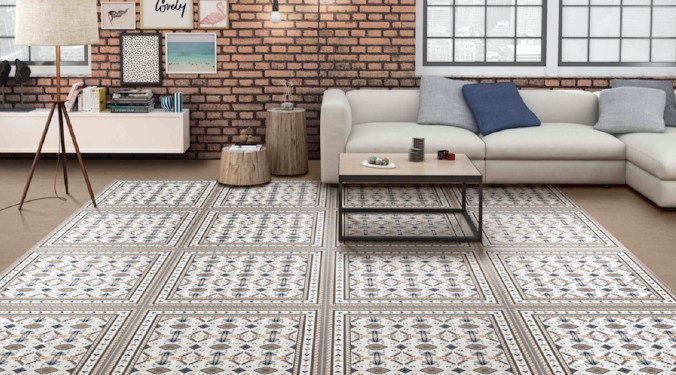 Persian tile work has had a profound influence on the aesthetics of global architecture and construction, evolving from its origins in glazed bricks to encompass mosaic faience, luster, and the exquisite seven-colored tiles.
The rich history of Persian tilework has played a pivotal role in shaping many of the tile work techniques used today.
In light of this heritage Ceramica, a leading tile manufacturer based in India, has recently unveiled its remarkable "Persian Tiles Collection." This collection, renowned in the tile manufacturing industry for several decades, has been meticulously crafted to elevate and enhance the aesthetic appeal of both residential and commercial interiors.
The Persian Tiles Collection offers versatile applications, making it an excellent choice for a broad spectrum of spaces. Whether adorning walls or gracing floors, these tiles are designed to add a touch of timeless elegance to any environment. Notably, they come equipped with UV-resistant and slip-resistant properties, ensuring their durability and reliability in high-traffic areas. The tiles are engineered to withstand the rigors of daily use, maintaining their strength and beauty.
These tiles are available in a convenient size of 600 x 1200 mm and possess a thickness of 10 mm, making them the perfect choice to infuse a unique and modern look into your next project. Moreover, they are designed with non-slip textures, striking the perfect balance between functionality and design, ensuring that they not only look elegant but also provide safety.
According to Rahul Bhugra, the Director of Antica Ceramica, the Persian Tiles Collection offers a wide array of prints and shapes, allowing for creative expression and the introduction of texture and patterns into various interior design projects. From kitchens and bathrooms to hallways and living rooms, these tiles can be used to infuse a creative flair that transforms any space into a visually captivating and aesthetically pleasing environment.
The Persian Tiles Collection by Antica Ceramica pays homage to the rich heritage of Persian tile work, offering versatile, durable, and aesthetically pleasing tiles that can be used in a wide range of interior design projects. Whether you're looking to add a touch of elegance, creativity, or texture to your space, these tiles are a premier choice, sure to elevate the ambiance of any home or office.
For more info visit : https://www.anticaceramica.in/
37