Plastic formwork is lightweight, modular, and easy to install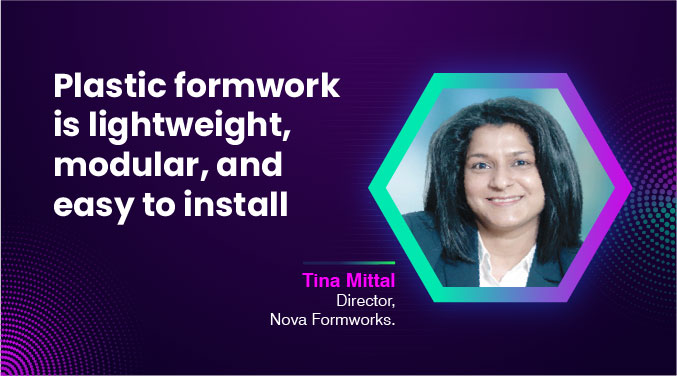 In an exclusive interaction at bauma 2023, Tina Mittal, Director of Nova Formworks, talks about the recent innovation of plastic formwork and highlights its unique characteristics.
Please provide us with an overview of the bauma 2023
We displayed the most recent deck slab and plastic and aluminium mix monolithic. Aluminium was the only monolithic format accessible, but plastics are lightweight, modular, and easy to install; we built them with a blend of aluminium in locations where fabrication is more difficult. Ours is the only formwork that is employed for every type of project, including residential, commercial, and even infrastructural projects. Plastic is more durable than aluminium, and we completed many road and dam projects. There is a lot of opportunity for vendors and customers to communicate with one another here for business.
What kind of temperament does this plastic have, and what is the maximum weight it can hold?
Our panels are typically designed for 60k in load-bearing capacity in lateral pressure. We can improve it because we have stiffeners that we can adjust according to the load pressure and increase the loading capacity. Mostly, this is more than adequate; however, in the event of unique projects with greater demand, we can adjust our supporting system and improve the load-bearing capacity.
What is the difference between Aluminium and plastic formwork?
Plastic Formwork makes construction faster and saves time. Nova Panels are lightweight resulting, it is fast, easy to erect, easy to assemble and dismantle also we can easily do repair and reworks. Being a Plastic it helps to reduce the risk of thefts. The Plastic formworks are used in infrastructure, residential and commercial projects. We are India's only manufacturer and one of only five worldwide. There are a few people who buy from other countries. We have manufacturing facilities in Ghaziabad and Bangalore. We supply pan India, and we are exporting as well.
What kind of buyback options do you have for plastic formwork? 
 People have also used the formwork 100-300 times; it depends on how the product is handled. The buyback option entails us immediately offering a 25 percent replacement value. Also, plastic formwork is the most environmentally friendly product available in the market and is more suitable for sustainable concepts. If the product is correctly stacked after use, its durability and sustainability will increase. 
Do you provide customised plastic formworks?
We provide combinations of standard processes through which we receive AutoCAD drawings from customers. After that, we propose what panel sizes they should employ based on the information we receive. Then the BOQ is finalized. We provide customizations to clients as we offer non-standard sizes as well, depending on the structure. If necessary, we combine different materials with our formwork and provide them with a solution. We work on projects where we can offer appropriate solutions and we assist them until the project is completed.
for more info visit : https://novaformworks.com/
65