Safeguard your home with UV-C disinfection lighting service from Signify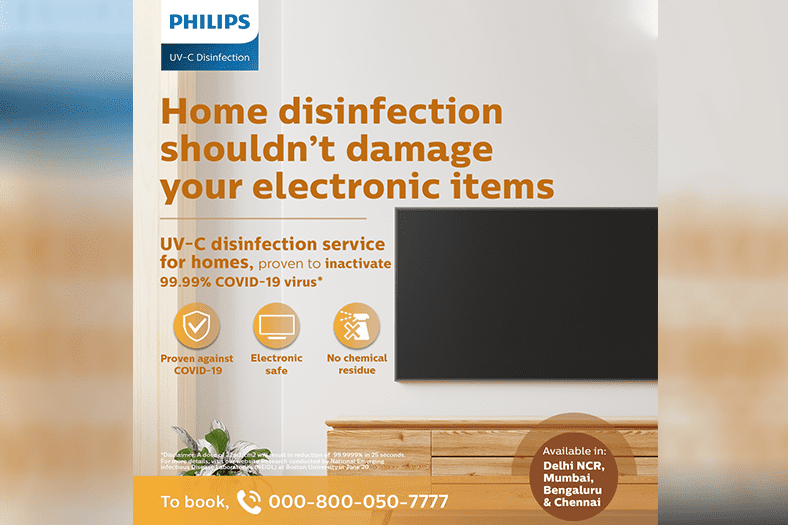 UV-C has been used for more than 35 years as a fast and effective disinfectant for air, water and surfaces and is also proven to inactivate SARS-CoV-2
Signify (Euronext: LIGHT), the world leader in lighting, today announced the launch of its UV-C disinfection services for homes in India. UV-C lighting is a chemical-free, residue-free and absorption-free method that can be used to disinfect air, water and surfaces and all bacteria and viruses tested to date respond to UV-C radiation[i] . The service is currently available for consumers in Delhi NCR, Mumbai, Bengaluru and Chennai and can be booked by calling the company's toll-free number 000-800-050-7777.
Unlike other conventional disinfection methods, UV-C disinfection does not leave any harmful chemical residues and hence can be safely used around electronics and indoor plants. It is also environment friendly, as it does not use any chemical substances.
UV-C is a well-established method of disinfection, as it breaks down the DNA or RNA of microorganisms including viruses and bacteria, rendering them harmless. The effectiveness of Signify's UV-C light sources to inactivating SARS-CoV-2, the virus that causes COVID-19, has been validated by Boston University[ii].
Commenting on the launch, Mr. Sumit Joshi, CEO and Managing Director, Signify – South Asia, said "After receiving great feedback about our UV-C disinfection service from our professional users, we have now launched this service for homes in India, considering the relevance and increased demand of this method in the current pandemic. The service offers a tried and tested chemical-free and residue-free alternative to disinfect your home after a COVID infection in the house."
The company offers customized package for homes, depending on the size of the house (BHK) and uses a scientific methodology to determine the unique dosage needed to disinfect all corners of the house. The disinfection process is carried out by a team of trained and certified service professionals equipped with UV-C compliant PPE kits, who then use specially designed UV-C lighting products to disinfect the premises. This service can be used to disinfect all areas of the house such as the dining, kitchen and washroom areas including all furniture and household items such as refrigerators, chairs, sofa's, TV's, printers etc.
The company launched its UV-C disinfection services for professional customers like offices, hotels and retail shops earlier this year and has now extended the same to homes.
For more info visit: https://www.signify.com/en-in
5