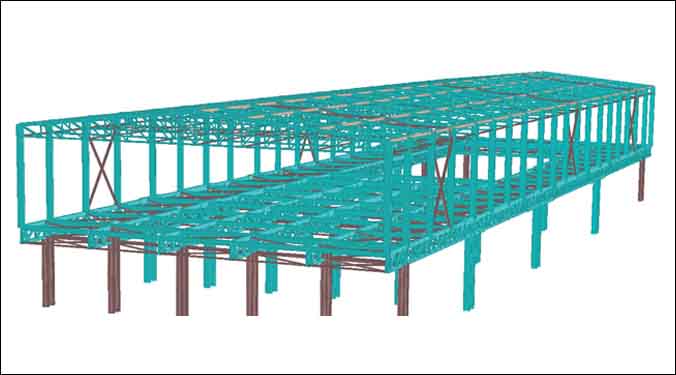 "APL Apollo's Nayi Soch revolutionises the construction industry with steel building solutions technology."
The Indian Government is undertaking several initiatives to upgrade its ageing railway infrastructure and enhance the quality of its services. The station redevelopment scheme is in synergy with the Smart City Project launched by the GOI. RLDA is focusing on redeveloping 155 railway stations in various cities over the next 2–5 years.
The Challenge
When redeveloping a railway station, the primary consideration is the duration of the project. Station operations can only be halted briefly, so a speedy execution is necessary. To achieve this, simpler fabrication and erection methods are needed to minimise disruption to regular station operations.
How can APL Apollo help?
APL Apollo has introduced the "Nayi Soch" initiative to revolutionise the construction industry, promoting faster and better construction. Their exclusive range of heavy structural tubular products has the potential to transform the future of building and construction. The Steel Building Solutions technology and Apollo Column tubes, recognised as the heart of pre-engineered building (PEB), offer faster project completion, superior quality, strength, cost-effectiveness, and eco-friendliness.
By utilising APL Apollo's broad range of structural steel tubes, it is possible to construct everything on tubular sections, also known as hollow steel sections. This approach saves time and simplifies fabrication as minimal or no on-ground fabrication is required since everything is pre-fabricated, precisely engineered, and cut to length, thus accelerating the entire process.
APL Apollo for Railways
APL Apollo has recently introduced an innovative solution consisting of ready-boxed sections measuring 500×500 mm and up to 20 mm thick. Previously, these box sections were produced manually, requiring the transportation, storage, cutting, and welding of heavy plates from all four sides, thereby increasing project time and cost while compromising quality.
Our cutting-edge technology makes these ready-to-ship box sections available in time without compromising quality. Our world-class technology can produce 500 tons of box sections daily in cut-to-length sizes, resulting in better quality, minimum wastage, and shorter lead times.
A project case study
In Andhra Pradesh, a railway station spanning 1,54,000 sq ft, divided into concourse and roof areas, with a larger span of 35 meters, is undergoing redevelopment. To optimise the structure of the railway station, studies were conducted using conventional structural built-up steel and tubular steel technology.
To expedite project execution, we utilise our direct forming technology, providing customised cut-to-length sizes to clients, and facilitating easier fabrication and installation. This significantly reduces fabrication time as no on-site fabrication is necessary, making construction faster and simpler.
Conclusion
Structural steel tubes (hollow steel sections) have a better weight-to-strength ratio compared to built-up sections. The tubes can revolutionise construction in two ways, by reducing steel consumption and project costs and by increasing the speed of construction. Structural steel tubes can be used to build any structure, including housing, hospitals, railway stations, warehouses, data centres, and schools.
For more info visit : https://aplapollo.com/
58