The fusion of luxury and design at 75 Kenmare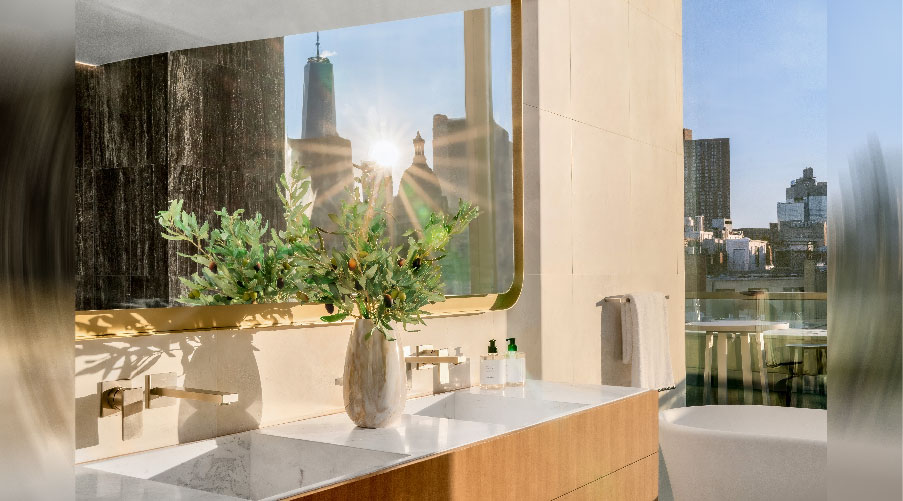 This collection draws inspiration from the sun's radiance, showcasing a splendid appearance and converting practical functionality into artistic brilliance.
Solar elegance and harmonious fusion of luxury and design Nestled within the lively NoLita district of Manhattan, 75 Kenmare stands as an acclaimed luxury establishment, distinguished by its remarkable architecture crafted by Andre Kikoski and its stylish interiors envisioned by Kravitz Design.
The bath areas, filled with natural light, showcase the exquisite Solar Collection designed by GRAFF, a fusion of functional utility and artistic ingenuity. Drawing inspiration from the sun's radiance, the Solar Collection boasts a splendid appearance, characterized by its sleek and slender surfaces finished in Brushed Nickel, reflecting the sun's luminosity.
GRAFF's President and CEO, Ziggy Kulig, remarked, "The Solar Collection seamlessly complements the essence of 75 Kenmare, encapsulating the inviting aesthetic and appeal of the modern architectural design of the building." He continued, "Solar's geometric form enhances the feeling of robustness and tranquillity within the bathing area, harmonizing with the meticulous details and architectural flair of 75 Kenmare."
Offering a selection of 20 opulent finishes, including options like Matte Black, 24K Brushed Gold, and Polished Chrome, the Solar Collection by GRAFF exemplifies precision engineering, employment of top-notch materials, and design artistry. GRAFF's collections enhance interior spaces across diverse stylistic spectrums, ensuring a blend of refined craftsmanship and exceptional design. 
For more info visit : https://www.graff-designs.com/en/
15