An initial investment in technology ensures enhanced results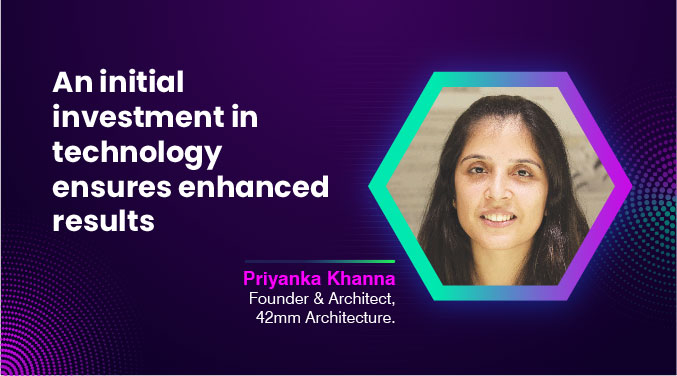 Priyanka Khanna, founder and architect of 42mm Architecture, speaks about energy efficiency and conservation techniques in architecture.
Sustainable design
Architecture has always incorporated sustainable design. The evolution of technology and materials has decreased building restrictions and increased exploration possibilities significantly. Nonetheless, the fundamental concepts of sustainability remain constant. As a result, there is an increasing desire for designs that can respect the environment in which they are placed, use nature to their advantage, and use technological advancements to make a living more comfortable while less invasive.
Energy-efficient and cost-effective building design
Simple energy-saving measures include:
Planning along cardinal directions.

Creating fenestrations and shading devices based on the movement of the sun.

Adding insulation to sun-prone façades.
Some active strategies that help to maintain energy and economic efficiency in building designs include adding solar panels to supply energy needs, adding sewage treatment facilities, and recycling waste and water within the building.
Contemporary architecture with green designs
While introducing a contemporary building with green building techniques, the initial engineering involved in planning the services is intense. However, once the services and planning are resolved programmatically, the gains during the running life of the building are compoundable. The initial investment yields significant results in the future.
Budget-friendly, sustainable design aesthetics 
The challenge here is educating the clients about sustainable design's long-term benefits. The initial installation cost is often a stumbling block in the construction process. Once the client understands the benefits, the budget constraints become manageable. In terms of durability, sustainable designs are pretty durable. If the clients have the design sensibility to appreciate materials in their natural form, they will most likely appreciate the interior sensibility of sustainable design.
Innovations in Façade
The fenestration designs have become dynamic. They adapt to the weather conditions outside. The shades are symmetric, but their adaptive use gives the façade a new face with the change in the sun's movement. From the outside, it is an artwork in motion, while inside, the light is filtered and controlled to suit the needs of the interior. The buildings have become smart, energy-efficient, and customised for indoor and outdoor conditions.
Advanced technologies with green designs
BIM today enabled the overlapping of various services and resolved them effectively. In BIM format, the junctions are easy to visualise, resolve, and convey to the site. The process becomes more manageable with different contractors on board. A 3D visualisation has made communication with clients extremely easy and effective. Clients can better understand a scenario once they see it in 3D picture format or on-site. The powerful virtual reality tools have made it easier to visualise the future reality and make informed decisions more quickly. 
12