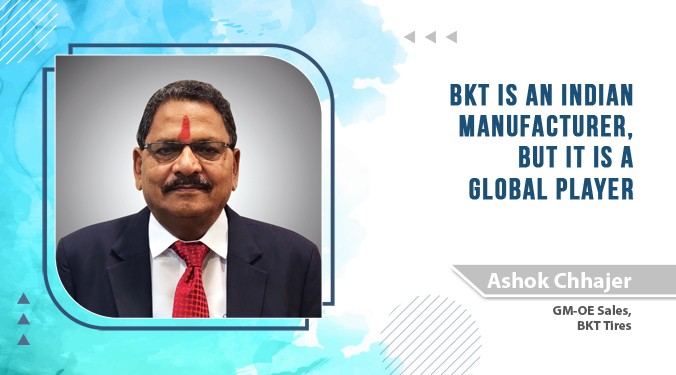 We have a lengthy quality control process which is stringently followed before any product is introduced to the market, says Ashok Chhajer, Sr. GM, OE Sales, BKT Tires
Ashok Chhajer talks to Ace Update about BKT's shift in focus on the Indian market and the experience at Excon.
Can you talk a bit about the products and display?
We have developed our latest edition in our product basket that is CTL. This is suitable for skid steer loader applications for construction equipment. We have very recently introduced it in the global market as India currently does not have a market for it.
What kind of revenue does BKT see from the international market?
rightly, BKT is an Indian manufacturer but it is a global player. For our current product range, the domestic market is not a very big market. So, 80% of our turnover comes from exports. But this year, the figures may change and we have hopes of seeing an uptick in the domestic market.
Over the last couple years, there has been a shift in BKT as a brand, can you tell us what changes you've made?
We have extensively started working in the domestic market over the last few years. For the last five to seven years, BKT has made India its focus market. The result of that is now being seen, as previously mentioned, there is an uptick in the demand. 
How does the increasing demand for coal affect BKT?
Most of India's power generation is coal based. Thermal power plants are currently witnessing shortage of coal, due to which India wants to increase its production over the next three years. It's all a chain reaction. In order to increase production of coal, more mines need to be opened and these mines will definitely need equipment. So these certainly open up new avenues not just for BKT but other machine manufacturers as well. 
How do you maintain consistency in terms of R&D?
R&D is the backbone of BKT. Qualified and experienced engineers along with our state of the art infrastructure give us the edge. We have our in-house testing track, world class labs and equipment. We have a lengthy quality control process which is stringently followed before any product is introduced to the market. We introduce on an average 160 new product ranges virtually every second day. These are all based on the in depth market research, market analysis, r&d. 
What procedures are in place to make sure the quality is not compromised?
Our products are not a standard product, each and every product is a specialised product. We design and develop products which can withstand all kinds of terrains. So in terms of execution, every tire and raw material has to undergo 500 quality checks. And the result is durable tires with very high quality.
How has your experience at excon been so far?
Excon is an excellent platform to connect customers, to showcase products and to launch new products. Even though we missed a year due to Covid, the enthusiasm from the exhibitors and visitors alike is unmatched. This is a golden exhibition for those who are related to construction, infrastructure, mining, metal handling, directly or indirectly. It is a great opportunity to nurture new talents as well. 
8