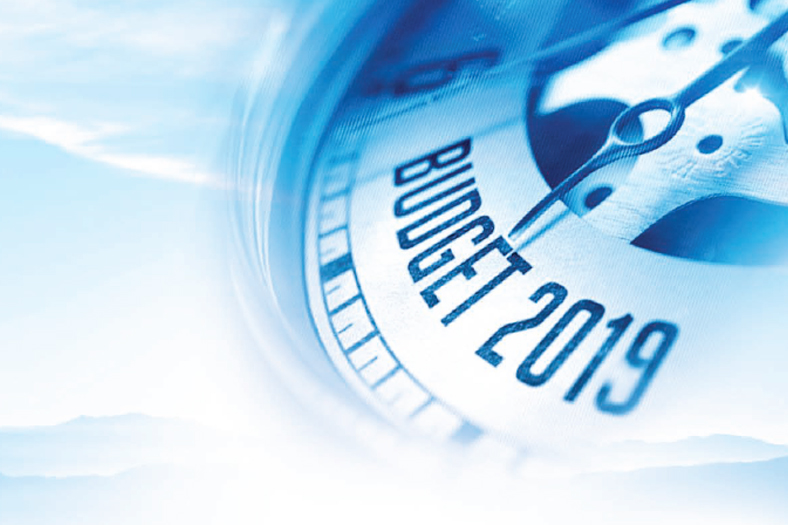 Budget 2019-20 unveiled an array of reforms for the construction sector rekindling hopes for boom this year. The government has not only revitalised its vision for the infrastructure sector but has also strengthened its commitment to promote renewable energy.
While real estate was going through a tough time after post GST and RERA introduction, the government is taking proactive measures to help housing and real estate segment in particular, and has permitted interest in exemption of IT for two houses.
"Increasing or exempting tax for the employed, income of up to ` 9 lakh will help the real estate segment. The additional benefit is likely to boost ready mix concrete industry in India," says V.G. Sakthikumar, Managing Director, SCHWING Stetter India.
Besides, most of the other infrastructure projects like roads, railways, ports, power, etc., are already doing good due to ongoing projects. Budget 2019 is addressing the requirements of these projects. Amendments proposed in the interim budget in favour of the real estate sector, particularly affordable housing, will also benefit allied sectors like cement and steel. Moreover, given the allocation of `19,000 crore to Gram Sadak Yojna, benefits could filter down to civil infrastructure industry like construction and construction equipment.
Some key announcements on ancillary sectors will play out in favour of the cement industry. The Vision 2030 for Next-Gen Infrastructure development which mentioned airports, inland waterways, road and rail development, will definitely translate into great opportunities for infrastructure and construction business. This will also tie into the government's vision for employment increase as India's push for rapid infrastructure growth will position the cement industry as an opportunity employer with 20,000 downstream jobs
for every million tonnes of cement produced, according to industry experts.
Infrastructure sector is currently witnessing influx of projects like bridges, dams, roads and urban infrastructure development.
Modest increase in public spending for infrastructure is credit positive. The planned increase in public infrastructure spending is credit positive for companies in this sector. Capital outlays for key segments within infrastructure, like highways and railways, will increase modestly in fiscal 2019 from fiscal 2018. The budget does not include any change in taxation structure for companies in the infrastructure sector, according to Moody's Investor Service.
The government is giving impetus on initiating policies that would ensure time-bound creation of world class infrastructure in the country through policies such as open FDI norms, large budget allocation to the sector, Smart Cities Mission, etc. There is also growing interest from international investors in the infrastructure space.
The key highlight of Budget 2019-20 was the benefit to empower rural and agro economy.
Mahendra Singhi, President, Cement Manufacturers Association and MD & CEO, Dalmia Cement (Bharat) Ltd.
Affordable housing gained amidst a mass-appeal budget. However, extension of tax relaxation for another year cheered developers.
Santhosh Kumar, Vice Chairman – ANAROCK Property Consultants
The interim budget, viewed as 'Vision 2030', has struck the right chord on several fronts, whether it is building next-gen infrastructure or building stronger digital India.
Madhusudhan G., Chairman and MD, Sumadhura Group
Steps taken could percolate into direct and indirect benefits to housing sector. Impetus on affordable housing was once again visible.
Sankey Prasad, Chairman and Managing Director, Synergy Property Development Services
Enhancing ease of living, consolidating real estate sector will fuel the vision to make India a 10-trillion dollar economy.
Rohit Poddar, Managing Director, Poddar Housing and Development Ltd
Budget 2019-20 meets multiples objectives including boosting consumption, strengthening the agriculture sector and reducing the urban-rural gap through infrastructure.
Sangeeta Prasad, MD & CEO, Mahindra Lifespace Developers Ltd.
Even though Budget 2019 is not regular and only interim in nature, we appreciate the government taking proactive measures to help housing and real estate segment in particular.
V. G. Sakthikumar, Managing Director, SCHWING Stetter India
Announcements to set up a national centre for AI and development of AI portal will be critical to position India as a front runner in the space.
Vartul Jain, VP – Finance, GreyOrange
Government has announced to strengthen Sagarmala Project – a step towards transforming the nation through port modernisation.
Piyush Sinha, Deputy Managing Director, NEC Technologies India Pvt. ltd.
Housing demand will witness uptick with measures like no income tax on notional rent on second self-occupied home and also capital gains benefit allowed on second houses in select cases.
Ramratthinam S – CEO, Muthoot Homefin (India) Limited
8