Envirocrete® from the house of Prism RMC is a special concrete which aids green construction
Prism RMC is one of India's leading ready-mixed concrete manufacturers, set-up in 1996. Since its inception, the company has been committed to sustainability and has taken every possible measure to reduce water usage by using recycled water in manufacturing. We were the first to develop mixes that used Crushed Stone Sand (CSS), a by-product of the aggregate crushing process. We are completely committed to environmental protection and pollution prevention inside our plants and nearby areas. We carry out initiatives for sustainable development by using industrial waste products such as fly ash, blast-furnace slag, silica fume, etc as part replacement of cement in concrete, thereby assisting in the preservation of natural resources and reducing green-house gas emissions (CO2, NOx) resulting from cement production.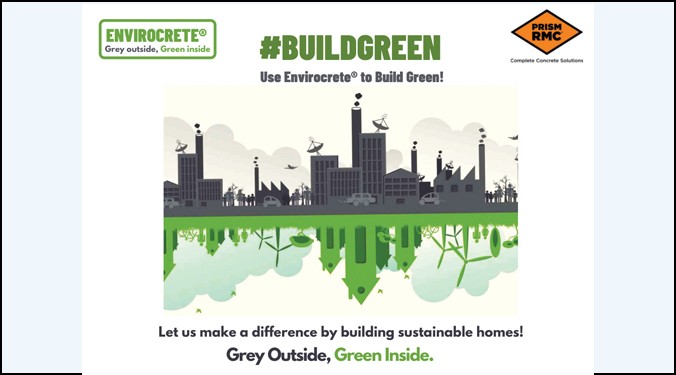 Much emphasis has recently been placed on the importance of sustainability in the construction industry. Most sectors are increasingly focusing on implementing methods, procedures, and
norms that will allow them to operate and manufacture products in a more ecologically responsible manner. Given how technologically advanced the ready mix concrete industry is becoming and the increasing demand for construction projects, it is critical that sustainable measures are implemented to optimize construction activities so that they do not have negative effects on resources, surroundings, and the living ecosystem. Prism RMC's only focus is to curate products that are both beneficial to our customers and environmentally friendly. Prism RMC is committed to deliver quality products keeping in mind the health & safety and ensuring sustainable development.
NABL & QCI
To assist with quality control, we have four NABL-accredited labs in Mumbai, Bangalore, Gurugram, and Chennai. We conduct material tests to ensure that our products are of the highest quality. Our experience in this industry has allowed us to improve operations, quickly set up plants on demand, and manage the ongoing supply of high-quality concrete. Our 38 plants in India have received the prestigious National Safety Council Award. We are the first company to receive the prestigious QCI certification for the Cochin plant.
Health and Safety Management
Employee health and safety has always been a primary focus for the organisation. The company is determined that all work-related accidents and illnesses are avoidable. Prism RMC is dedicated to meeting and exceeding rigorous health, safety, and environmental (HSE) standards in all of its plants and offices. In order to improve the knowledge and skills base, the company conducts training courses for its employees throughout the year. These include- Introductory training, defensive driving and traffic safety techniques & basic operational safety training. 26 of our production facilities are selected for the prestigious National Safety trophies during the last 3 years, conducted by National Safety Council. The Company looks forward to set up benchmarks in safety standards within the construction industry.
Adopting sustainability will help the industry to survive in the long run. People are keen towards products that are not just aesthetically pleasing and efficient but are also eco-friendly in nature. Durable and high performance concrete solutions enable sustainable construction.
Envirocrete®
In our continuous efforts to build green, we have developed a special concrete product called as Envirocrete®, a green concrete with low CO2 emissions that helps build sustainably without compromising on the quality of the concrete. Envirocrete® has low heat of hydration, high Performance, high durability & low environmental impact.
Key Advantages of Envirocrete®
• Sustainable
• Durable
• Better Consistence
• Low Heat of Hydration.
For more information contact us at:
connect@rmcindia.com / 9769801903
25