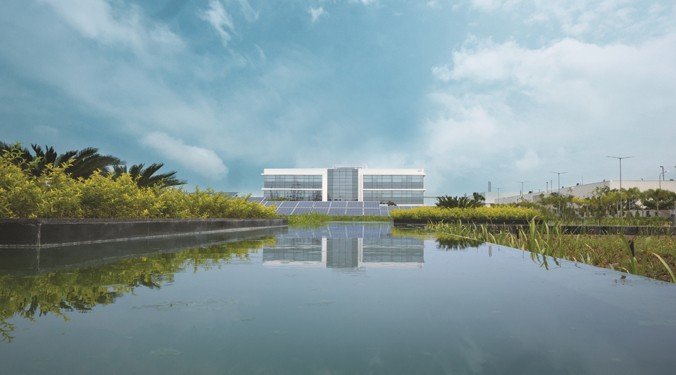 Driven by the vision to engineer a better tomorrow, Danfoss walks the talk on sustainability and energy efficiency
Danfoss India focused on climate-friendly and energy efficient solutions, is a 100-percent owned subsidiary of the global climate & energy leader, Danfoss Group. The company serves a wide range of industries that rely on Danfoss products like Drives, valves, controls & solutions for refrigeration, air conditioning, heating, ventilation, hydraulics, fluid conveyance, power conversion, district energy, etc. for increased machine productivity, reduced emissions, lower energy consumption and smart electrification, amongst others.
Driving the resolve for efficiency and sustainability
As we focus on rebuilding our economies in a sustainable way in the aftermath of the recent global pandemic, it's time to set a green restart in motion. With the current landscape of global awareness and technological prowess, all solutions needed to bring about a green energy transition are already present, proven, and ready to be accelerated. There is also real potential in terms of new green jobs, economic savings, competitiveness, and market opportunities – together with improved wellbeing for citizens. Hence, leading the charge towards this green transformation agenda is Danfoss, aiming to meet the technological needs across the global mega trends of Urbanization, Food Supply, Electrification, Digitalization and Climate Change that are the key drivers to a sustainable and growth-driven economy.
Danfoss leads by example in its commitment towards sustainability showcasing it throughout its global operations with its ambitious Climate Actions.
Danfoss & Sustainable Development Goals
Danfoss has been a member of UN Global Compact from 2012 and last year, they have joined the UN Global Compact's campaign: Business Ambition for 1.5°C, which is in turn linked to Race to Zero campaign and has also joined the Science-Based Targets initiative (SBTi). The company remains committed in its ambition of carbon neutrality by 2030 across all global operations.
Last year, Danfoss' total global energy consumption for buildings and processes fell by 7% to 590 GWh, leading to a greater commitment to also double energy productivity and halve energy intensity by 2030.
Danfoss is also among the first manufacturing players to join the EV100 initiative under The Climate Group to support the global transition to electric vehicles by 2030. A dedicated project team has developed a roadmap for the company's journey towards the full electrification of its company car fleet. The roadmap will be revised as technology develops and the availability of EVs and charging infrastructure becomes better. Danfoss Chennai campus is equipped with battery operated shuttle vehicles and bicycles to reduce carbon emissions within the campus.
Accelerating sustainability efforts with scientific targets & actions
Danfoss India's LEED Platinum rated facility at Oragadam, Chennai boasts of a 1.25 MW solar power plant that contributes to an average 20% of daily energy consumption while over 80% of the energy requirement is fulfilled through offsite renewable sources. Over the last year (since June 2020), 100 percent of the facility's energy requirements has been met through clean energy.
Here, the company has also combined its global expertise in digitalization, innovation and energy efficiency to create climate friendly solutions that empower smart societies and industries, to do more with less. For instance, the use of Danfoss' own oil-free Turbocor chillers, Variable Frequency Drives (VFDs), PIBCVs & many more of its energy efficient products has enabled a reduction of campus energy consumption by 40% annually. Overall, the company has achieved 12000+ ton of carbon footprint reduction in just the last two years.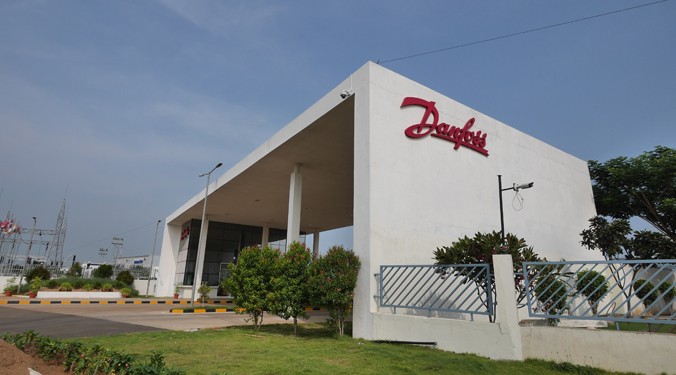 Also, Danfoss had invested in an exhaustive top-soil preservation process during the construction of this campus. Since then, over 6300+ trees have been planted across the 50-acre campus, including a Miyawaki forest with 3000+ trees, covering 15+ native species. The Zero Liquid Discharge (ZLD) facility on campus is equipped with wastewater treatment plants that include a 150 KLD Sewage Treatment Plant (STP) and 80 KLD Effluent Treatment Plant. The facility's food digestor with a capacity of 100 Kg/day helps recycle canteen waste into biogas, which is in turn utilized at the kitchen within the campus. It is also equipped with a 3600+ KL capacity rainwater harvesting pond and an IOT based water management system which has helped in ~40% reduction of water consumption from 105 to 65 Litre per capita/day.
As the next step of this decarbonization journey, Danfoss Chennai Campus has also built an Energy Storage System (ESS) to store excess energy generated by renewables. It is India's first privately owned and operated grid-scale battery-based Energy Storage System, consisting of Danfoss 250 kW PCS, 270 kWh SARA battery, a BMS, and an EMS containerized integrated battery energy storage system with grid-scale technology. This system stores the additional energy generated on weekends and is scalable and versatile, as well as provides a dependable and cost-effective solution for both behind-the-meter and front-of-the-meter applications.
Danfoss – by scaling up its sustainability drive across its partners, customers & other stakeholders, reiterates its commitment towards building a climate & environment friendly India – where reliable, affordable, and clean technology will become accessible across the nation and sustainable development becomes a daily mantra.
27