CASE India crosses production milestone of 50,000th Loader Backhoe in India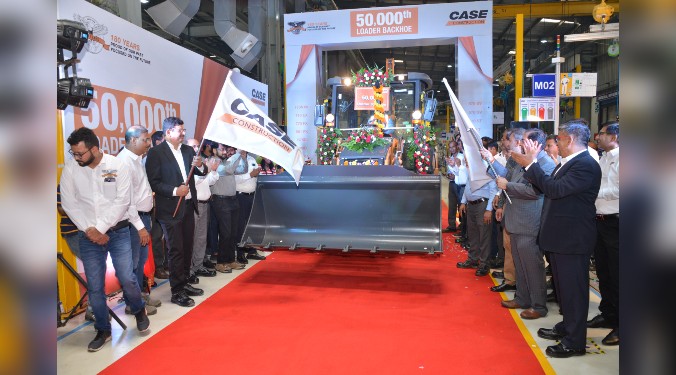 CASE Loader Backhoe are known for their versatility, reliability, productivity, flexibility, safety, and operator comfort.
CASE Construction Equipment, a brand of CNH Industrial, has crossed the production milestone of 50,000th Loader Backhoe, from its state-of-the-art facility in Pithampur, Madhya Pradesh. Built in the year 1989, the plant in Pithampur, near Indore, has been manufacturing a full range of advanced construction equipment including Loader Backhoes, Compactors, and Crawler-Excavators. Currently, the facility caters to the construction equipment required for India and over 75 countries located in Africa and the Middle East, the Asia Pacific region, and Latin America markets.
On the milestone, Mr. Fabrizio Cepollina, Vice President, Industrial Construction Segment in Africa, Middle East and the Asia Pacific, CNH Industrial says, "CASE has been manufacturing Loaders Backhoes since 1957 when industry's first factory-integrated Loader Backhoe was produced by CASE. Today, our latest range of TLBs further drives the brand's legacy of excellence to newer limits. CASE is globally known for its superior quality machines, making us one of the leading brands in the construction equipment industry. This is a moment of pride for us, and we are working towards making our well-equipped Pithampur plant a global manufacturing hub for CASE products. The plant is already catering to the demand of close to 80 countries including India. We are aiming to further increase the volume of exports from here to additional markets."
Speaking on the occasion, Mr. Sunil Puri, Managing Director, CNH Construction Equipment India says, "For over 30 years, CASE India has been offering world-class quality made-in-Pithampur machines for national as well as international markets. In India, we are fully aligned with the government's initiatives such as Make-in-India and Aatmanirbhar Bharat, with our Loader Backhoes being 90% indigenized. This remarkable achievement of the 50,000th Loader Backhoe roll-out is a testimony of our customer's belief in the brand and our products. We thank our esteemed customers, dealers and vendor partners for their support and look forward to achieving many such milestones in the future."
Mr. Satendra Tiwari, Plant Head – CASE Construction, India adds, "CASE India has been working consistently to provide outstanding machines and have proven our capacity to evolve with the time. The bronze-certified World Class Manufacturing (WCM) hi-tech facility is well automated with a focus on employee safety, product quality and precision, to efficiently meet both domestic and export demand. We are committed to following best practices and providing quality products from our only plant in the country. The 50,000th Loader Backhoe rollout is a proud moment for us at CASE India, and reaffirms our potential, encouraging us to continue to produce versatile machines for our customers."
For more info visit : www.cnhindustrial.com.
22