Delhi-Dausa-Lalsot expressway, lays foundation stone for road projects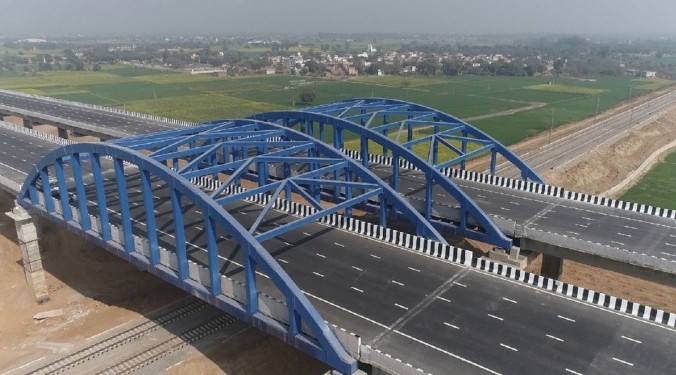 Delhi-Dausa-Lalsot stretch of the Delhi-Mumbai Expressway, the 246 km long stretch will reduce the travel time between the national capital and Jaipur from the existing five hours to 3.5 hours.
The Delhi-Dausa-Lalsot section has been built at a cost of more than Rs 12,150 crore. The expressway will boost the economic growth of the region by creating numerous employment opportunities and attracting business and investors.
The Prime Minister also laid the foundation stone of 247 kilometers of National Highway projects which includes a 67 km long four-lane spur road from Bandikui to Jaipur, a six-lane spur road from Kotputli to Baraodaneo, and a two-lane paved shoulder of Lalsot – Karoli section. These projects will be developed at a cost of more than Rs 5,940 crore.
The 1,386 km long Delhi-Mumbai Expressway will be the longest expressway in the country. It will reduce the distance between the two cities by 12 percent from the existing 1,424 km to 1,242 km. One can reach Mumbai from Delhi in just 12 hours. The expressway will pass through six states: Delhi, Haryana, Rajasthan, Madhya Pradesh, Gujarat, and Maharashtra. On its route, the expressway will connect important cities like – Kota, Indore, Jaipur, Bhopal, Vadodara, and Surat.
The Delhi-Mumbai expressway will serve 93 PM Gati Shakti Economic Nodes, 13 Ports, 8 Major Airports, and 8 multi-modal logistics parks (MMLPs). It will also connect two new upcoming greenfield airports such as Jewar Airport, Navi Mumbai Airport, and JNPT port.
For the construction of this expressway, around 12 lakh tons of steel (equivalent to 50 Howrah Bridges), 80 lakh tons of cement (equivalent to 350 statues of unity), and 35 crore cubic meters of earthwork (equivalent to filling the Roman Colosseum 30 times over) will be used.
47