Design dreams come true with customisable floors from SquareFoot
SquareFoot, known for world-class wooden flooring, offers the option of customisation in design and look.
Every designer aspires to deliver originality and exclusivity, which is now possible with customisable floors through SquareFoot. It is the ultimate destination for architects, interior decorators, and even homemakers, as they offer an array of wood types, colours, finishes, textures, and patterns that one can play with to create an individualistic identity.
SquareFoot is the leading provider of wooden flooring, whose mantra of commitment to quality, sustainability, and customer satisfaction are top priorities. Generally, while designing a space, a considerable amount of attention is given to the furnishings, artefacts, and aesthetics of the environment, but what brings it all together is the right choice of floor. A floor from SquareFoot can be an expression that exudes elegance and charm and enriches any space for a lifetime.
To design an area with SquareFoot, one needs to start by choosing the type of wood one likes, which is customised in thickness, dimensions, and specifications in order to create a coherent look that not only imparts style but also conveys a feel-good factor to the user. This company offers a wide range of options, from classic oak and maple to more exotic categories like walnut or sapele to choose from.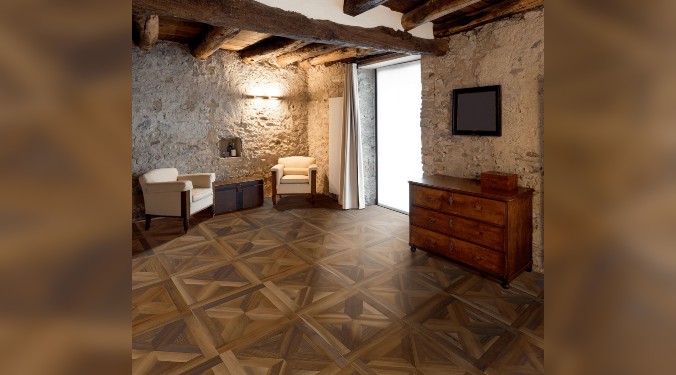 Subsequently, choose the colour to give the floor a personalised look and make it stand out, and finally, choose the pattern best suited to the space. Bring Paris into your living room by picking the pattern Eiffel or the pattern Montmatre in classic, herringbone, or diagonal styles. SquareFoot imparts a sense of freedom to the designer and offers a blank canvas to paint one's dream floor and create a perfectly beautiful and unconventional space.
Gaurav Saraf, Jt Managing Director, SquareFoot, says, "At SquareFoot, we use only the finest materials curated by expert craftsmen to ensure that your floor possesses a pristine and striking appearance that lasts for a lifetime. We continuously strive to give our customers a memorable journey when it comes to choosing a floor. From our expert design consultants to our quality customer service, you can count on us to pilot you every step of the way."
"For the first time, we offer a completely customised floor – choose a design, a finish, and a floor, and we make it custom, factory finish it, and deliver it to you. With a plethora of options to choose from, designing your floor with SquareFoot is, and always will be an exciting and stimulating experience. You can create a floor that perfectly suits your style and complements the rest of your home décor with panache."
for more info visit : https://www.squarefoot.co.in/
31