Duravit offers design oriented and functional bathspaces
Founded in 1817 in Hornberg in the Black Forest, Duravit AG is a leading international manufacturer of designer bathrooms. Let's check out the latest sanitary and bathspaces offered by the brand.
Hotel bathrooms are a key component for guest satisfaction

In an era of online booking portals, positive guest reviews are more important than ever for hoteliers. Gabriel Escarrer Jaume, founder and CEO of the Meliá hotel group sees the hotel bathroom as one of the main criteria that influence a guest's overall review. "The significance of the hotel bathroom has risen considerably over recent years. The bathroom is a key factor for customer satisfaction and the quality of our guests' stay."
Duravit products can be found in most Meliá hotels and resorts. "Our aim is for the bathrooms to provide a relaxed atmosphere for our guests while also blending perfectly with the overall concept of the hotel. Duravit offers numerous options for creating an individually appointed bathroom. The products combine pragmatic needs such as ease of cleaning with ambitious bathroom design," said Jaume.
Whether in a three-star city hotel or a five-star luxury resort: comfortable, spacious bathrooms with perfect hygiene are a solid foundation for satisfied hotel guests.
Storage surfaces and spaces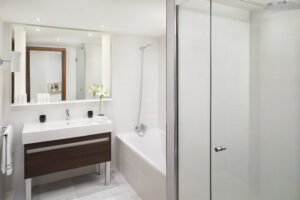 Generous storage surfaces and spaces are essential around the washbasin. Products such as the DuraStyle or Vero Air furniture washbasins are ideal here: washbasins with a storage surface on the side come in a range of dimensions for any size of the bathroom and they are also easy to clean. Vanity units with pull-out compartments and open racks also provide plenty of storage space and help keep things tidy. Duravit also offers custom, made-to-measure bathroom furniture for more complex spatial requirements.
Plenty of comfort in the shower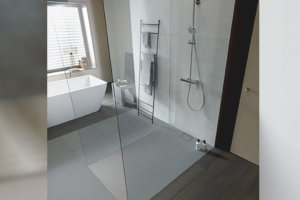 Flush-fitting, spacious shower areas invite guests to indulge in a refreshing shower experience. Available in 14 different sizes, the Stonetto shower tray system is an ideal solution for any hotel bathroom. Made from DuraSolid Q, the shower trays feature anti-slip qualities. The matt surface has an authentic and stone-like appearance and is available in the colours white, sand, anthracite and concrete. Stonetto's high drainage rate sets it apart when large spray heads or rain showerheads are used. The shower trays are suitable for flush-fitting, semi-recessed, or floor-mounted installation. The Duravit shower system, consisting of an invigorating showerhead and practical hand shower, is the ideal companion to a luxurious shower tray.
Shower-toilets add value

Innovations and trends are adopted much more quickly in hotels than in domestic bathrooms. The Duravit shower-toilets set new standards for guests. The easily removable SensoWash Slim shower-toilet seat with its handy remote control provides essential shower functions in a timelessly modern style and matches nine Duravit design ranges.
SensoWash Starck f Plus and SensoWash Starck f Lite can be operated comfortably via a remote control, are freely configurable via an app and offer optimum shower-toilet comfort. The flat seat with a height of just 40 mm and the white cover located behind it form a flush-fitting, easy-to-clean unit. Additional arguments to win over the hotelier include space-saving installation and decreased cleaning time thanks to the combination of bidet and toilet.
6