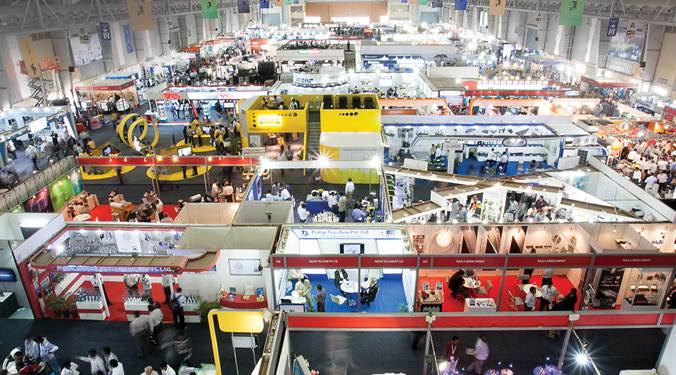 Excon, the much awaited construction equipment and construction technology trade fair, is back in Bangalore from 17th to 21st May 2022. End users and industry players will be back at the Bangalore International Exhibition Centre where the event will be held for a period of 5 days.
After a Covid-19 induced hiatus, the 11th edition of Excon 2022 is back with a bang. Every two years, Excon tops itself with its themes and brings together the construction and infrastructure industry. CII, Confederation of Indian Industry, is organizing South Asia's largest construction equipment and construction technology trade fair at the Bangalore International Exhibition Centre (BIEC), Bengaluru from May 17-21, 2022.
This year's Excon edition will focus on a few elements such as alternate fuels, women in infrastructure, AI, etc; in accordance with its theme "Building India for a New World – Competitiveness, Growth, Sustainability, Technology." 
From the caveman years to the present day modern human civilization, the use of machines in building and construction have allowed us to construct roads, build bridges, erect high-rises and super high-rises. The innovation in machines has also allowed us to meet and redefine the needs of the infrastructure sector. The roads and highways we drive on, the metro stations and airports we utilise as also the sky rises which have come to define our cities all owe it to the use of magnificent machines.
With the pandemic and lockdown throwing a wrench on just about every sector, it is obvious that it has had an impact on the construction and infrastructure sector as well. With the world slowly coming out of it, the government of India has been coming up with viable schemes to boost the sector.
Anil Yendluri, Managing Director – Vishwa Samudra Engineering Pvt. Ltd., says "It is one of the fastest growing industries in spite of the rising raw material prices, which are extremely volatile. India is in a phase of incessant development infrastructurally, in every State, including certain under-developed zones. The government has been bullish by introducing economically viable schemes that impact the population at the macro-level. The best example to cite here would be the Smart Cities project by the Ministry of Housing and Urban Affairs, where identified cities across zones are undergoing infrastructure changes, including affordable housing for the poor, etc. Other initiatives include urban development of several North-Eastern destinations and a special focus on urban-rural connectivity."
Voicing a similar opinion, Tushar Shrivastava, Head Business Development and Marketing, Capacite infraprojects Limited says, "Whether it be strengthening the border roads to developing the inherent network of roads, factories, airports, There is a good boom in the infra sector." He agrees that the government is a big catalyst in growth. "Most of the infrastructure projects are floated by the government, Airports Authority of India (AAI), National Highways and Infrastructure Development Corporation, NHAI, etc. They are actually promoting a lot of projects across India. In fact, the government has become very proactive in the last three to four years and is coming up with an array of projects right from the Parliament House to strengthening the airport networks across India."
All such measures have uplifted the market sentiment and a good deal of optimism has set in. Vivek Hajela, Vice-President and Head- CEB, Larsen & Toubro says that the industry is looking more and more upbeat about growth prospects and emerging opportunities.
"Improved liquidity, comprehensive hiring options, increased labour availability, and the government's drive for sustained infrastructure development with ambitious initiatives like the National Infrastructure Pipeline and Gati Shakti are bringing projects back on track. As a result, the industry is reasonably upbeat about growth prospects and emerging opportunities. We are witnessing a regular stream of contract awards from sectors like roads & highways, metro & suburban railways, and irrigation & water management. It has provided momentum to the demand for construction equipment in Q4 of FY2021-22. We are confident that demand will continue to rise in the current financial year as well."
AI and automation are taking over and making even construction equipment data driven and Excon will reflect that in its latest edition with its brand new AI Pavilion. Not to mention the market demand for AI driven machines too is being clearly felt. In this regard Anil Yendluri says, "Modernisation of machines has been rapid in the last 10 years although the need for high-end digital technology is still felt in the current scenario. Data Analytics, Reporting and Numerical Feedback from machines while the job is being done is still not available in-depth across all machine variants or categories. The data derived can be used to perform the job more efficiently, thereby saving time and cost. Most machines have to be attached with tech-centric analytical devices and systems which are highly advantageous. Another interesting technology in the space is 3D printing, which accelerates the project timelines tremendously. Excon is a key event for the industry which introduces us to some of the newest technologies that have been created by global companies."
Shrivastava states that such innovations in construction equipment enables fast paced construction and it ensures that India is in league with Europe and the West when it comes to its manufacturing prowess "Using the right equipment for the right job, building in precast, 3d printing of houses, India is witnessing a gamut of innovations. Most of the concrete structures have a lot of admixtures added so that the concrete provides ambient cooling inside. A lot of natural materials are being used again. We are leading the innovation in terms of deploying the right equipment or the project sites."
Some of the innovations being witnessed in the construction equipment sector are also trying to address the shortage of manpower. V G Saktikumar, Managing Director, Schwing Stetter India Pvt Ltd, "While there are huge projects on the anvil to be unveiled by the government , the need for skilled and migrant manpower is a glaring spot of short supply which was induced by the pandemic. Schwing Stetter India, to overcome this hurdle , has come out with technologically advanced equipment which requires only minimal manpower at the helm. Excavators , wheel loaders, concrete pumps with IOT and telematics automate many of the functions normally handled manually.The remote monitoring systems using cloud based components embedded in the batching plants  and truck mixers are a boon to the RMC players in the market."
While the industry remains hopeful of the promising opportunities, Excon will offer the much needed platform for manufacturers and end users to come together and interact.  
L&T's Vivek Hajela says, "Excon 2021 aims to bring manufacturers and buyers on a common platform. It has presented construction equipment players an opportunity to showcase their latest technologies and products after a hiatus of two years. And the entire industry is eager to participate since it is the largest exhibition in South Asia. Although we continued providing after-sales support, the pandemic seriously impacted our ability to meet customers. Excon will offer an excellent opportunity to meet and reinforce our relationships with many of them. As Excon is one of the biggest platforms to showcase new products, L&T will be using the occasion to the fullest."
15