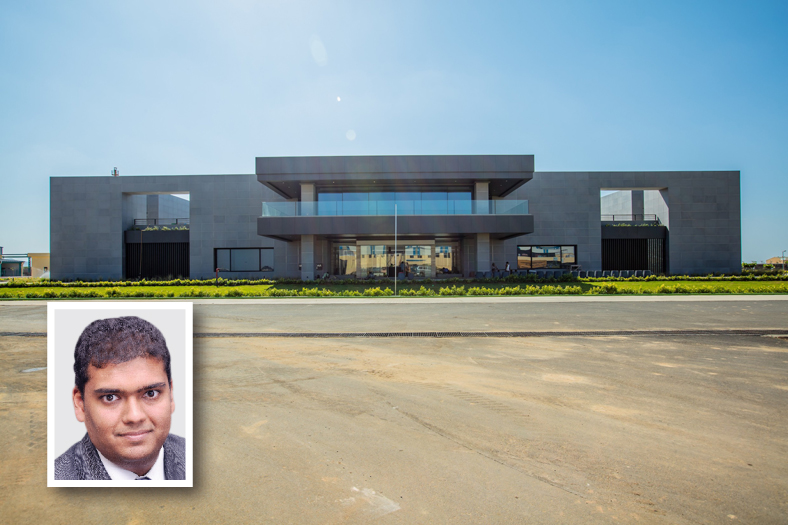 Balkrishna Industries (BKT), a global giant in off-highway tyres business, to showcase its versatile range of quality tyres at EXCON 2017 – the 9th international construction equipment and construction technology trade fair to be held in Bengaluru between 12th and 16th December.
Apart from displaying its top-of-the-range Earthmax tyre line-up for construction, mining and earthmoving vehicles, BKT will present world-class tyres for varied industrial applications.
Making in India for global
'Make in India' for the global marketplace cannot be better demonstrated than BKT, a company with over 30 years of global presence in the off-highway tyres segment, claims Rajiv Poddar, Joint Managing Director, BKT. He adds, "In the early 1990s when every other tyre company in India was busy producing highway tyres primarily for mass use, we foresaw a unique opportunity in international business and started production in the off-highway segment."
A true global player
Today, BKT enjoys principal presence in five continents around the world covering more than 160 countries. It is the preferred supplier to international OEMs in industrial or construction and mining segments. Since its inception in 1988, BKT has grown into a diversified industrial major exporting its expansive range of off-highway solutions to the world.
Quality conscious users who adhere to stringent conformity standards in countries like Europe, America, LSA, Middle-East and Asia prefer BKT as their supplier. The international quality of BKT tyres is achieved by using the foremost quality of raw materials that are processed through the most advanced and developed technology.
Extensive portfolio
BKT has products from 5-inch rim diameter to 54-inch rim diameter for vehicles ranging from trailers, forklifts, etc. to technologically advanced machines like high horsepower tractors, combines, harvesters, GPS controlled vehicles, articulated dump trucks, high-speed cranes, sophisticated port vehicles and container handlers etc. BKT claims to be the first tyre company in India to produce all-steel radial OTR tyres. OTR vehicles ranging from rigid dump trucks to snow manoeuvring vehicles use these tyres. The tyres under this segment range from a 20-inch diameter tipper truck size to a giant 51-inch rigid dump truck size in bias make and 49-inch in radial make, thus covering every requirement for Industrial use and Mining.BKT has been selling tyres to world's leading OEMs. The company recently launched an ultra advanced range of tyres especially for high speed cranes. The tyre 445/95 R25 enables heavy high speed cranes to journey at speeds of 80 km per hour.
Adhering to quality
"Our each product passes over 450 stages of tests. The result of this rigorous practice being that BKT products are known for their reliability and have the lowest claim ratio in the industry," informs Rajiv. The commitment to quality products is testified by the adherence to the strictest quality benchmarks with international certifications such as ISO 9001-2008 and ISO 14001-2004.
The foundation of BKT has been built on the pillars of R&D, technology and best-in-class quality. This has enabled BKT to develop 150 – 160 new SKUs (stock keeping units) every year. This has led to an impressive portfolio of 2,600 SKUs which includes bias, radial, solid and all-steel radial tyres for a wide range of off-highway applications. The company has its own R&D centre which develops these tyres that can encounter the toughest and the most hostile terrains faced during mining and industrial activities.
The company claims to be the first tyre manufacturer to build an outdoor tyre testing track in India. The outdoor testing facility has 6 different tracks, the circuit stretches over a total area of about 25 acres including tracks for tyre performance tests in wet and dry conditions, an asphalt track as well as an inclined concrete track. Thanks to a large variety of tests, many relevant features such as traction, handling, comfort, noise, fuel consumption, braking, rolling resistance, soil compaction and many more can be measured by means of high-precision devices and instruments, according to the company.
Manufacturing strength
Currently BKT has four functioning state-of-the-art manufacturing plants spread across India, the recent one being set up in Bhuj, Gujarat. The Bhuj plant, built up with a whopping investment of $500 million, has a production capacity of 120,000 tonnes per year with having capabilities of producing a diverse range – from 5-inch lawn tyres to 51-inch giant OTR tyres. The plant is also armed with highly sophisticated an R&D house and testing tracks. The Bhuj R&D department, equipped with physical and mechanical testing, has researchers, engineers, and technicians, working on from designing a new tyre, over developing new compounds, to improving product performance as well as production processes.
Rajiv Poddar, Joint Managing Director, BKT
13