Green makeover underway for Indian airports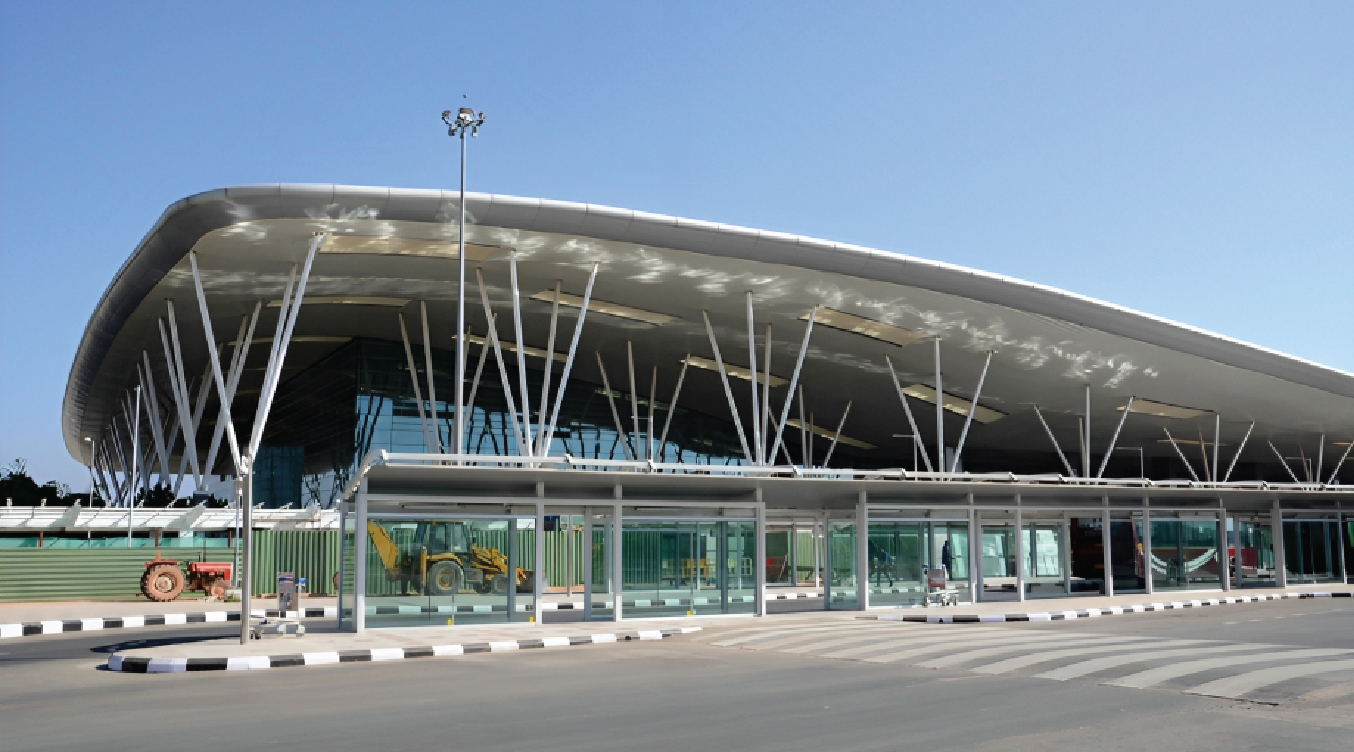 Leading experts across the architecture industry have shared their expertise on trending technologies and advancements in green infrastructure and energy-efficient airport projects.
In a bid to enhance efficiency, security, and the passenger experience, airports are increasingly embracing new technologies and innovations. These include biometric identification, automation, smart airports, and data analytics to facilitate better decision-making. Airport terminals are built to cater to specific passenger capacities, which can vary depending on the airport's size and location. The terminal's size and capacity can significantly impact the design, layout, and operational efficiency of passenger flow. Airport terminal designs often showcase the region's local culture, architecture, and aesthetic preferences, with considerations such as local materials, cultural motifs, and architectural styles incorporated into the design to create a unique sense of place.
Advances in green infrastructure
According to Derek A.R. Moore, AIA, Ph.D., Design Principal at Skidmore, Owings & Merrill (SOM), sustainability and low-carbon strategies are becoming more prevalent in designing terminals and car parks, hangars, and ancillary structures. Civil infrastructure will depend on similar advances in low-carbon concrete and other materials. The greatest impacts, however, need to be made in campus-wide green energy supply and the actual operation of aircraft–like low-to-no-carbon propulsion. He adds, "Most projects, whether new or renovated, are increasingly incorporating renewable materials; renovations have the significant advantage of retaining the building structure, reducing embodied carbon."
The Director of House of Kashtee, Srishti Ahluwalia, explains, "Airports will continue to integrate solar panel systems to provide electricity, reduce carbon footprints, and save energy." Newer airports will include advanced systems to collect and reuse rainwater, enhance landscape irrigation, and reduce water consumption from other sources. They may also include newer technology that captures water directly from the atmosphere, which ensures an economical way of procuring water without affecting the surrounding towns and villages that are currently drained of their underground reserves to sustain most modern cities."
According to CEO-DIAL, Videh Kumar Jaipuriar GMR group "Green Airport is an airport that minimises or eliminates negative impacts and promotes positive impacts on the natural environment, climate, and local communities". The construction of green infrastructure is a key strategic objective for airport projects, aiming to incorporate environmentally friendly and resource-efficient practices from site selection to design, construction, operation, maintenance, renovation, and demolition.
Aahana Miller, Principal Architect at ABM, asserts that "future airports are looking at integrating green infrastructure from the very beginning by looking at systems holistically, from green energy to water conservation down to what building and finishing materials they will use. For example, the Kempegowda International Airport in Bengaluru, which has recently opened Terminal T2, has integrated green infrastructures into the design and sustainable materials such as bamboo, locally sourced brick, granite stone floors, etc."
Energy efficiency projects
Airports can lower their carbon footprint, improve their carbon balance, and save a substantial amount of energy and other resources by implementing sustainable energy-efficient techniques, says Srishti. She adds, "Green building architects are designing and building energy-efficient airport terminals. These structures are designed with energy-efficient heating and cooling systems, natural lighting and ventilation, and building automation control systems." Several airports are installing solar panels to generate electricity. These panels are installed on rooftops, car parks, and other open spaces to create clean energy for the airport.
Balakrishnan, VP and Head, MEP, B & F IC, L&T Construction says, Energy-efficient equipment can be proposed to optimise energy consumption, including high-efficiency chillers, passive design features, smart air handling units (AHUs), and artificial intelligence-based software for control and monitoring. These measures ensure equipment operates efficiently while considering future energy provisions from non-conventional sources like solar, wind, and captive green plants. This approach optimises energy consumption in the present and future by utilising sustainable and renewable energy sources.
New technologies for aesthetics and functionality
Digi Yatra was launched recently, which uses facial recognition to streamline the check-in process. Airports are introducing more lounges and different lounges to enhance the passenger's experience, states Aahana. Recently, ABM designed the Kempegowda International Airport's Bengaluru Terminal 1 080 Domestic Lounge, which aims to be just as inviting and delightful, offering all passengers a much-needed respite while catering to their needs with world-class hospitality captured in a contemporary design approach.
Furthermore, Srishti asserts, "The smart check-in kiosks are equipped with touchscreens that provide an intuitive user interface. These kiosks are designed to shorten the queue, reduce waiting, and enhance the passenger experience." The self-service bag drop allows passengers to check in their luggage without needing assistance from a human. It is designed to speed up the check-in process and reduce queues, making it easier for passengers to move around the airport.

According to Simon Pallubicki, Founder & Architect of Enia Architects, "The missions of airport operators are being transformed as they are transitioning from facility providers to mobility providers and hosts competing on the experience they offer." They are mobility providers because they consider themselves as part of a broader door-to-door mobility-as-a-service (MaaS) continuum. "Airports are just one step of the traveler's journey. They shall work on a better integration and coordination with the non-airport steps of this journey with a "total customer experience" approach." This is about getting control of their overall competitiveness and attractiveness, as passengers do consider ground accessibility or alternative modes of transportation. It is also about the quality of service and the customer experience.
58