HVAC Industry: Green Trends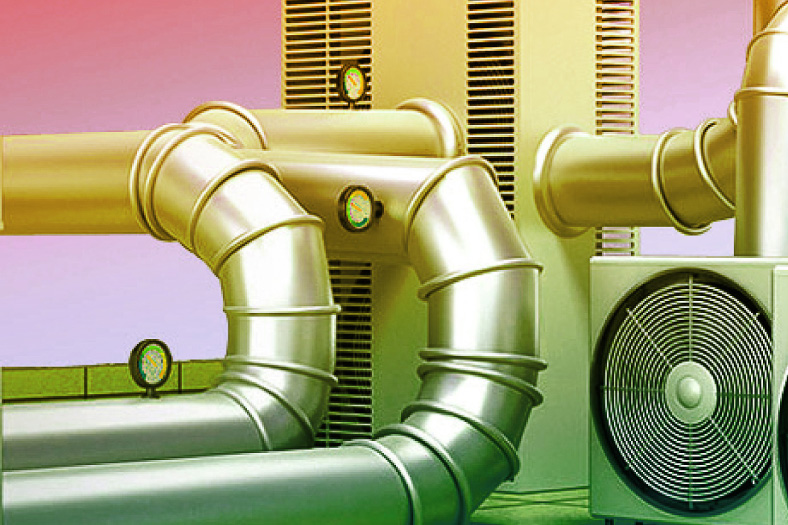 The HVAC industry is witnessing increasing penetration in the wake of rapid urbanisation that is leading to a boom in the construction of high rise buildings in both residential and commercial segment. This article will describe on the HVAC trends which are impacting the green building industry.
Improving IAQ
As green buildings become more the norm in the country, ripple effects can be seen across industries and the HVAC industry is no different. One of the basic requisite for an efficient HVAC for Green buildings is for the systems and solutions to help reduce energy consumption while ensuring the desired indoor air condition and quality is maintained.
T.P. Prakasan, COO, MEP Business, Sterling and Wilson says, "One trend that is changing the way HVAC solutions are viewed is the demand for solutions that can help improve the overall indoor air quality, and have an impact on performance and productivity. Studies have shown that indoor air pollution can be more harmful than outdoor air pollution, severely affecting the health of the occupant. While most people might think of temperature or humidity in relation with indoor air quality, one might also be breathing in viruses, bacteria, moulds and other microbial organisms."
In addition, HVAC systems in play today help counteract the carcinogenic volatile organic compounds, and do this with reduced emissions while being sustainable, a must ask of green buildings. This especially becomes a must for commercial green buildings, as indoor air quality has been linked to health of employees, which directly or indirectly has proven to have an effect on their performance.
Turnkey MEP Service
Another aspect that is changing the entire industry, more than a trend, is the amalgamation of services and solutions under one MEP umbrella, including HVAC. "There were and are still seen multiple conflicts during the process of individual installation of each service or solution, with overlap, over installation, and timeline and quality hindrance being common problems. However, now the industry is seeing a revolution with turnkey MEP becoming the new standard, and encompassing all services – Electrical, Firefighting, Plumbing, IBMS, and HVAC," Prakasan reveals.
Sterling and Wilson foresaw this trend to become a frontrunner and leader in the industry, and has integrated all its MEP offerings under one umbrella to allow for an ease of operation and help mitigate the conflicts that arose earlier.
Variable Refrigerant Flow (VRF) system
One of the HVAC trends being seen in Green certified buildings of late is the increasing use of Variable Refrigerant Flow (VRF) system. M Gopi Krishna – Executive Vice President and COO Domestic Projects Group, Voltas highlights few advantages of adopting this technology include:
• Efficiency in power consumption: Buildings which are of size 1 lakh square feet or less are increasingly adopting VRF systems due to their lesser power consumption than conventional direct expansion units especially at part loads
• Flexibility offered in design
• Lower initial cost
• Lower maintenance costs than conventional chilled water systems
Also, the air cooled condenser version of the VRF units does not require any makeup water for refrigerant cooling in the condenser.
In Core and Shell buildings for adopting the VRF technology, the developers provide the outdoor units and the indoor units are installed by the respective tenants, by selecting the type most suited to their individual fit-out requirements.
Gopi adds, "Voltas's VRF systems are designed to operate from as low as -5°C to as high as +50°C allowing operation of the units in the hottest of climates to meet all possible Indian site conditions. Voltas offers cassettes, wall mounted units, ducted units, ceiling suspended and floor standing units to cover a wide range of sizes and configurations, including one of the industry's highest capacity requirements served by our 20 HP ducted unit – ideal for large halls and auditoriums."
Each VRF circuit can connect up to 64 indoor units, allowing for ease of customisation at site. Conventional systems require removing the control box in order to perform maintenance of the piping system, extending the planned maintenance downtime and raising the possibility of improper reconnection. Gopi acknowledges "Our patented rotatable control box allows technicians to access the piping system directly and swing the control unit back into place in minutes."
According to a recently published Tech Sci Research Report, the AC market is projected to grow at a CAGR of over 10-12 per cent during 2015-20. Partha Sen, Marketing Head, General Manager –Marketing, Johson Controls- Hitachi Air Conditioning India says, "This also poses a bigger challenge to brands as the HVAC system of any commercial high rise building contributes to as much as 40 per cent of its total energy consumption. The residential building sector is already one of the largest consumers of electricity in India and by 2020, India is projected to become the world's third-largest energy consumer after US and China."
On a global scale, green building construction is doubling every three years, according to the World Green Building Trends 2016 report. Increased consumer demand has also pushed the world's green building market to a trillion-dollar industry, a surge that has led to a corresponding increase in the scope and size of the green building materials market, which is expected to reach $234 billion by 2019. India already ranks third in the US Green Building Council (USGBC) annual ranking of the top 10 countries for LEED (Leadership in Energy and Environmental Design), and in 2016, nearly 650 projects in India earned LEED certification. Emerging economies such as India are engines of green growth, with development varying from two- to six-fold over current green building levels. LEED and green building have dramatically increased in India.
Energy efficient and eco-friendly product
"At Hitachi, we understand the energy implications that the world is facing today and hence, we are continuously innovating to develop products that are highly energy efficient and eco-friendly. In 2016, Hitachi was awarded the Certificate of Merit Award under National Energy Conservation Awards (NECA) by Bureau of Energy Efficiency (BEE), Ministry of Power for producing high energy efficient products (5-Star rated Room Air Conditioners)" claims Partha. "Although as of now, Star Rating in Inverter ACs is not mandatory by BEE, but Hitachi has voluntarily introduced its entire Inverter AC range with star rating to help customers in making an informed buying decision. Our inverter ACs range uses R-410A refrigerant which is eco-friendly and ensures minimum ozone layer depletion."
Kyosho's Variable Refrigerant Flow (VRF) system
"For the commercial building segment, we offer Kyosho series of VRF Systems. Its DC Inverter driven compressor saves energy and is cost effective. It comes enabled with an air-conditioning management system that makes it easier for users to have simple, effective control of their air conditioning units to avoid unnecessary energy wastage, including overheating, overcooling and unattended operation," Partha acknowledges. And with R-410A refrigerant, it is eco-friendly as well. Our Chillers range (Screw and Centrifugal) offers highly efficient cooling solution. With R134A eco-friendly refrigerant, it delivers superior performance and flawless functioning.
"We are very optimistic that our continuous efforts like ensuring availability of energy efficient and eco-friendly refrigerant based products, development and introduction of new innovative technologies in products and control panels and educating consumers about the benefits that they will derive will ensure Green Building Initiative's success in India. Besides this, our close association with both government and non-government bodies that are related to the HVAC industry like Indian Green Building Council (IGBC), Indian Society of Heating, Refrigeration and Air-conditioning Engineers (ISHRAE), Bureau of Energy Efficiency (BEE), Ministry of Environment and Forest, CREDAI (Builder's Association of India) etc. will further enable us to be at the fore front of this change that Green Building Initiative has brought," says partha. "We participate actively in various events that not only act as a platform for interfacing with global thought leaders and industry stalwarts but also for consensus-building and networking on key issues, energy efficiency and environment conservation."
He adds, "With these initiatives and also by educating our customers about energy efficient products, we are very confident that in the time to come, Hitachi's thought leadership and innovation will lead it to become the no. 1 brand in the Indian HVAC industry."
8